Holy guacamole! Workers pilfered $300,000 worth of avocados, police say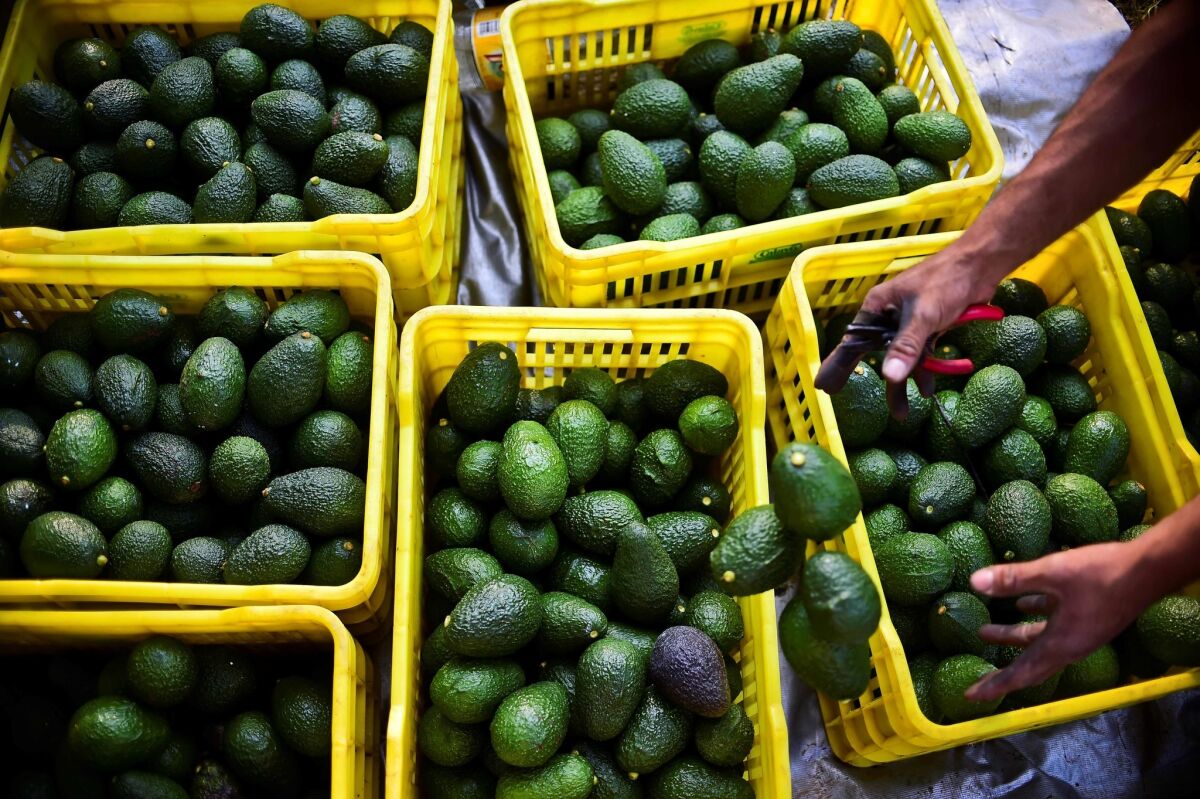 The glorious avocado — known for its pebbly armored skin, succulent green flesh and soaring price — is enjoying a global surge in popularity of late.
Whether it's the featured ingredient in an outrageously priced serving of avocado toast or the culprit in a sudden increase in avocado-cutting hand injuries, one thing is clear: People are crazy about the heart-healthy fruit.
In fact, authorities say that growing popularity could have driven three workers from an Oxnard-based produce company to pilfer $300,000 worth of avocados recently.
"They are in demand. Everybody loves avocados," said Sgt. John Franchi of the Ventura County Sheriff's Office.
Carlos Chavez, 28, of Oxnard; Rahim Leblanc, 30, also of Oxnard; and Joseph Valenzuela, 38, of Santa Paula, were arrested Wednesday on suspicion of grand theft of avocados, the Sheriff's Office said. It is unclear how many pounds were stolen.
"We take these kinds of thefts seriously," Franchi said. "It's a big product here and in California."
Authorities think the men were stealing and selling avocados to unsuspecting customers for at least several months, Franchi said. In late May, sheriff's detectives launched an investigation into allegations the men were receiving cash for the stolen avocados, he said.
"They were looking to make money," Franchi said.
The men had been working at Mission Produce in the 3800 block of Dufau Road for several years when, at some point, the facility changed its distribution flow.
In the past, customers would pick up avocado orders at the ripening facility. But the distribution facility recently stopped that practice and began delivering pallets of the fruit to its customers instead.
But some customers didn't get the memo and continued returning to the facility to pick up their shipment, Franchi said.
That's when Chavez, Leblanc and Valenzuela concocted a plan to sell the company's avocados and pocket the cash themselves, authorities allege.
The company's president, Steve Barnard, said partial pallets and boxes of avocados were purloined and sold from the back door of the distribution center.
Typically, a box of avocados — which are grown in California, Mexico, New Zealand and Chile — sells for $50, he said.
In this case, Barnard said, the men were selling a box for $20 to $30 — far below market value.
Barnard and other managers were tipped off by customers that something was amiss.
The facility's bookkeepers also noticed something wasn't adding up and that their books were coming up short.
When Barnard and his workers looked at surveillance footage, he said, they saw the trusted employees selling his avocados.
"I guess they got greedy and they got bulletproof," the 64-year-old Santa Paula resident said.
Mission Produce is one of the world's largest avocado distributors, with facilities in China, Canada, the Netherlands and the U.S.
As the demand for avocados becomes insatiable, Barnard said, his company is now shipping to Russia, Italy, China, Indonesia and South Korea.
The best thing about the avocado business, Barnard said, is "the demand."
In 2015, California exported $25 million worth of avocados, according to the UC Davis Center for Agricultural Issues. The California Avocado Commission offers safeguards and maintains a hotline to protect growers from thefts.
Barnard said he plans to tighten security at his facilities. As for the stolen avocados, the losses were covered by insurance, he said.
ALSO
Guacamole and more: Great recipes using avocado
Avocados are in season. We have recipes
Why you can't afford a house (Hint: It's not the avocado toast)
The stories shaping California
Get up to speed with our Essential California newsletter, sent six days a week.
You may occasionally receive promotional content from the Los Angeles Times.