Why you can't afford a house (Hint: It's not the avocado toast)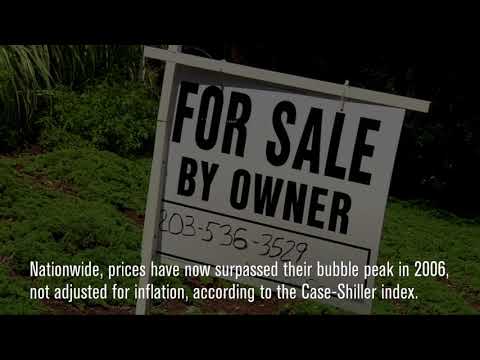 Southern California home prices jumped last month, but experts say wages need to grow to match the rising cost of housing.
Housing prices and student loan debts continue to rise while wages remain stagnant. But if an Australian millionaire is to be believed, that's not why millennials are forgoing homeownership. It's because of avocado toast.
"When I was trying to buy my first home, I wasn't buying smashed avocado for $19 and four coffees at $4 each," real estate mogul Tim Gurner said on the Australian version of "60 Minutes."
"The expectations of younger people are very, very high," Gurner continued. "They want to eat out every day, they want to go to Europe every year."
Are young people really throwing away their financial future on fancy toast? I asked three experts.
"No, actually," said Greg McBride, the chief financial analyst for Bankrate.com.
"Obviously not," said Helaine Olen, a personal finance columnist for Slate and the author of the book "Pound Foolish: Exposing the Dark Side of the Personal Finance Industry."
"It's absolutely accurate," said G.U. Krueger, an L.A.-based housing economist who has done research for California Public Employees' Retirement System advisors and other investors.
Then, he laughed. "I'm kidding."
In L.A. County, the median price of a house was $525,000 as of February. If you saved the $19 you were hypothetically spending on avocado toast every single day, that'd be $6,935 a year. To save up the recommended 20% down payment on that average house, you'd be forgoing daily toast for more than 15 years. (And that's pretending that you're magically eating free food every day instead.)
Millennials get a bad rap when it comes to their financial habits, Krueger explained. He said there's a perception that they're spoiled and entitled when, in reality, they are more frugal and financially cautious than their parents' generation.
And contrary to the assertion that millennials would rather spend their money on travel and eating out than saving for a house, Bankrate.com's McBride said millennials "have the same preference for real estate as anybody else."
"There's this common misconception about millennials and their financial habits that the data does not support," he continued. "The notion that millennials are spendthrifts, that they have a penchant for frivolous expenditures. The data we have suggest otherwise."
In places such as Southern California, new houses are not being built with first-time homebuyers in mind. Developers are much more likely to go after the high-end and luxury markets instead of building starter homes. California was recently ranked the toughest state in America for first-time homebuyers.
After being scarred by the recession and feeling the reverberations in the form of flat wages and high student loan debt, Krueger, the housing analyst, said his research has shown millennials are finally beginning to enter the housing market in larger numbers. For a millionaire to chide them about toast and coffee, he said, is "not fair."
In her book "Pound Foolish," Olen, a former L.A. Times writer, goes into detail about the "latte factor." Basically, blaming people for spending a few dollars a day on lattes (or avocado toast, or some other small luxury) is a lot easier than addressing the real, structural problems that prevent people from saving up for a house.
It's been happening since the 1990s, when David Bach's "Smart Women Finish Rich" introduced the idea that women were tossing away a $2-million nest egg on lattes and biscotti — a figure Olen debunks in her book. It was a wrong-headed concept then, she says, and it's still wrong now.
Gurner, who kicked off this new round of financial victim-blaming, got his business start with a loan of $34,000 Australian dollars from his grandfather, according to Australia's 9 News.
"So clearly he wasn't forgoing avocado toast," Olen said.
Sometimes it's coffee and snacks that are blamed for eating up financial futures; sometimes it's cellphones or other things that seem like luxuries when, in reality, they're anything but. Blaming avocado toast is just a millennial twist on that idea, Olen said.
The latte factor comes up so often because it aligns nicely with both liberal and conservative beliefs, Olen explained: Liberals believe people are too materialistic and spend too much on luxuries, while conservatives say poor people are not deserving of those luxuries. Any way you slice it, moralizing money spent on snacks fits nicely into a narrative.
"It's easier to toss blame around than to address the real problem," she said.
Twitter: @jessica_roy
Click here for a Spanish version of this story
ALSO
Instagram copies another Snapchat feature: Face filters
'WannaCry' ransomware shares code with Sony hack, raising possibility of North Korea connection