L.A. lawmakers look to sue big oil companies over climate change — and the costs that stem from it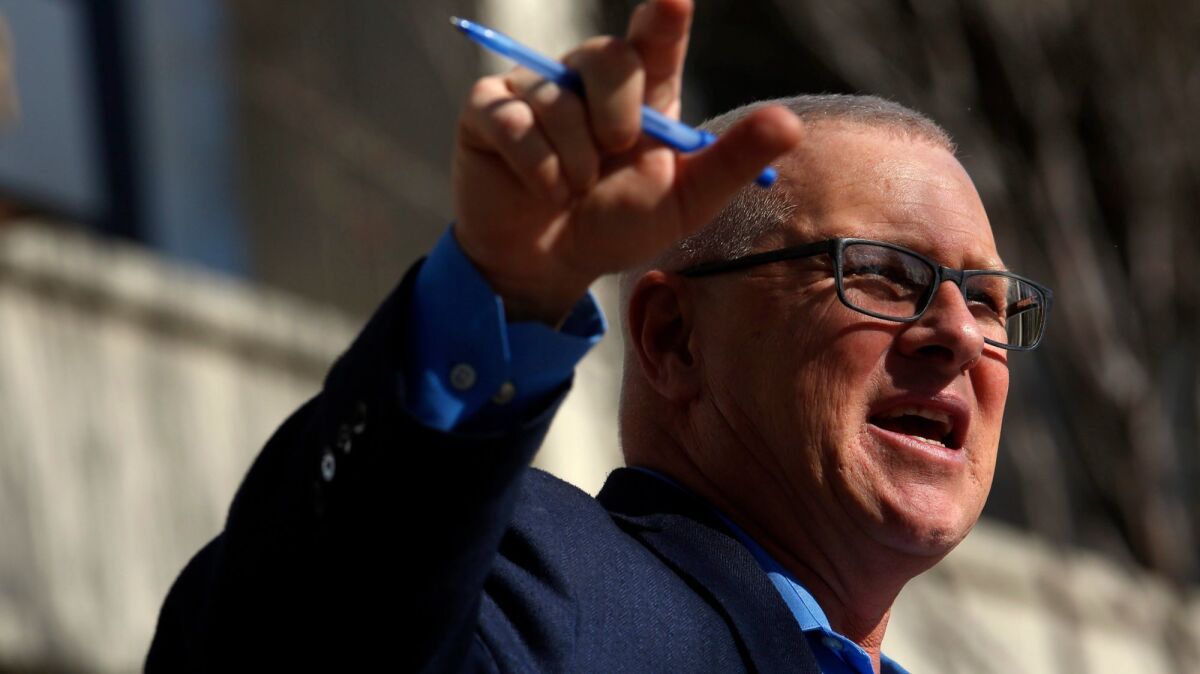 Two members of the Los Angeles City Council called Friday for legal action against an array of petroleum companies, saying fossil fuel emissions have contributed to natural disasters and "abnormally intense weather patterns" that are proving costly for taxpayers.
The push for financial reimbursement comes as Southern California communities continue to deal with the aftermath of an especially intense wildfire season and, in recent days, devastating mudslides caused by a recent storm.
In their written proposal, Councilmen Mike Bonin and Paul Koretz said oil and gas companies knew they were contributing to climate change and did "nothing to stop their destructive ways." The result, they said, has been expensive repairs to streets and other public facilities.
"We're getting rising sea levels, wildfires, mudslides — that's the implication of climate change right there," Bonin said in an interview. "That does damage to our infrastructure. It just has some wide-ranging and comprehensive implications."
The proposal, which was also signed by Councilmen Jose Huizar and Marqueece Harris-Dawson, seeks a closed-door meeting with City Atty. Mike Feuer on potential legal claims against corporations that profit from the production and sale of fossil fuels. It also calls for the city to file an amicus, or friend of the court, brief to assist New York City with a lawsuit against Chevron Corp., ConocoPhillips, Royal Dutch Shell and other companies.
In that case, filed Tuesday, lawyers said New York City had suffered extensive damage from climate change, including "inundation, erosion and regular tidal flooding of its property."
"In this litigation, the city seeks to shift the costs of protecting the city from climate change impacts back onto the companies that have done nearly all they could to create this existential threat," the lawsuit states.
A spokesman for Shell Oil Co. declined to discuss the proposal in Los Angeles, saying a lawsuit had not yet been filed.
Asked about the case in New York City, he said climate change "should be addressed through sound government policy and cultural change to drive low-carbon choices for businesses and consumers, not by the courts."
San Francisco and Oakland have filed their own climate change lawsuits, saying oil and gas companies should pay for the ongoing cost of protecting Bay Area cities from rising sea levels. Lawyers for San Francisco said $5 billion would be needed just to complete long-term upgrades to that city's seawall, which covers three miles of waterfront.
Chevron, one of the companies sued by San Francisco, said last fall that the Bay Area lawsuits would not help address climate change. "Should this litigation proceed, it will only serve special interests at the expense of broader policy, regulatory, and economic priorities," Melissa Ritchie said in a statement.
Representatives of Chevron did not respond to a request for comment on the Los Angeles proposal.
Bonin, who represents coastal neighborhoods stretching from Westchester to Pacific Palisades, said he expects that parts of his district will be underwater in the next 50 years. As part of its climate change lawsuit, the city should seek both financial reimbursement and policy changes from the petroleum industry, he said.
Twitter: @DavidZahniser
The stories shaping California
Get up to speed with our Essential California newsletter, sent six days a week.
You may occasionally receive promotional content from the Los Angeles Times.