County officials conducting health survey among neighbors of former battery-recycling plant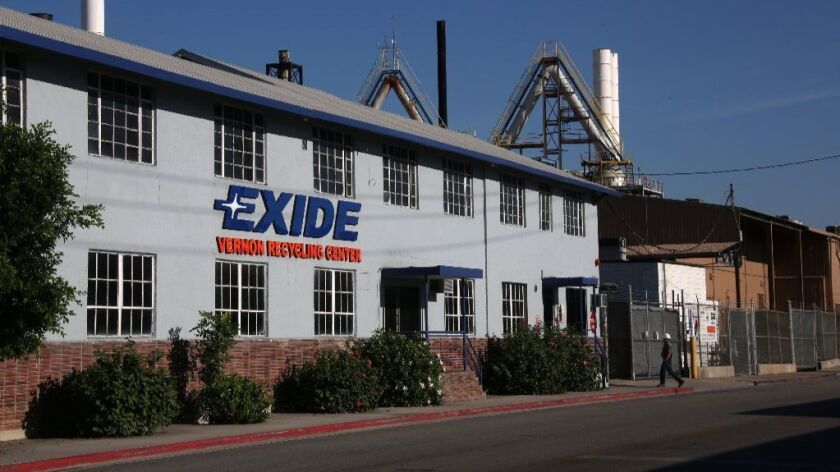 Hundreds of Los Angeles County health officials and volunteers went door to door Saturday conducting health surveys of residents who live around a shuttered battery-recycling plant near downtown, which is blamed for decades of lead emissions spread across seven southeast communities.
The group's efforts are focused on residents who live within a 1.7 mile radius of the former Exide Technologies battery plant in Vernon, organizers said. The targeted neighborhoods are in Bell, Boyle Heights, Commerce, Maywood, East Los Angeles, Huntington Park and Vernon.
Lead, a potent neurotoxin, is most dangerous to young children who can ingest contaminated soil or dust. Even small amounts of the metal cause permanent learning and developmental deficiencies, lower IQs and behavioral problems.
Angelo Bellomo, the county's deputy director for health protection, said that 1,500 volunteers were participating in Saturday's event. He said they were handing out information to residents about potential hazards and advising them on how to minimize their exposure to possible lead contamination.
"Most importantly, we're going to be gathering information directly from the families in the community as to any health concerns they have and whether or not they need access to medical care or health insurance," he said. "We're going to take that information to influence the cleanup decisions that the state is about to make on this community.
"Government at the local, state and federal level have heard from this community for decades," Bellomo added. "They're finally getting the attention they've been asking for."
State regulators are testing thousands of homes to determine whether they must be cleaned of lead-tainted soil. They also have tested some schools and parks in the area.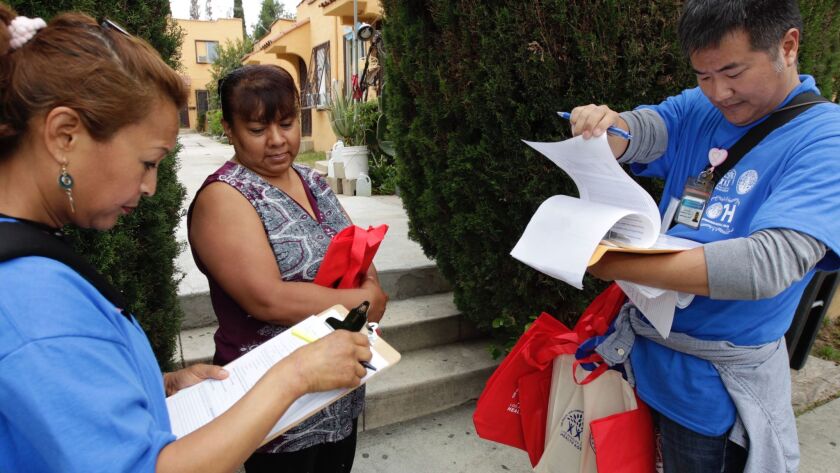 But work to remove contaminated soil from homes has been at a standstill since last summer as the state conducts an environmental review. Regulators also are investigating complaints about one of two contractors hired to test homes.
State officials have faced repeated criticism from community groups and lawmakers over the pace of cleanup.
Exide agreed to close the facility permanently in March 2015 to avoid federal criminal prosecution after years of community outcry over air pollution and a long history of environmental violations.
California lawmakers have approved more than $180 million to expedite the testing and cleanup of an estimated 10,000 homes around the Exide facility and to remove lead from about 2,500 homes with elevated levels of neurotoxins. It is one of the largest state cleanup efforts.
---
UPDATES:
11:50 a.m. This article was updated with comments from a county public health official.
This article was originally posted at 9:10 a.m.
---
The stories shaping California
Get up to speed with our Essential California newsletter, sent six days a week.
You may occasionally receive promotional content from the Los Angeles Times.