L.A. tallies its homeless population amid concern about rising encampments
A woman pushes her wheelchair at night near South Hoover Street and West Florence Avenue in South Los Angeles. She was counted by volunteers in homeless count in South L.A.
(Francine Orr / Los Angeles Times)
Volunteer Yasmin Scott-Halcromb, left, a student at the USC School of Social Work and the Marshall School of Business, walks down a South L.A. alley Thursday night with Sarah Mahin of the Los Angeles Homeless Services Authority.
(Francine Orr / Los Angeles Times)
Two people found sleeping under blankets in South Los Angeles are added to the homeless count Thursday night.
(Francine Orr / Los Angeles Times)
Volunteer Yasmin Scott-Halcromb and Sarah Mahin, right, check their map during the homeless count in South Los Angeles.
(Francine Orr / Los Angeles Times)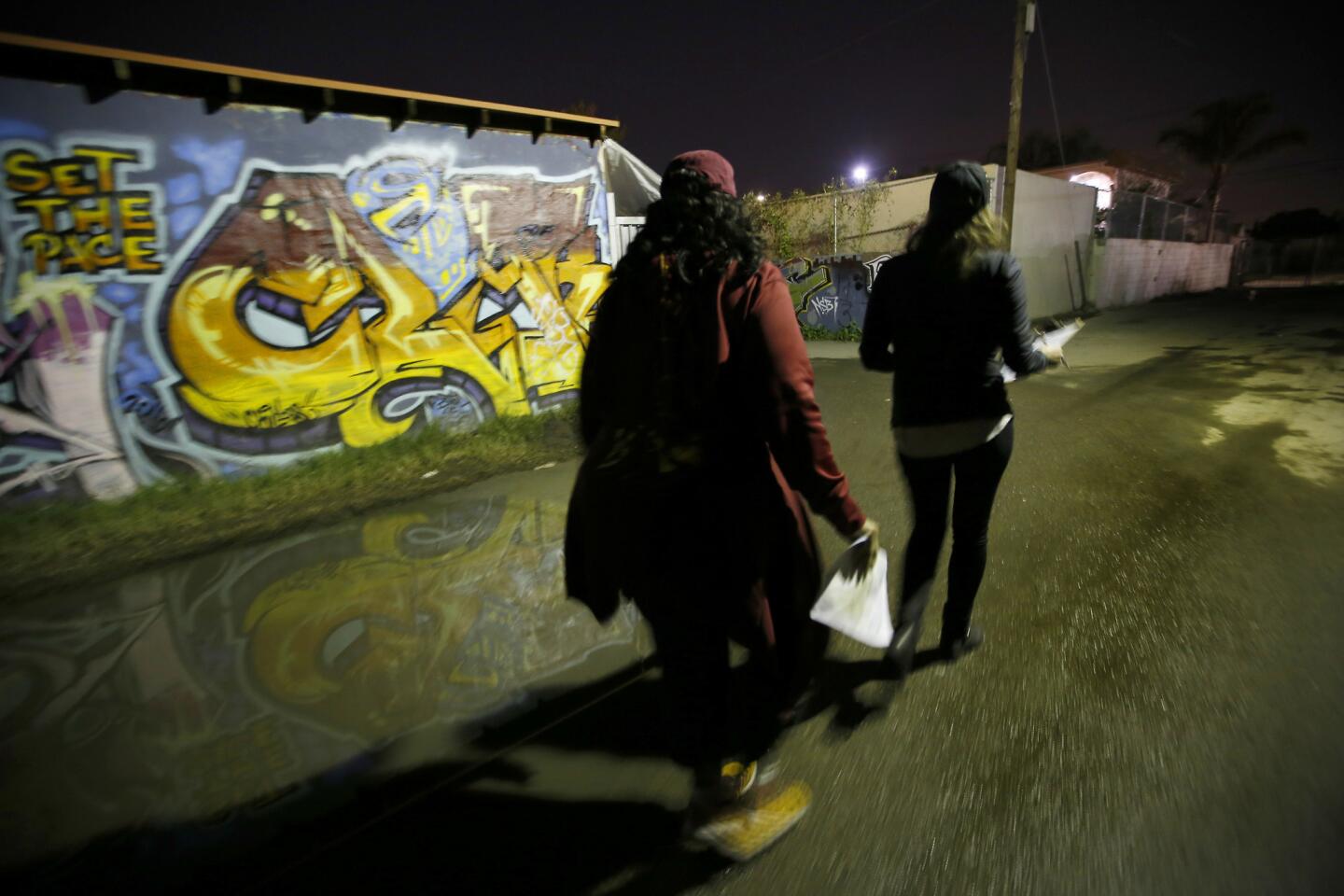 Yasmin Scott-Halcromb, left, and Sarah Mahin look for homeless people in an alley Thursday night in South Los Angeles.
(Francine Orr / Los Angeles Times)
A person sleeps under blankets near South Hoover Street and West Florence Avenue in South Los Angeles on Thursday night.
(Francine Orr / Los Angeles Times)
Sarah Mahin, director of policy and planning at the Los Angeles Homeless Services Authority, takes part in the homeless count in South Los Angeles.
(Francine Orr / Los Angeles Times)
The annual Los Angeles homeless count ended early Friday amid disappointment that the street encampments rankling residents across the city are still on the rise.
The three-day event, which marshaled 7,700 volunteers for a street-by-street hand count of homeless people and encampments, was held to update Los Angeles County's homeless count, which stood at 47,000 in 2016. Populations in shelters, transitional housing and other facilities are also counted.
New York City traditionally reports the most homeless people in the country, primarily in its extensive shelter system. But Los Angeles has the highest number by far of what are called "unsheltered" homeless people, living on sidewalks, in cars, campers, tents and lean-tos.
Their expansion into neighborhoods from Malibu to San Pedro has become a potent political issue for local elected officials, and source of outrage to homeowners.
"I am not optimistic," Los Angeles Homeless Services Authority Commissioner Mike Neely said Thursday. "It appears the unsheltered are still a problem."
Peter Lynn, the homeless authority's executive director, said it would be "premature" to draw conclusions about any facet of the count.
"Any anecdotal conclusions about an increase in these categories could be countered by people who report a decrease," Lynn said in a statement.
Mayor Eric Garcetti pointed to the $1.2 billion voters approved at the city's behest to build 10,000 homeless and low-income housing units in the next decade.
"Homelessness in Los Angeles will not be solved overnight — it is a long-term crisis that calls for long-term solutions," Garcetti said in a statement.
The count is required to receive funding from the U.S. Department of Housing and Urban Development, which sent more than $100 million in 2015-16 to combat the county's homelessness problem. Total funding for that year was $173 million, including infusions from the city and county.
The LAHSA budget for 2016-17 is $230 million, including $65 million from the county and $60 million from the city, both big increases from the year before. The city and county spend other money separately on supportive services, mental health and housing.
Los Angeles police on Feb. 6 plan to begin enforcing a new ban on living in vehicles near parks, homes and schools. Judging by the count in the Vermont-Slauson neighborhood of South Los Angeles on Thursday night, the new law could cause significant upheaval.
People appeared to be living in cars and vans along multiple streets — some with their heaters running against the chilly night air.
Bobby Trawick, 66, was standing outside his van eating dinner off the driver's seat when the counting crew came by Thursday.
Trawick said he had left a skid row mission for South L.A. because he could earn a little cash working odd jobs in the neighborhood.
"The mission was not productive. It's just sitting around watching TV all day," Trawick said.
Yasmin Scott-Halcromb, 41, a USC social work and business graduate student and a count volunteer, awakened a couple sleeping under a pile of blankets pushed up against a concrete block wall in the neighborhood park. They were counted.
A woman came out of a motel and said she had been in the streets with her five children and grandchildren the night before, but had scraped together enough money for a room Thursday night. The family didn't qualify as homeless under federal rules and were not marked on the official tally sheet.
A woman who described herself as an addict rolled her wheelchair frantically down the street to relieve herself in a nearby alley. Another two people lay wrapped in blankets on the grass parkway of a purely residential street.
"That shocked me," Scott-Halcromb said.
The homeless authority this year is trying to gauge how many people are released into homelessness from institutions such as jails, hospitals and nursing homes. Los Angeles County Sheriff's Capt. Paula Tokar, who heads the force's population management bureau, said the jail count on any given night has been as high as 3,000 but appears to be leveling out at around 2,000.
Metro officials also will be counting homeless people in train and bus stations. None of these special tabulations will be part of the official federally reported count but will help shape local policy, officials said.
"It's been known for many years that institutions such as hospitals and jails and foster care are a feeder into homelessness," said Sarah Mahin, director of policy and planning for the homeless authority.
Also this year, USC is taking over the survey that produces race, gender and other demographic information for the count.
Karen Lincoln, associate professor in the school of social work, said the USC team plans to reach more families and youths, in part through schools. The schools use a broader definition of homelessness than federal housing officials, and report youth homeless numbers vastly greater than those of the federal agency.
The homeless count results will be released in the spring.
Twitter: @geholland
Sign up for Essential California for news, features and recommendations from the L.A. Times and beyond in your inbox six days a week.
You may occasionally receive promotional content from the Los Angeles Times.