L.A. County wants to help build guest houses in backyards — for homeless people
L.A. County has a new approach: Paying property owners to put the homeless in backyard houses
"Not in my backyard" protests helped block homeless housing in Temple City, delayed it in Boyle Heights and, last month, killed Orange County's plan to relocate homeless people to shelters.
Now, Los Angeles officials want to turn NIMBYism on its head — by paying property owners to put houses for homeless people in their backyards.
In August, the county Board of Supervisors approved a $550,000 pilot program to build a handful of small backyard houses, or upgrade illegally converted garages, for homeowners who agree to host a homeless person or family. Then in February, Bloomberg Philanthropies awarded L.A. a $100,000 Mayor's Challenge grant to study the feasibility of backyard homeless units within the city limits.
Rents under the county's pilot program would be covered by low-income vouchers, with tenants contributing 30% of their incomes. The county is also sponsoring a design competition, streamlining permits and providing technical aid and financing options.
While the idea of backyard homeless units might seem far-fetched, officials hope it could be a fast and relatively inexpensive way to house the most stable individuals among the 58,000 homeless people in L.A. County.
Spurred by state legislation in 2016 and 2017 that eased local review rules, the city and county are already experimenting with new financing options and low-cost materials and designs to promote so-called granny flats and in-law units as affordable housing.
A prototype backyard unit with financing and design sponsored by Mayor Eric Garcetti's Innovation Team is rising behind Trent Wolbe's house in rapidly gentrifying Highland Park.
"This is all about adding [housing] stock to a neighborhood that has gotten out of reach for everyone," said Wolbe, 35, a freelance creative director for tech companies.
L.A. city voters agreed to tax themselves $1.2 billion for homeless housing, but units can cost $350,000 apiece and are largely for disabled people. It will take years to reach the goal of 10,000 new apartments.
Local government could finance a homeless granny flat for three years for as little as $15,000 annually — roughly the cost of a shelter bed.
Backyard units expand housing options without compromising the character of the region's single-family neighborhoods, the mayor's design consultant said.
"People are looking at what they can do to make our neighborhoods more affordable and help more Angelenos find stable places to live," Garcetti said. "That's why [backyard units] are attracting so much interest — they're a relatively low-cost way for homeowners to play a big part in expanding our city's housing stock, and make some extra money while they're at it."
It's very early to gauge the possible scope of the backyard units for homeless people, but residents who have heard about it are intrigued.
About 100 of the 500 homeowners the county initially contacted responded with interest, and the county is in the process of whittling down 27 qualified applicants who are ready to build to a list of six finalists, according to a county document.
"We were overwhelmed with the interest," said Larry Newman, manager in the Economic and Housing Development Division of the county's Community Development Commission.
Providing backyard housing for homeless people won't be easy. Multnomah County, Ore., which includes Portland, ran into tax, liability and regulatory issues with its homeless granny flat pilot program, county Chairwoman Deborah Kafoury said.
Multnomah's model probably won't work on a large scale, she said, although the county's pilot program is ongoing and officials are looking at alternatives.
"Nobody has tried this; there is no rulebook," said Mary Li, director of the Multnomah Idea Lab, the county agency that developed the program.
Nobody has tried this; there is no rulebook.
— Mary Li, director of the Multnomah, Ore., Idea Lab
The willingness to embrace the unconventional housing source is something of a turnaround for Los Angeles, which has tussled over granny flats and two years ago seized tiny houses that activist Elvis Summers was distributing to homeless people in South L.A.
Unlike Summers' houses — brightly colored sheds with locks and lighting but no bathrooms or kitchens — the new dwellings would have plumbing and cooking facilities. Tenants would be screened and receive social services that could include case management, job training and counseling.
The city's proposal to Bloomberg was "specifically designed to pair homeowners with homeless Angelenos who are stable, prepared to move in to housing, and ready to get their lives back on track," Garcetti said.
"Many, many of them are just regular people like you and me who just lost their job or lost their house and really don't have other choices," said L.A. County Supervisor Sheila Kuehl.
The city is using its Bloomberg grant to study incentives, including construction subsidies and permit fee waivers, to entice homeowners to lend out their backyards. The city is also looking at new financing tools, a "concierge" to guide homeowners, an online portal with plans for in-law units and vendor lists and a matching service for homeowners and homeless tenants.
The L.A. County pilot program will lend homeowners $75,000 to build a backyard house or $50,000 for a bootleg renovation for up to six units. The loan principal will be reduced each year the unit is occupied by a formerly homeless person and forgiven after 10 years, at which point homeowners can do as they wish with the housing.
Mark Ryavec of Venice Stakeholders Assn., a frequent critic of the city's homelessness policies, said homeless granny flats are "a marvelous idea" but added that officials should honor existing parking and lot-size regulations. He also questioned what will happen when the tenants' leases are up.
"How do you keep these people from being pushed back out on the street?" Ryavec said.
That was one of the issues a nonprofit group in Seattle grappled with when Kim Sherman and Dan Tenenbaum agreed in October to share their Beacon Hill backyard with a homeless person.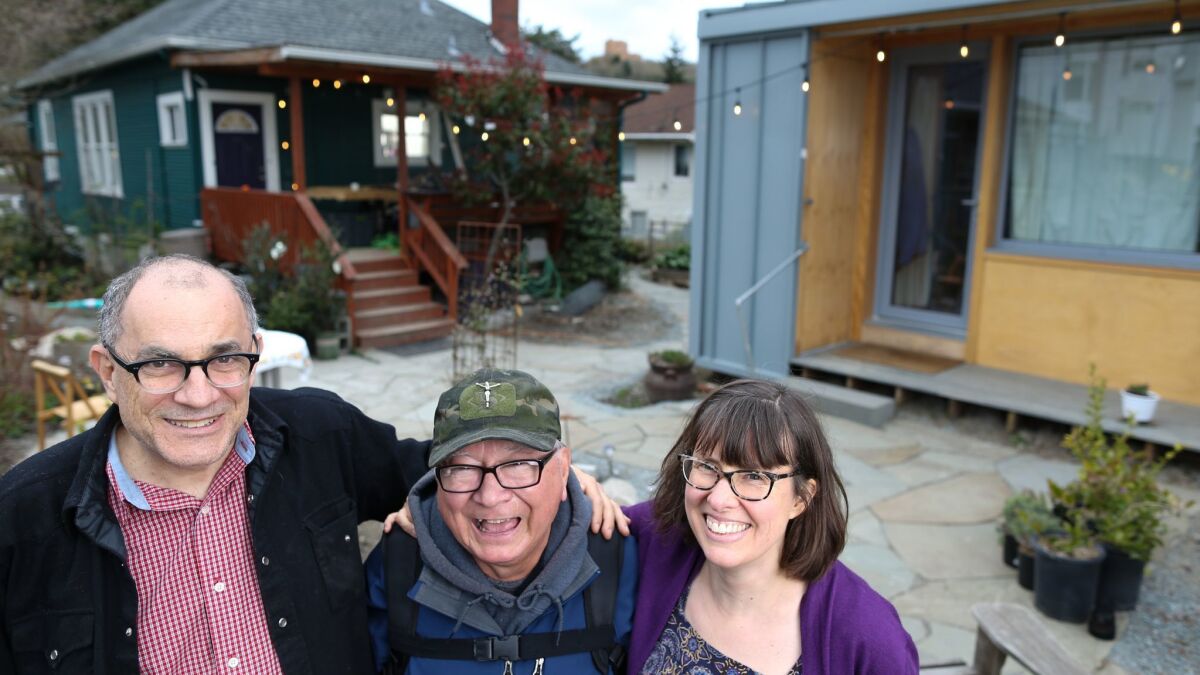 Rex Hohlbein, a residential architect in Seattle, founded Facing Homelessness, which spun off the Seattle Block Project to produce backyard homeless houses without public funds. Robert Desjarlais, 75, who has been homeless for 10 years, moved into a wood-paneled cottage with a porch on the couple's property.
The neighbors are supportive, said Sherman, and Hohlbein said his group can relocate the house if the tenancy doesn't work out.
"We don't put a house on a block unless everyone on the block stays good with it," said Hohlbein. "We know NIMBYism is a force to be reckoned with, and we don't want to allow any negative pushback to build."
Sherman said they're getting along swell with Desjarlais, who once exercised racehorses and fished and repaired fishnets in Santa Barbara.
"He's a very resilient, interesting person who has done a lot in his life, things I would never have thought to do," she said.
Hohlbein hopes to put a homeless house on every block in Seattle. L.A. County says tens of thousands of homes in unincorporated areas could qualify for backyard houses if its program is expanded.
The city is up for a $5-million grant from Bloomberg, which could enable it to move forward with the goal of creating enough units for 1,750 homeless people in three years.
"We're innovating every way we can," said Anna Bahr, Garcetti's spokeswoman.
Twitter: @geholland
The stories shaping California
Get up to speed with our Essential California newsletter, sent six days a week.
You may occasionally receive promotional content from the Los Angeles Times.