LAPD found no bias in all 1,356 complaints filed against officers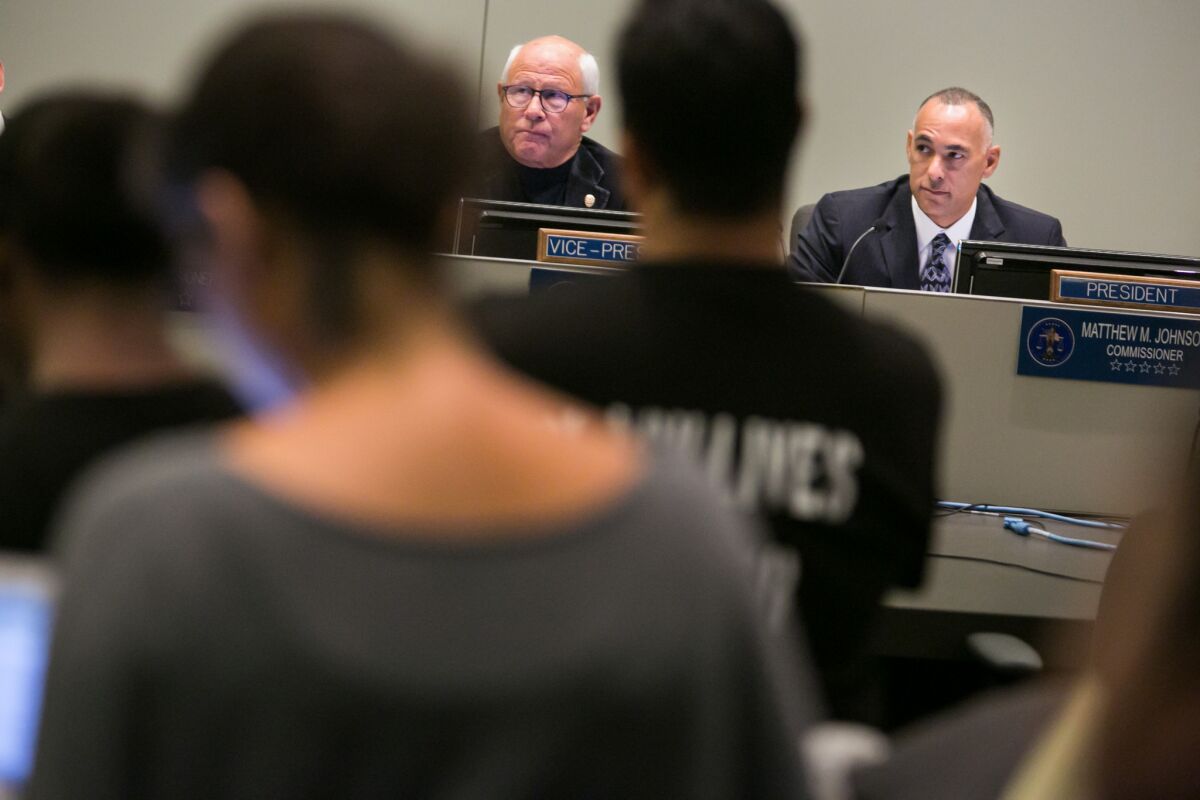 The Los Angeles Police Department did not uphold any of the 1,356 allegations of biased policing by officers that the agency investigated in recent years, according to a report by the Police Commission's watchdog.
The numbers, which covered 2012 to 2014, prompted the president of the Police Commission to call Tuesday for a "deep-dive briefing" from the LAPD on how the investigations are conducted.
"We need to take a look at it," said the panel's president, Matt Johnson.
In an interview, Johnson said claims of biased policing — police parlance for racial profiling — were among the most serious accusations that could be levied against the LAPD.
"I don't think anybody believes that there are actually no incidents of biased policing," Johnson said. "The problem is we don't have an effective way of really adjudicating the issue."
The report from Inspector General Alex Bustamante tallied the number of investigations that were completed by the LAPD during the three-year window.
Commissioner Robert Saltzman echoed Johnson's remarks, calling the lack of substantiated allegations "quite troubling and disappointing."
"While no doubt the vast majority of LAPD officers do not engage in biased policing, it strains credibility to suggest that ... there were zero instances of biased policing," he told The Times. "It should not be surprising that there is diminished trust in the LAPD given these results."
Like other police agencies, the LAPD has long wrestled with allegations of biased policing. Such accusations are difficult to prove, as they hinge on what an officer is thinking when he or she stops someone.
Yet the perception that some officers choose to stop people based on race or ethnicity can deepen the distrust between police and residents and has become a focal point in the ongoing national debate about police and race relations.
Phillip Atiba Goff, president and cofounder of the Center for Policing Equity at UCLA, said the LAPD wasn't the only law enforcement agency that struggles to prove allegations of biased policing. Supporting such claims, he said, requires data to show a pattern of behavior.
"It's excruciatingly difficult," he said. "But it's a failure of the way that we come to understand how we should be tracking racial bias — how we can and should be paying attention to it."
Kathleen Kim, another commissioner, told The Times that because it was so difficult to prove accusations of racial profiling, she'd like to find a way to reduce the number of complaints to "diminish feelings of racial profiling in the community in a really meaningful way."
"It says something about persistent racial tensions between the community and the police," Kim said. "And that's something we have to pay attention to."
LAPD Cmdr. Stuart Maislin, who heads the department's internal affairs division, told the commissioners that improving relationships with residents was a "high priority" for the LAPD. He pointed to the department's new mediation program, designed to bring officers and civilians together in a face-to-face meeting to resolve complaints.
"If their perception is one of distrust with the community, perhaps when we build better relationships with the community they'll then believe that we will look at things better," he said.
Maislin noted that the LAPD concluded an officer had engaged in biased policing a few years ago and sent that officer to a disciplinary hearing to be fired. However, he said, the board of rights panel found the officer not guilty of the biased policing allegations and fired him on a different charge.
Commissioners said they hoped the continuing rollout of body cameras to LAPD officers would provide more evidence in investigations of biased policing and clarify encounters that often become a "he said, she said" dispute.
"At the end of the day, I wish it was zero for zero. I wish there were no complaints," Commissioner Steve Soboroff told The Times. "But every complaint has to be taken seriously."
Craig Lally, head of the union that represents officers, said that officers usually can't tell the race of a motorist when they make a traffic stop. Even if an officer was racist, he said, it's nearly impossible to prove whether he or she stopped someone because of that bias, rather than appropriate probable cause or reasonable suspicion.
"It doesn't matter if it's 13 hundred or 13 million [complaints], it's always going to be the same," he said. "We don't want racist cops because that makes us all look bad. But there's no way to really do it. I haven't seen a real system in place that could weed that out."
Follow @katemather for more LAPD news.
The stories shaping California
Get up to speed with our Essential California newsletter, sent six days a week.
You may occasionally receive promotional content from the Los Angeles Times.