$40-million stormwater project targets polluted runoff at LAX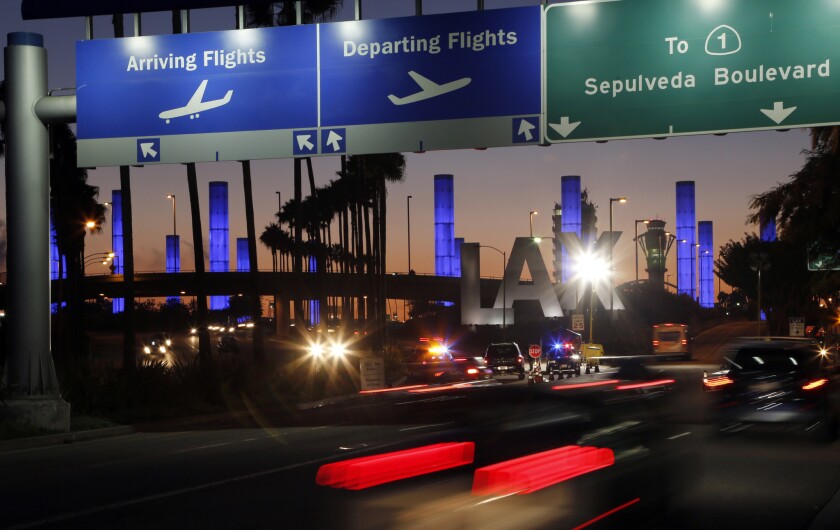 Millions of gallons of polluted stormwater runoff from Los Angeles International Airport will be treated and cleaned before washing into the Pacific Ocean or working its way into L.A.'s groundwater basin, according to an agreement signed Thursday by city and airport officials.
After five years of delays, the city of Los Angeles and Los Angeles World Airports approved a memorandum of understanding that allows them to move ahead on a $40-million stormwater treatment project.
"We can no longer afford to let stormwater run off as pollution into our ocean," Mayor Eric Garcetti said in a statement. "We must clean it, we must capture it and we must put it to good use."
Currently, stormwater that falls on LAX carries spilled fuels, oils, degreasers, metal particles and other compounds into Santa Monica Bay via drainage ditches -- a violation of state and federal clean water standards.
The project will address this pollution in two ways:
One portion of the runoff will be funneled to the city's Hyperion Water Reclamation Plant, which is located near the southwest corner of LAX. It will then be treated and released into Santa Monica Bay.
The rest of the runoff will be channeled to an underground capture facility, and then pumped into so-called infiltration galleries where the water will work its way into the groundwater basin.
The ground and soil will act as a natural filtration system, after trash and debris have been removed, officials say.
"This agreement provides LAWA with a cost-effective approach to complying with all the requirements associated with the Clean Water Act," LAWA Executive Director Gina Marie Lindsey said.
Thursday's agreement begins the design process; construction is slated to begin in the spring of 2017, officials said. The project should be completed in 2019.
About three-quarters of the expense will be covered by Proposition O, the clean water bond that Los Angeles voters approved in 2004.
"This project is critical for reducing stormwater pollution of Santa Monica Bay," said Mark Gold, acting director of the UCLA Institute of Environment and Sustainability. "This is a great example of how Proposition O has improved water quality in the city's rivers, lakes and coastal waters."
The underground capture facility, the Argo Drain Sub-Basin, will accommodate a watershed area of about 2,400 acres. The capture facility will be built underground at the northwest edge of LAX, near the intersection of Westchester Parkway and Falmouth Avenue.
Construction will require the excavation of a five-acre vacant lot, which will later be converted into a park.
As Californians struggle through severe drought and mandated reductions in urban water use, officials have looked for ways to conserve and re-use water.
Under the approved water treatment plan, about 100 million gallons of water a year will be fed back into the groundwater basin, officials say.
However, environmental advocates note that the city treats millions of gallons of water each day that are ultimately discharged into the sea.
According to Heal the Bay, which supported Thursday's agreement, the Hyperion plant pumps more than 250 million gallons of wastewater into Santa Monica Bay each day.
Advocates say that if such water were treated to a higher standard and recycled, it would substantially reduce the region's reliance on imported water.
Twitter: @montemorin
---
The stories shaping California
Get up to speed with our Essential California newsletter, sent six days a week.
You may occasionally receive promotional content from the Los Angeles Times.