Malibu church pressured to end homeless dinners, with some saying it lures needy to upscale city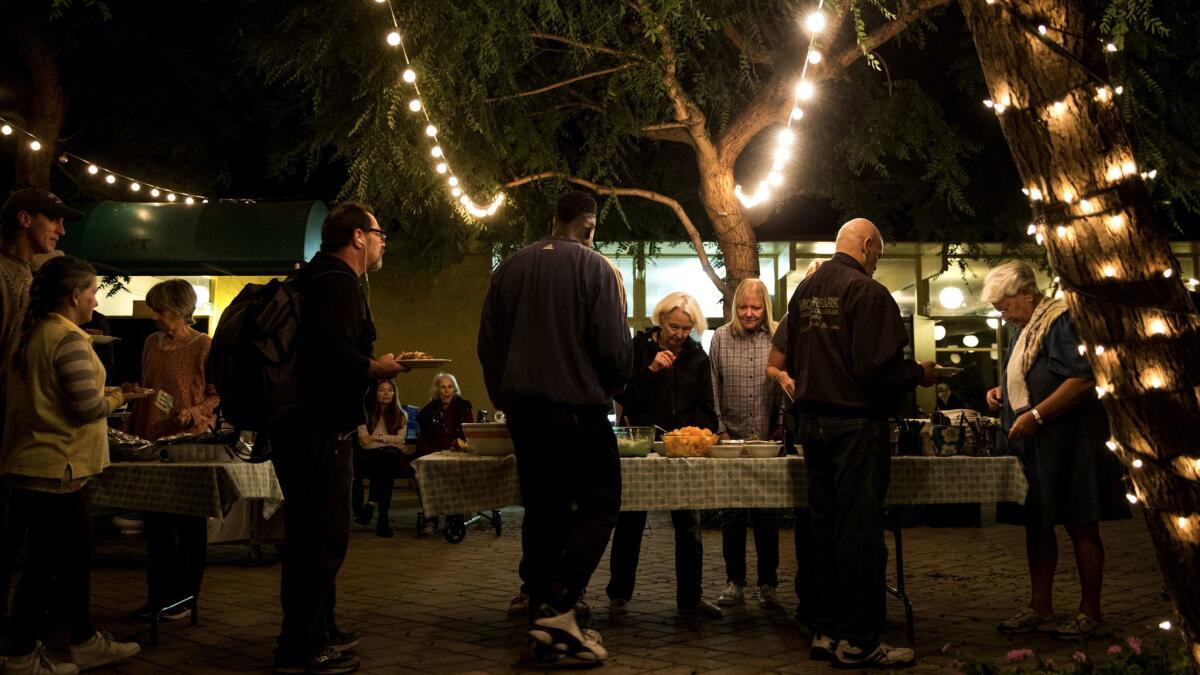 Being homeless in Malibu is different.
Chris Smith watches ducks land on the lagoon at sunset from his beach encampment, known to locals as Margaritaville.
Nancy Rosenquist told the City Council of huddling behind a dumpster and listening to Lady Gaga record a song in an adjacent building.
Residents have long been generous to those who live in the city's 21 miles of canyons, beaches and glittering shopping centers.
For 17 years, religious groups fed homeless people, and the city and private donors put up hundreds of thousands of dollars for social workers to find them housing and services.
But Malibu United Methodist Church — facing pressure from the city — in recent weeks took a U-turn, deciding twice-weekly dinners for homeless people would stop after Thanksgiving. The cutoff came after city officials summoned organizers and suggested they were attracting more homeless people and making the problem worse.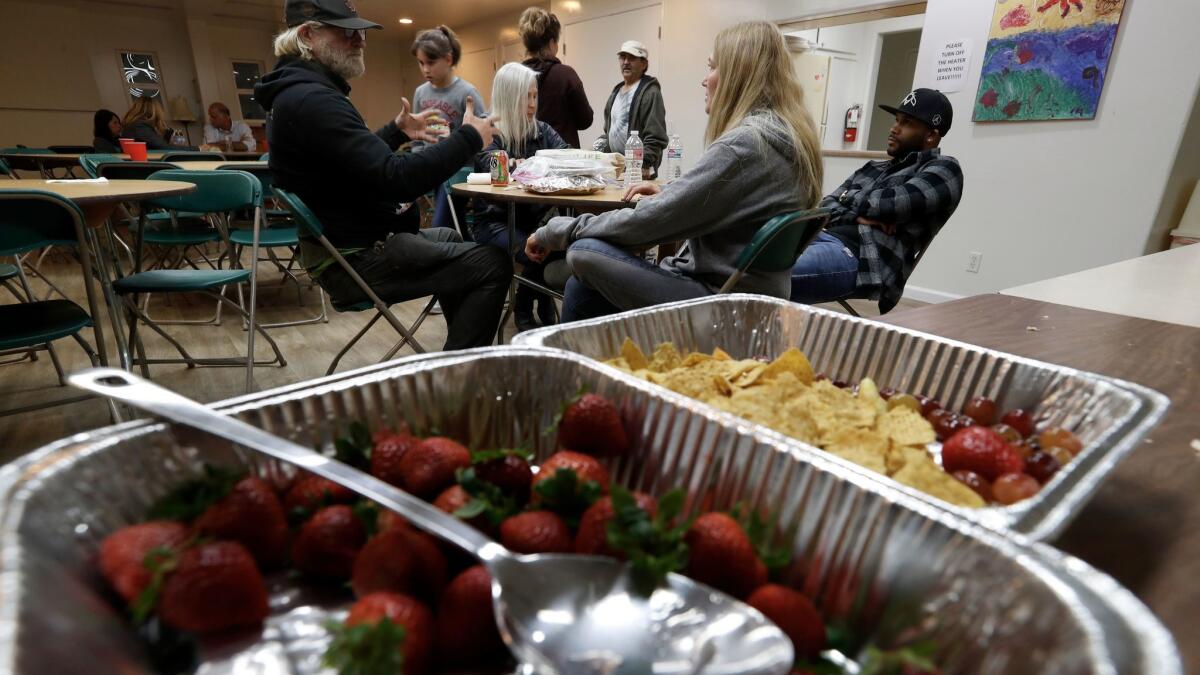 The issue boiled over on conservative and Christian online forums, where Malibu residents were castigated as liberal hypocrites. Lurid death threats poured in to City Hall.
At an emotional public hearing last week, Mayor Skylar Peak denied ordering the meals to end, but he also apologized for "miscommunication."
"I just think we need to treat people like our brother and don't look where they came from," Kay Gabbard, one of the meal organizers, said later.
Peak said the city wanted to work with volunteers on a solution.
"I will stand by the fact that everyone up here is compassionate about everyone in the community," he said.
Malibu, population 13,000, has roughly 180 homeless residents but no shelter or housing for poor people.
As homelessness began to grow, a group called the Community Assistance and Resource Team began handing out clothes and toiletries and arranging homeless service days with Los Angeles County.
Last year, some of the members broke off and raised $460,000 to hire full-time social workers from the People Concern, a Southern California nonprofit social services agency.
In just over a year, the social workers got 24 of Malibu's homeless people off the streets, including 11 placed in permanent housing.
Meanwhile, Malibu United Methodist Church and Standing on Stone, a Christian group, had been hosting twice-weekly homeless dinners on Wednesdays and Thursdays for three years. The church is in a residential neighborhood, near the high school.
After the Metro's Expo Line opened to Santa Monica last year, neighbors began complaining of mentally ill and rough-looking characters camping at the beach and hanging out near schools.
"A homeless person was taking a shower in the girls locker room in middle school — that wasn't real good," said Gary Peterson, a retired developer and hotelier who quit the church's board of trustees over the meal issue. "Providing dinner is a nice thing to do and a good thing, but it's the location."
The L.A. County Sheriff's Department reported a surge in homeless nuisance calls and scattered crimes, although not necessarily committed by transients; one woman woke to find a naked man standing over her bed.
Some homeless people believed residents were reacting against an influx of African Americans from Santa Monica and downtown Los Angeles. Malibu is 90% white.
"People don't want to see homeless people around," said Tyrone Valiant, 70, as he waited outside the Malibu library for a bus. "Now they're cutting off the food."
At one of the final dinners last week, 50 people from several Southern California communities lined up on a brick patio festooned with lights to sample a cornucopia of home-cooked food: hors d'oeuvre platters, grilled chicken, ham, salads, fruit, mac and cheese, lasagna, mashed potatoes and an entire dessert table.
"This is very sad for us; we've been enjoying these friends for more than three years," said the Rev. Sandy Liddell, the Methodist church's pastor.
During the council meeting, Mayor Pro Tem Rick Mullen suggested volunteers put together box lunches for the social workers to hand out instead of dinners.
"It's not about the meals," said Shifra Wylder of Standing on Stone, which has fed Malibu's homeless people for 17 years.
Over the years, her group has helped hundreds of homeless people move into apartments, return to school or reunite with their families, she told the council.
John Maceri, the People Concern's executive director, later said he disagreed that the meals contributed to Malibu's homeless problem. But he recognized that neighbors see people coming into their community and are genuinely upset.
"What makes it all the sadder is it's pitting neighbor against neighbor," he said.
Liddell pledged to find a new place for the feedings, but that could be tough. Standing on Stone has been forced to move three other times because of complaints, Wylder said.
"There's no place in Malibu to go," she said.
Several homeless people said they sympathized with the city's dilemma. Back at Margaritaville, Chris Smith said he was recovering from a traumatic eviction and "the meals are definitely helping."
"But the taxpayers don't want to take a chance on crime, and I kinda agree with them," he said.
"Some homeless people are good and some are bad," he added, before jumping on his bike and heading to the church.
Twitter: @geholland
Sign up for Essential California for news, features and recommendations from the L.A. Times and beyond in your inbox six days a week.
You may occasionally receive promotional content from the Los Angeles Times.