California Supreme Court: Medical board can examine prescription records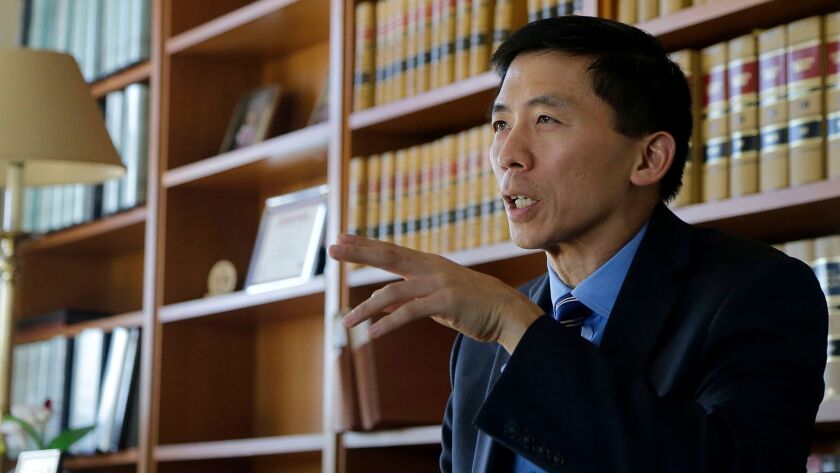 California's medical board may obtain patient prescription records without a warrant or subpoena, the California Supreme Court decided unanimously Monday.
Dr. Alwin Carl Lewis, a Burbank internist, brought the case after the state placed him on probation for three years following a review of his prescription records.
Lewis contended the medical board's access to the records violated his patients' privacy.
The state high court, in a ruling written by Justice Goodwin Liu, rejected the physician's challenge. The government's need to protect public safety outweighed any intrusion into privacy, the court said.
"Review of these records was justified by the state's dual interest in protecting the public from the unlawful use … of a particularly dangerous class of prescription drugs," Liu wrote, "and protecting patients from negligent or incompetent physicians."
The case involved the state's Controlled Substance Utilization Review and Evaluation System, known as CURES.
The prescription drug monitoring program requires that every prescription of a Schedule II, III or IV controlled substance be logged into a database, along with the patient's name, address, telephone number, gender and date of birth.
The Medical Board of California, which licenses and disciplines physicians, began investigating Lewis in 2008 in response to a patient complaint.
The patient said Lewis recommended she lose weight with a "five-bite" diet. He directed her to skip breakfast and have five bites of food for lunch and dinner, she said.
A medical board investigator looking into the complaint obtained a CURES prescriber report on Lewis involving hundreds of patients.
The medical board eventually brought charges against Lewis on behalf of the patient who complained and five others. A judge decided that Lewis had engaged in unprofessional conduct and negligence and failed to maintain adequate records.
Lewis went to court to challenge the board's action.
In ruling against him, the California Supreme Court acknowledged that disclosure of information from the database could chill a patient's willingness to pursue treatment.
But the disclosures do "not significantly impair the patient's ultimate ability to make that choice on his or her own," Liu wrote.
Twitter: @mauradolan
ALSO
An overdose, a young companion, drug-fueled parties: The secret life of USC med school dean
In rural America, opioid prescriptions continue to flow, new CDC report shows
CBO analysis of latest GOP healthcare bill delayed
---
The stories shaping California
Get up to speed with our Essential California newsletter, sent six days a week.
You may occasionally receive promotional content from the Los Angeles Times.