L.A. County approves temporary rent stabilization policy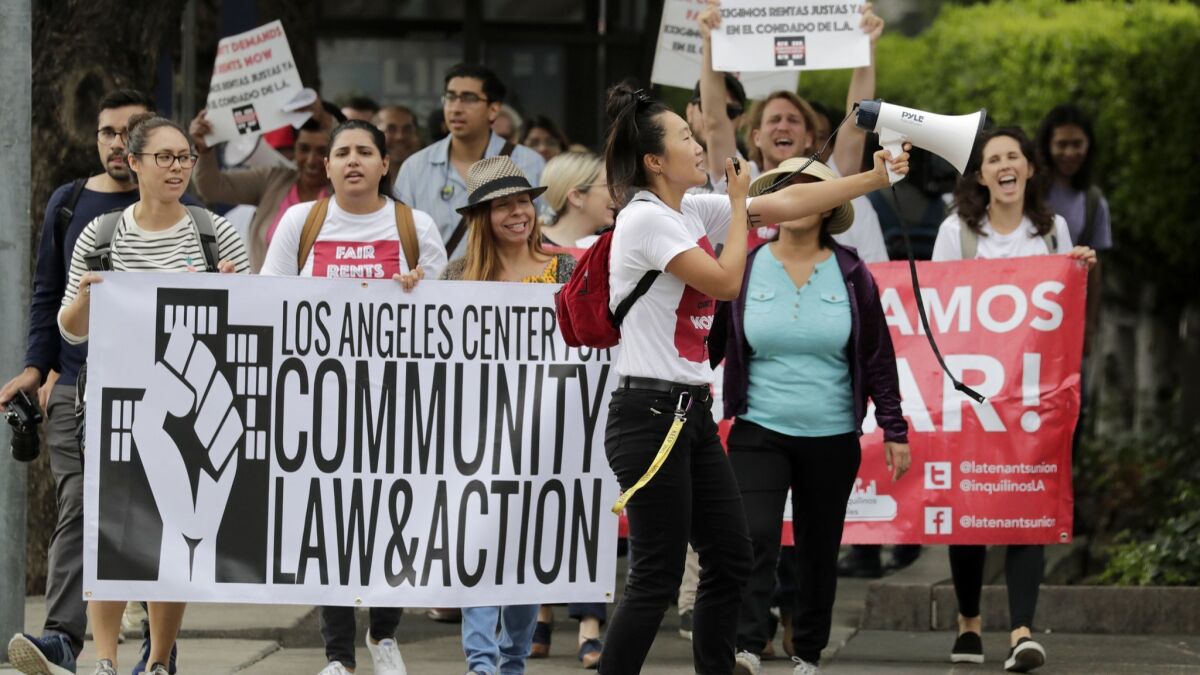 In an effort to relieve pressure on L.A. County renters, the Board of Supervisors approved a temporary measure Tuesday that would limit rent increases in unincorporated areas to 3% annually and allow landlords to evict tenants only with justification.
The board voted 4 to 1 in favor of an interim ordinance that has been championed by Supervisor Sheila Kuehl.
"Rent stabilization does help prevent evictions ... and homelessness," Kuehl said at a hearing on the item.
Preempting arguments that such a measure would deter construction of new rental housing or put mom-and-pop landlords out of business, Kuehl said, "the facts don't back you up."
She said private equity firms are buying apartments in Los Angeles — firms "that frankly don't care about their tenants. And because they don't, we will."
The measure directs the county's attorneys to draft an interim rent stabilization ordinance in 60 days. The ordinance will last for six months while the county considers a permanent alternative.
Ahead of the hearing, tenants and community advocates marched from Plaza Olvera downtown to the Hall of Administration carrying signs that read, "L.A. County demands fair rent now."
At a rally outside the Hall of Administration, Beverly Roberts, a homeowner and landlord in an unincorporated area near South L.A., said, "I'm seeing my community being ripped apart by rent increases that people simply can't pay. … Landlords don't need to gouge tenants to get a fair return."
Dozens of people spoke at the hearing, most in support of the measure.
"We see every week tenants who face large rent increases, of 40 to 80%," said Tyler Anderson, an attorney with the Los Angeles Center for Community Law and Action.
Brandi Orton, of the Los Angeles Aging Advocacy Coalition, said her group's senior center is seeing five seniors fall into homelessness each month. "As people are being evicted because of higher rents or new owners, there is simply nowhere that is affordable at their rate," she said.
Landlords, real estate lawyers and apartment associations spoke against the measure.
"I agree rents are too high," said Jill Furtado, who owns one rental property in the Antelope Valley. But she urged the supervisors to oppose the measure. "I have taxes, insurance, utilities that are going up every year. Sometimes I choose to absorb that cost and sometimes I can't. … This is my retirement."
A number of speakers specifically called on Supervisor Mark Ridley-Thomas to support the measure. Their arguments appeared to convince him.
"Crises warrant intervention," Ridley-Thomas said. "Imperfect though it may be, that [measure] which is before us is temporary. It is tailored. … The safety net is important in a variety of ways to me."
Ridley-Thomas proposed that Tuesday's motion be amended to include a report back on other issues, including improving building code enforcement and resolving landlord-tenant disputes. All of his amendments were approved.
Supervisor Kathryn Barger also offered to support the measure with some amendments, including one to allow "rent banking," a practice whereby landlords who don't increase rents by the maximum allowed amount one year can make up the difference the following year.
Kuehl said she appreciated Barger's effort to compromise but rejected her amendments, saying they would leave tenants in the same vulnerable situation they face today. Barger cast the lone dissenting vote.
The motion for an interim ordinance stabilizing rents on apartment units follows a similar one last week limiting rent increases in mobile home parks.
It also comes ahead of a proposition on the November ballot to repeal California's Costa-Hawkins Rental Housing Act, which limits municipalities' ability to impose rent control.
Twitter: @AgrawalNina
---
The stories shaping California
Get up to speed with our Essential California newsletter, sent six days a week.
You may occasionally receive promotional content from the Los Angeles Times.