L.A. County to consider temporary measure to cap rent increases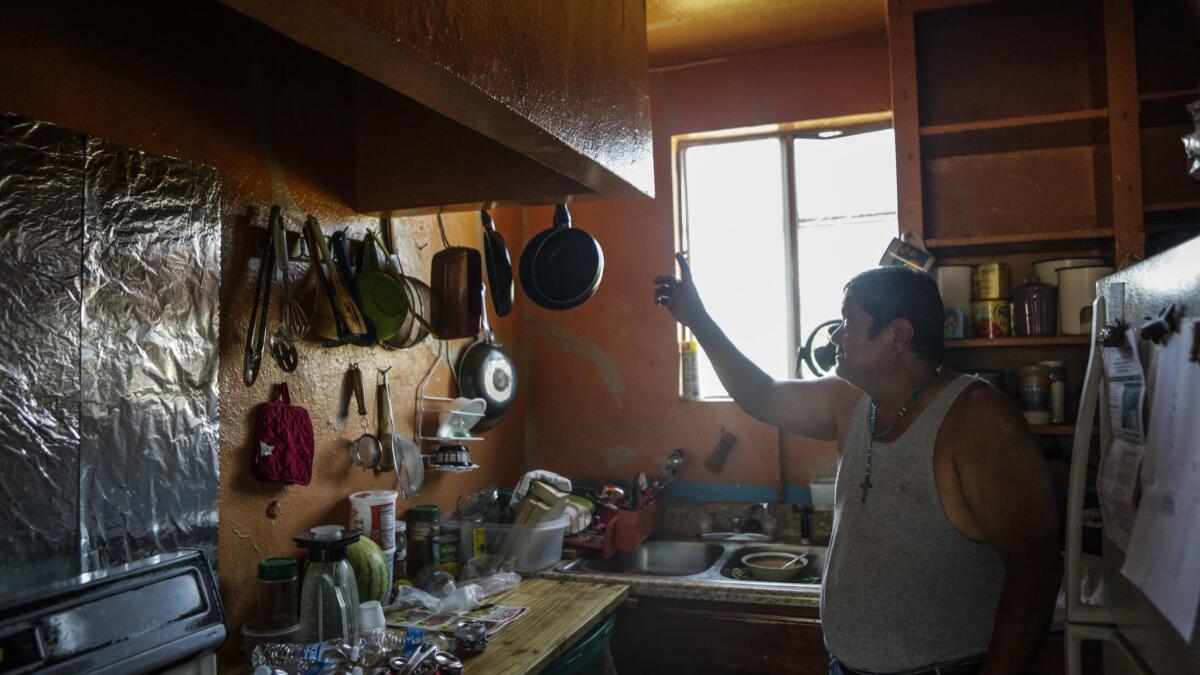 Jose Nunez has lived for 20 years in a small studio in the Florence-Firestone area, and says he has always paid the rent on time.
He keeps the floors swept, counter surfaces shiny and belongings neatly stacked. But in the corners of his brightly painted kitchen lay sticky traps covered in cockroaches. Patches of mold dot his bathroom ceiling. Cracks in the walls have been plastered over.
Nunez complained for months about the conditions. In April, he and 14 other tenants in the complex who also complained received 60-day notices to leave — with no explanation.
Leaving would be a hardship for Nunez, 62, a former factory machine operator who collects $975 a month from disability and pays $668 in rent. Comparable apartments nearby rent for at least $1,000 a month, he said.
On Tuesday, the L.A. County Board of Supervisors will consider putting in place a law that could help people in Nunez's situation. In unincorporated areas, the measure would cap rent increases at 3% per year and require that landlords have a legitimate reason for evictions.
Supervisor Sheila Kuehl, who authored the motion calling for an interim ordinance, said it is meant, in part, to prevent older people on fixed incomes from becoming homeless or unable to meet their basic needs.
"You cannot just have your rent jump up and eat … less food," Kuehl said in an interview.
According to the California Housing Partnership Corp., a nonprofit group that advocates for more affordable housing, L.A. County's inflation-adjusted median rent increased 32% from 2000 to 2015, while median renter income decreased 3%. One in three renters in the county spends at least half their income on rent, according to research by UCLA.
The proposed law, which would come to the board for approval in 60 days, would cap annual rent increases using rent levels on Sept. 11, 2018, as the baseline. Apartments first occupied after 1995, condominiums and single-family homes would be exempt, in accordance with the state's Costa-Hawkins Rental Housing Act.
The ordinance would require just cause for evictions and include "due process" to ensure property owners are entitled to a "fair and reasonable" return.
Kuehl's office estimates the ordinance would apply to approximately 57,000 households, or about 200,000 people.
The motion comes in advance of a November state ballot measure, Proposition 10, which would repeal the Costa-Hawkins act. That would allow municipalities to enact rent control on all types of rental units and to cap rents even when a tenant moves out. Now, landlords have the right to set rents at market rate each time a unit becomes vacant, a policy known as vacancy decontrol.
Opponents of the county's interim ordinance and the statewide ballot measure say current data do not show a spiraling increase in rents, that capping increases will not make housing more affordable, and that rent stabilization deters landlords from remaining in or entering the rental market.
"This is going to scare our mom-and-pop owners," said Janet Gagnon, director of government relations and external affairs for the Apartment Assn. of Greater Los Angeles. "They're going to say, 'I've been living right at the margin. … If this is the direction that our supervisors are going, then I'm not going to be in this business anymore.' We're going to lose more affordable rental housing today."
Beverly Kenworthy, vice president of the California Apartment Assn., which is sponsoring a political action committee to oppose Proposition 10, said her group "absolutely" recognizes that people are rent-burdened.
"We want to address the affordability issue … but we want to do it in a way that's not going to stifle housing production," she said.
Kenworthy and Gagnon said better educating tenants and landlords about their rights and responsibilities and expanding emergency rental subsidies for tenants who can't afford their rent could offer alternative solutions.
Paul Ong, director of UCLA's Center for Neighborhood Knowledge, said his research on the four cities in L.A. County that have adopted some form of rent control — Los Angeles, Beverly Hills, Santa Monica and West Hollywood — show no significant difference in the amount of rental housing added there compared with the county as a whole.
His research also found no significant difference in the vacancy rates, which all stand around 3%, indicating a tight rental market across the board.
"The short-term solution is protecting those who are most vulnerable," Ong said. "It needs to be complemented in the long term by strategic planning about increasing the supply of affordable housing."
Both solutions will probably come too late for Nunez, who is fighting his eviction case in court.
Still, Nunez said, when the case is over, knowing he can't be forced out by exorbitant costs or arbitrary notices will offer some comfort.
"It will give me a little bit of stability so I won't fall the way the indigent have fallen," he said.
Times staff writer Andrew Khouri contributed to this report.
Twitter: @AgrawalNina
Sign up for Essential California for news, features and recommendations from the L.A. Times and beyond in your inbox six days a week.
You may occasionally receive promotional content from the Los Angeles Times.