Gun in Westlake school shooting may have gone off inside a backpack, LAPD says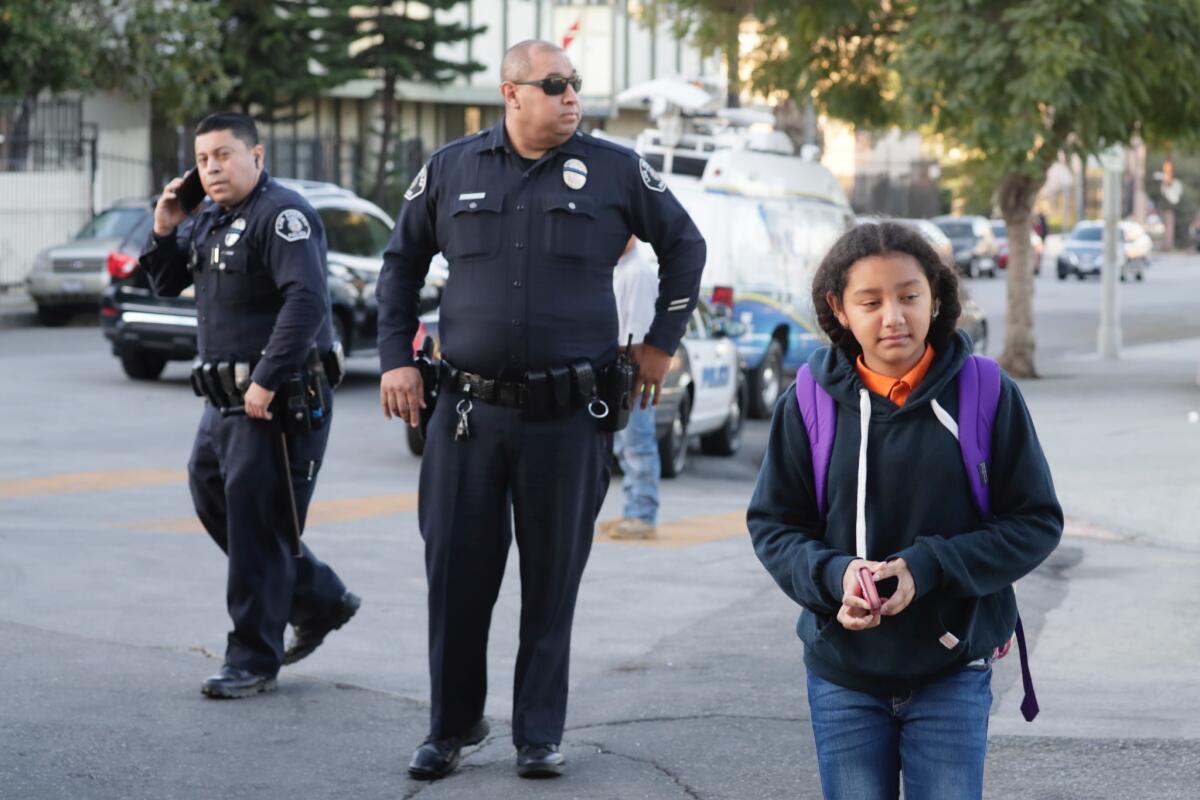 Police investigating the shooting of students at Sal Castro Middle School said the small-caliber handgun that was carried into a classroom appears to have fired a single round from inside a backpack.
The gunfire erupted in a full classroom shortly after the morning bell Thursday and sent students fleeing. The bullet struck a 15-year-old boy in the temple and a 15-year old girl in the left wrist. Two other students and a teacher suffered minor injuries.
"The physical evidence seems to support that it was discharged from within the backpack," LAPD Deputy Chief Robert Arcos said Friday morning.
Investigators believe only two students were struck by the bullet, Arcos said.
"We believe the trajectory of that round traveled through a through-and-through wound first and then struck the other victim in the face," he said.
A 12-year-old girl was taken into custody and a semiautomatic pistol — which was unregistered — was recovered at the scene. The girl has been booked on suspicion of negligent discharge of a firearm and bringing a loaded firearm onto a school campus, Arcos said.
Police are still trying to determine how the girl obtained the weapon.
"That's still the big question mark for us," Arcos said. "We are getting cooperation from the family."
Arcos said that the 12-year-old has an attorney and is not talking to investigators. He said investigators would present their case Friday to the district attorney's office for filing consideration.
"We would love to be able to talk to her more fully in an interview and just get to the intent and motive," Arcos said. "There's a lot of things I'm sure are going through her mind right now — she's only 12 years old. Hopefully we'll have an opportunity again to talk to her."
The girl's name has not been released because she is a minor. Television news footage Thursday showed a young girl with long hair, jeans and a blue Sal Castro sweatshirt being escorted to a police cruiser in handcuffs.
A number of fellow students described the girl as someone who was known to "ditch class."
On Friday morning, anxious parents accompanied their children to the school as classes resumed.
Guadalupe Segura placed her hand on her heart as she watched her 13-year-old daughter, Jazmine, walk into the Westlake school with dozens of other students.
"I'm bringing her here to the school alive, and I don't know what will happen to her between now and when she comes home," Segura said. "Anything can happen, even at schools."
Although classes resumed as normal, some students arriving at the school Friday morning said they weren't ready to come back.
"I'm kind of afraid for my safety," said Oswaldo Gonzalez, 11, a sixth-grader at the school. "My parents told me to try and stay safe."
Maria Serrano reluctantly dropped off her 12-year-old daughter at school. She had been in Calabasas when she heard about the shooting, describing it as a "dramatic day."
"I told her if you want to come to school, I'll support that, but if you don't, it's OK," Serrano said. "She had nightmares and kept waking up because of what happened."
Noe Garcia, 13, an eighth-grader, said he was still a little shaken from the shooting but felt well enough to come back.
"I'm worried about the kids who got shot," he said. "I hope they're OK."
Castro Principal Erick Mitchell and district officials announced that substitutes would be available for any teacher who felt unable or unwilling to work on Friday. The teacher in the classroom where the gun discharged accepted the offer.
At least one student who was in the classroom when the shooting occurred told a reporter Thursday that he thought the gunfire was unintentional.
"Someone decided to bring a gun. I guess someone was accidentally playing around with it," said Benjamin, a 12-year-old seventh-grader whose guardian asked that his last name not be used. "They thought it was a fake gun."
None of the identities of those who were injured has been released. In addition to the two 15-year-olds, they were described as a 30-year-old woman, an 11-year-old boy and a 12-year-old girl.
At a news conference at Los Angles County-USC Medical Center on Thursday, doctors said they had treated four students with gunshot wounds. Two of those injuries were minor graze wounds and the students were released, officials said. Police and fire officials have said that only the two 15-year-olds suffered gunshot wounds and that the other three injuries were abrasions, some caused by glass.
The shooting renewed debate over how the nation's second-largest school system goes about protecting its students.
The district started random searches in 1993 after a 16-year-old was shot and killed at Fairfax High School. A month later, a student died from a shooting at Reseda High School.
In the Fairfax High School shooting, a boy died when a gun dropped out of another student's backpack and discharged.
The student who brought the gun, a 15-year-old boy, was convicted in juvenile court of involuntary manslaughter. He said he brought a Ruger Blackhawk .357-magnum pistol onto the Fairfax campus because he and some friends had been chased by older boys while waiting at a bus stop two days earlier, according to a 1993 L.A. Times article.
He said that he had taken the gun from his grandfather's closet and loaded it with bullets he had found on the street about a year earlier.
The district began requiring the daily searches with metal-detecting wands in 2011 after two students were injured in a shooting at Gardena High School, district officials said.
In that case, a gun was in a backpack and reportedly fired when a 17-year-old boy put it on a desk. Two students were wounded, one critically. Friends of the 17-year-old said he was not known as a violent boy, but had brought the gun to school for his own protection, according to a 2011 L.A. Times article.
Times staff writer Sonali Kohli contributed to this report.
Twitter: @Brittny_Mejia
---
UPDATES:
12:35 a.m.: This article was updated with details about the gun.
11:35 a.m.: This article was updated with details on a Fairfax High School shooting in 1993.
10:45 a.m.: This article was updated with details from police on how the gun discharged.
This article was originally published at 9:25 a.m.
Sign up for Essential California for news, features and recommendations from the L.A. Times and beyond in your inbox six days a week.
You may occasionally receive promotional content from the Los Angeles Times.