Several Camp Pendleton Marines convicted on sex assault, child porn charges; more cases pending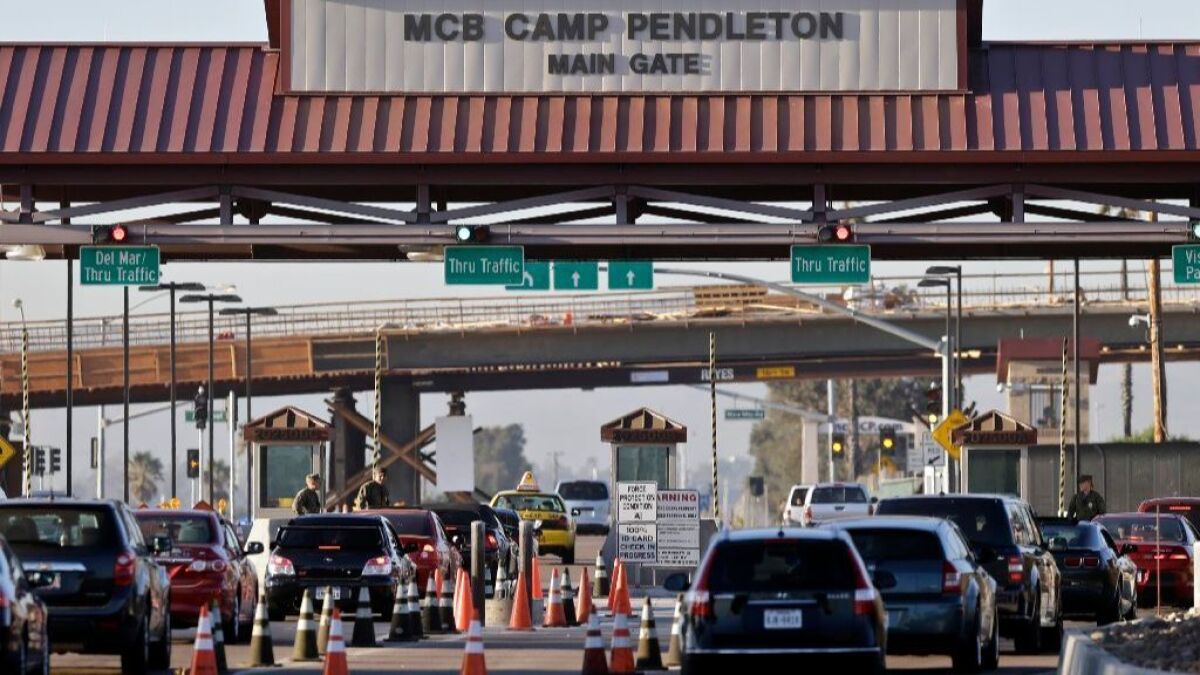 Reporting from San Diego —
Several Camp Pendleton-based Marines have been found guilty in recent weeks of crimes including rape and child pornography, with other similar cases still pending in the military criminal justice system, records show.
The cases are coming to light due to a series of Freedom of Information Act requests filed by the San Diego Union-Tribune over the past four months. Documents released by the Marines revealed that some of the most serious cases were tied to senior leaders like ex-Chief Warrant Officer E. DeLeon Jr.
At a Camp Pendleton court-martial last month, a military judge convicted DeLeon of possessing and distributing child pornography. The judge sentenced him to seven years behind bars, but a pretrial agreement capped his imprisonment at five years.
Highly redacted records trace DeLeon's crimes back to Nov. 26, 2016, at Camp Pendleton, when he distributed a digital image of a child engaging in sex. Three days earlier, he had communicated to an unidentified person his desire to molest "a little girl," an act he thought "sounds amazing," according to his records.
Camp Pendleton Lance Cpl. M.F. Currington also was found guilty of abusing anabolic steroids and sexually abusing a child. He was sentenced to three years behind bars. Assigned to 2nd Battalion, 4th Marines, Currington's charges stemmed from a late 2016 probe into steroid and drug paraphernalia possession, according to records released to the Union-Tribune.
Another Camp Pendleton Marine, Lance Cpl. B.J. Morton of 1st Battalion, 11th Marines, also was convicted last month of possessing and distributing child pornography. He was demoted to private and given a bad conduct discharge. A pretrial agreement capped his confinement at 1½ years.
He was incarcerated on Aug. 14 after investigators accused him of possessing three videos and other sexually explicit images of children, according to his records.
A fellow member of his artillery regiment, Marine E.F. Hernandez-Ramirez, faces multiple domestic abuse charges filed in September.
Assigned to 2nd Battalion, 11th Marines at Camp Pendleton, he's accused of punching an unnamed woman in the head and torso, slamming her head against a wall, hitting her head with a coffee cup and twice strangling her during five separate incidents in fall 2016.
He was charged with four more specifications tied to several Murietta incidents that allegedly occurred in late 2016 and early 2017. He's accused of punching a woman in the head and body three times and wrapping a belt around her neck to strangle her. The records failed to specify if it was the same woman in all the incidents, and Camp Pendleton officials declined comment.
Several cases involve Marines accused of sneaking into other service member's rooms to assault or grope them.
For example, Lance Cpl. J.P. Hill was convicted last month of sexual assault causing harm, abusive sexual contact and making an indecent recording. Assigned to 1st Marine Expeditionary Force headquarters inside Camp Pendleton, he crept into the room of a fellow Marine at night to assault her and photographed her when she was naked, according to records released to the Union-Tribune.
He was sentenced to two years in prison, demoted to private and given a dishonorable discharge.
L.M. Schmidt, a Marine assigned to Aviation Logistics Squadron 13 in Yuma, Arizona, was charged on Aug. 17 with entering an unnamed service member's barracks to touch the person's hips in order to gratify his sexual desires, according to the court records.
His unit falls under the command of the Miramar-based 3rd Marine Aircraft Wing.
Another Yuma Marine, Sgt. C.S. Panatta, is accused of raping a child under 12 there in 2016. Commanders also filed a pair of charges tied to alleged lewd incidents involving another child under 16 around the same time.
He faces a third set of charges linked to child abuse that allegedly occurred in 2014 and 2015 at Marine Corps Air Ground Combat Center, Twentynine Palms, in San Bernardino County. He's accused of beating a child with a fly swatter, punching a child's face, slamming a child in the head with a door and attempting to suffocate a child with a pillow, according to records released to the Union-Tribune.
Assigned to Marine Operational Test and Evaluation Squadron One, Panatta has been in pretrial confinement for a year.
Another Marine assigned to an aviation unit, P. Wiredu of Miramar's Marine Wing Headquarters Squadron 3, was charged in 2015 with committing three 2013 rapes in or near San Diego, according to heavily redacted records released to the newspaper.
Citing the ongoing cases, Marine officials declined to comment.
Prine writes for the San Diego Union-Tribune.
---
The stories shaping California
Get up to speed with our Essential California newsletter, sent six days a week.
You may occasionally receive promotional content from the Los Angeles Times.