Hazmat team clears suspicious envelopes mailed to Los Angeles Times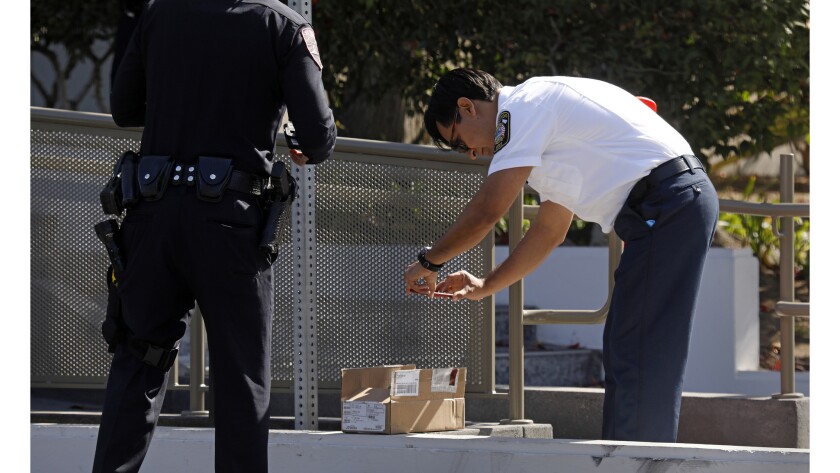 Authorities on Wednesday afternoon said several suspicious envelopes mailed to the Los Angeles Times headquarters in El Segundo were deemed safe by a hazardous materials team.
Nicole Nishida, a spokeswoman for the Los Angeles County Sheriff's Department, said just after 5 p.m. that the envelopes had been screened and did not pose a threat.
Authorities said four suspicious envelopes had been mailed to the building, and police blocked Douglas Street and Imperial Highway for several hours.
Times security called police about 11:15 a.m. after a mailroom employee discovered standard-size envelopes that were bundled together and addressed to offices at Knott's Berry Farm with the return address as the L.A. Times. However, the envelopes had not been sent from The Times; an unknown person mailed them using the newspaper's return address, police and fire officials said.
Hillary Manning, a spokeswoman for The Times, said the mailroom employee identified the envelopes as unusual after Times staff asked whether any odd mail had been seen. The inquiry was prompted by suspicious packages found at the San Diego Union-Tribune, CNN and other places Wednesday. The address information was pasted on the envelopes, using what appeared to be either a label maker or printed labels.
"Pieces of mail similar to those that are being screened have been delivered to The Times in the past, and there haven't been any security issues reported related to this type of mail," Manning said.
There was no threat of a bomb inside the envelopes, officials said, and the building was not evacuated.
Hazmat team examining suspicious envelopes mailed to Los Angeles Times
Authorities were inspecting the building's mail room Wednesday evening, Manning said.
The Los Angeles County Department of Public Health, the El Segundo Police Department and the L.A. County Sheriff's Department hazardous material team converged on The Times building about 2 p.m. to determine how to deal with the envelopes, which were placed in a box outside the building. A portion of the parking lot was taped off for the investigation.
Preliminary tests showed that no gas or radiation was being emitted from the envelopes.
Police blocked North Douglas Street from Atwood Way to Imperial Highway and were diverting traffic around the Times building.
Manning circulated a statement Wednesday afternoon about the incident to the newsroom:
"Contrary to some media reports, we are not being evacuated. Given the reports about the package sent to former CIA chief John Brennan at CNN, and potential explosive devices sent to Obama, Hillary Clinton and former Atty. Gen. Holder, our security and facilities teams are being extra careful with mail and packages, as well as with any visitors to the building. There is some mail that is currently being thoroughly screened."
The response came hours after a suspicious package forced the evacuation of the San Diego Union-Tribune newsroom, a sister publication of the Los Angeles Times. That package was found to be harmless.
Several floors of the building on 600 B St. in San Diego, which houses the Union-Tribune, WeWork offices and a branch of Democratic Sen. Kamala Harris' office, were briefly evacuated, and a hazardous materials team was called to investigate the area of 6th and B streets, authorities said.
In Fresno, police were called shortly before 8 a.m., to investigate a suspicious box in the parking lot of a building that houses TV stations CBS 47 and KSEE 24, police Lt. Mark Hudson said.
About an hour later, the department's bomb unit determined that the Mac computer monitor box was not a threat, Hudson said. "It just had some trash and scrap metal inside," he said. "It was probably just someone leaving their junk in a box."
The Secret Service reported Wednesday morning that it had intercepted potential explosive devices addressed to Hillary Clinton and President Obama, and CNN reported a third device was sent to its Manhattan bureau, prompting an evacuation.
Twitter: @Hannahnfry
---
UPDATES:
5:40 p.m.: This article was updated with authorities giving an all-clear.
3:35 p.m.: This article was updated with information about the incident and additional comments from The Times.
2:40 p.m.: This article was updated with information from the hazmat screening.
2:05 p.m.: This article was updated to include a statement from The Times and information about hazmat response.
1:45 p.m.: This article was updated to clarify the nature of the suspicious mail.
This article was originally published at 1:10 p.m.
---
The stories shaping California
Get up to speed with our Essential California newsletter, sent six days a week.
You may occasionally receive promotional content from the Los Angeles Times.