UC Davis chancellor apologizes for controversial moonlighting activities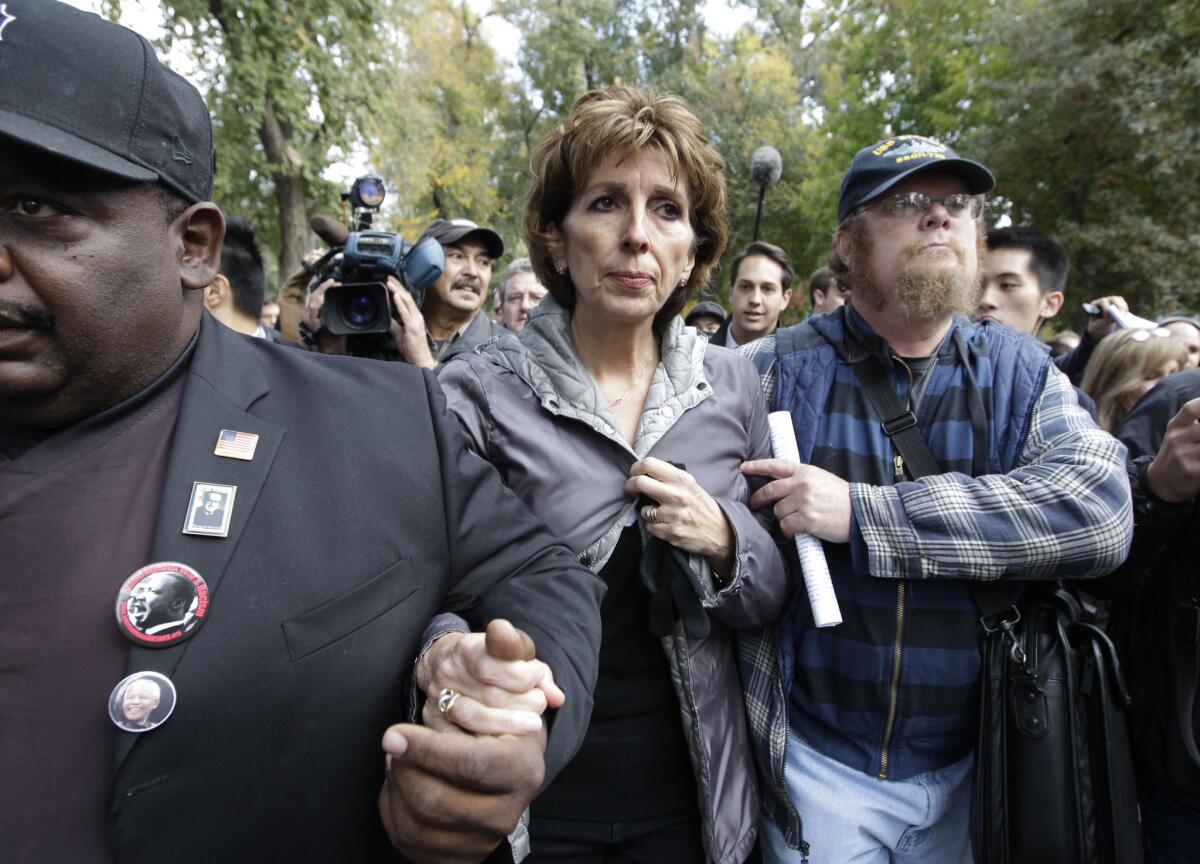 UC Davis Chancellor Linda Katehi has apologized for her controversial moonlighting activities, which had prompted a call for her resignation and legislative hearings on paid outside activities by university officials.
Katehi, who earns $424,360 annually as chancellor, had come under fire for accepting a $70,000-a-year position with the DeVry Education Group, a for-profit firm that offers college degrees online and on 55 campuses nationwide, including 13 in California.
DeVry is being investigated by state and federal authorities on allegations of deceptive advertising about job and income prospects for its graduates. It has denied the accusations.
Katehi resigned from the DeVry seat last week after questions were raised by public interest groups and Assemblyman Kevin McCarty (D-Sacramento), who heads the budget subcommittee on education finance. McCarty met with Katehi on Thursday; he said he was "unsatisfied" with her explanation as to why she accepted the DeVry position. After the Sacramento Bee reported that day that Katehi also earned $420,000 over three years as a board member for John Wiley & Sons, a college-textbook publisher, McCarty said he decided to call for her to step down as chancellor.
It is unseemly for the chancellor to be seeking these side deals moonlighting ... while students are struggling with a tremendous amount of debt.
— Assemblyman Kevin McCarty (D-Sacramento)
"It is unseemly for the chancellor to be seeking these side deals, moonlighting to increase her pay, serving on these boards ... while students are struggling with a tremendous amount of debt," McCarty said in an interview. "I don't see how this serves the university, students or taxpayers."
Katehi said Friday she would donate all stock proceeds earned while serving on the Wiley board to a scholarship fund for UC Davis students."I take my responsibilities as chancellor of UC Davis, and to the entire University of California, very seriously and sincerely regret having accepted service on boards that create appearances of conflict with my deep commitment to serve UC Davis and its students," she said.
UC President Janet Napolitano, who had not given Katehi permission to join the DeVry board, as is required, seemed satisfied. "I appreciate that Chancellor Katehi has apologized and taken responsibility for having accepted board positions that created an appearance of conflicts of interest with her university responsibilities," Napolitano said in a statement. "I deeply value Linda's strong record in helping to make UC Davis a world-class center of scholarship and research, and continue to believe in the value of her contributions to the university. We will take all steps necessary to prevent a recurrence of this unfortunate incident."
McCarty, however, said he was not mollified by Katehi's apology or her decision to donate her Wiley proceeds. "This just adds insult to injury," he said. "She gets caught, and now she's remorseful and is trying to pay off students with this fund. It seems too little, too late."
He said he would hold legislative hearings in the coming weeks to review UC's moonlighting policies.
State Sen. Richard Pan (D-Sacramento) said in a statement that Katehi showed "poor judgment" in accepting the DeVry board seat and called on UC to reexamine its policy permitting chancellors to serve paid board seats of for-profit firms. But Pan, a former UC Davis faculty member, credited Katehi with increasing student enrollment, diversity, research funding and the university endowment for scholarships, facilities and academic programs to more than $1 billion.
The Bee reported that Katehi served on the board of Wiley, a publisher of science, engineering and math textbooks, from 2012 to 2014. According to Securities and Exchange Commission filings, she received $125,000 in pay and stock in 2012, $144,000 in 2013 and $151,000 in 2014, the Bee reported. UC policy allows senior managers to accept paid positions on up to three outside for-profit boards. The position must be approved by superiors, with activities performed during personal time and reported annually.
Katehi became UC Davis chancellor in 2009.
For more education news, follow me @TeresaWatanabe
ALSO
Student accused of stealing and posting teacher's nude photo faces charges
How a busboy's work at a pizza restaurant led to an arrest in the Grim Sleeper case
With prosecutors' blessing, a jailhouse informant tied to the Mexican Mafia gets leniency
Sign up for Essential California for news, features and recommendations from the L.A. Times and beyond in your inbox six days a week.
You may occasionally receive promotional content from the Los Angeles Times.