How a pizzeria 'busboy' led to an arrest in the Grim Sleeper case
The busboy at John's Incredible Pizza was not what he appeared to be.
Party Room No. 4 at the Buena Park eatery was buzzing with a child's birthday celebration on the afternoon of July 5, 2010.
Children bounced around and played. The adults munched on pizza and chocolate cake. A pizzeria worker blew up balloons in the corner.
At the edge of the table sat Lonnie Franklin Jr., eating and chatting with the other partygoers.
A middle-aged man dressed as a busboy milled about the room holding a plastic tub, refilling cups with soda and picking up dishes.
NEWSLETTER: Get essential California headlines delivered daily >>
But when he picked up Franklin's dishes, he placed them in a metal pan inside the plastic tub, carefully separating the items from the rest of the trash and covering it with a tray.
The busboy was an undercover Los Angeles Police Department detective. Franklin was his mark.
Jurors in a downtown Los Angeles courtroom heard Friday how the detective and others were tasked with surveilling Franklin, who was suspected in a series of murders of women in South Los Angeles.
DNA evidence retrieved from the discarded dishes and food would lead prosecutors to allege that Franklin, a former Los Angeles police garage attendant, is the serial killer known as the Grim Sleeper and linked to a series slayings spanning more than 20 years.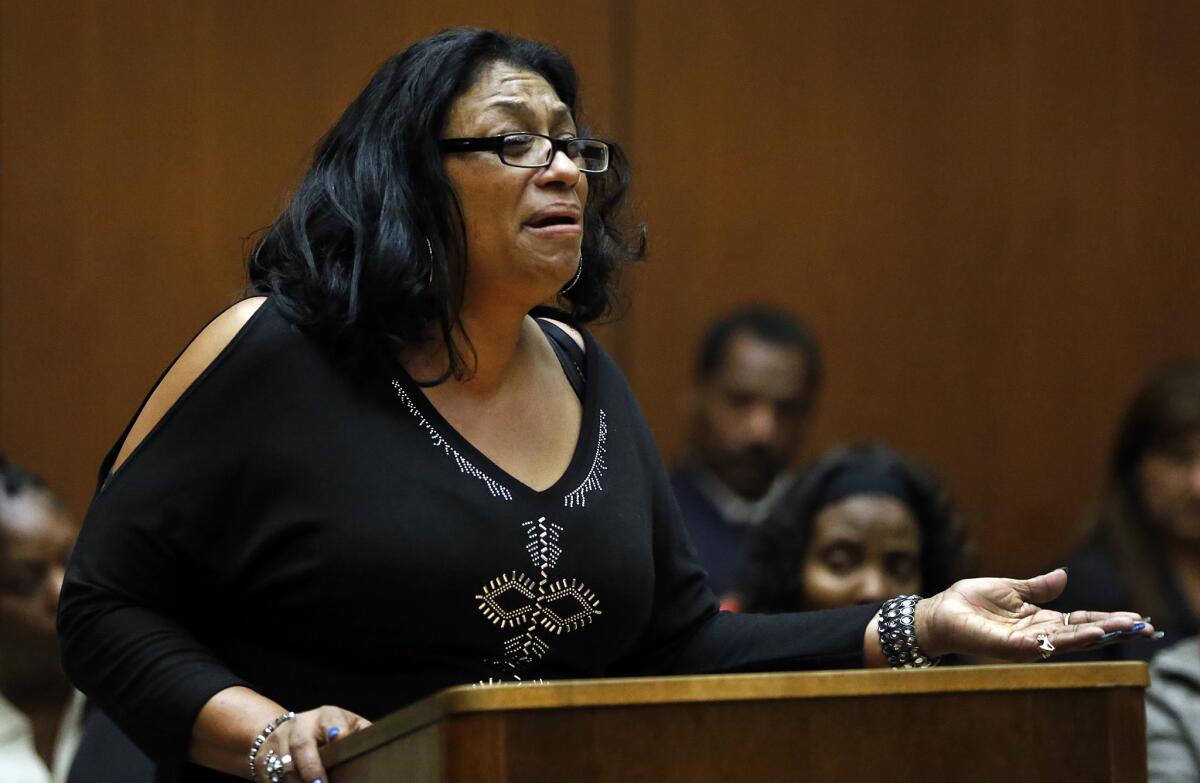 Franklin faces 10 counts of murder in the deaths of nine women and a 15-year-old girl and one count of attempted murder. The 63-year-old has pleaded not guilty.
A team of investigators trailed Franklin for three days, culminating in his trip from his green house on 81st Street in the Manchester Square area of Los Angeles to the restaurant in Buena Park.
Video taken by a restaurant security camera was played for the jury and showed Franklin eating as the detective worked the room, cleaning the table, filling drinks and removing dirty dishes.
At one point, Franklin rose from his seat and turned to the detective before walking out of the room. The video showed the detective picking up Franklin's plate and placing it inside the metal tray.
Franklin, seated at the defense table, tilted his head and watched his movements on the screen above him.
See more of our top stories on Facebook >>
The half-eaten slice of pizza, a fork, two napkins, two plastic cups and a piece of chocolate cake would end up being key pieces of evidence in the prosecution's case against Franklin.
The investigation was the result of work beginning three years earlier, spurred by the discovery of the body of Janecia Peters, 25, who was found in a garbage bag inside a dumpster in 2007.
DNA taken from her crime scene matched evidence from the scenes of two earlier slayings, prompting investigators to begin matching the DNA with killings from the 1980s and more recent deaths up to the early 2000s, according to previous testimony by former LAPD Det. Dennis Kilcoyne.
Investigators, however, did not know to whom the DNA belonged.
In 2008, officials collected DNA data from state prisoners, but failed to find a match.
A year later, then-state Atty. Gen. Jerry Brown approved a new technique called a "familial search" that allowed officials to check whether a crime suspect's DNA partially matched anyone in the state's offender DNA database.
A new check came up with a partial match to Franklin's son, whose DNA had been taken when he was arrested in 2008 and charged with firearm and drug offenses.
Investigators focused on Franklin and launched the surveillance operation.
Prosecutors have said that all the victims are connected to Franklin by DNA evidence, ballistics evidence, or both.
The trial is expected to continue Monday.
For more on the Grim Sleeper trial, follow @sjceasar
ALSO
Man fatally stabbed in mosh pit at punk rock show in Santa Ana, police say
Bell Gardens man is convicted of lewd acts on teenage girl he later married
Santa Clara County inmate brawl is captured on Costco cameras personally purchased by sheriff
Sign up for Essential California for news, features and recommendations from the L.A. Times and beyond in your inbox six days a week.
You may occasionally receive promotional content from the Los Angeles Times.