Monrovia defense workers say they were forced out after ICE audit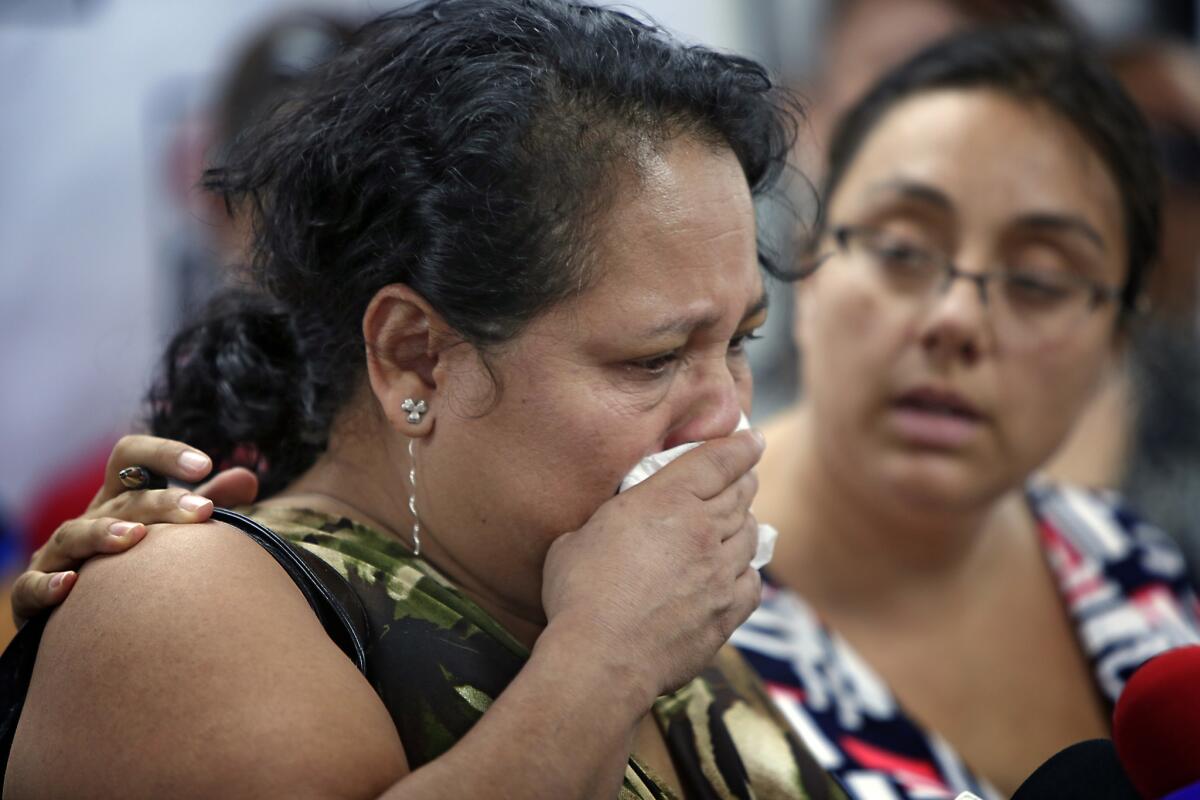 When Raymundo Lazaro showed up for a shift last week at Vinyl Technology Inc., a Monrovia defense contractor that has employed him for the last 18 years, his boss took him aside.
Lazaro, an immigrant from Mexico who came to the country illegally 23 years ago, was told he didn't have paperwork showing he was authorized to work in the United States. Fix it immediately, Lazaro said the boss told him, or sign a letter of resignation.
Lazaro, who had been using falsified employment eligibility documents, had no choice but to quit. "I did my best every single day," he said Thursday. "And like that they called me in and gave me the boom."
He is one of 240 immigrant workers at the company who have been pressured to sign resignation letters in recent weeks amid a federal audit of the company's hiring practices, according to former employees of the company and the Coalition for Humane Immigrant Rights of Los Angeles, an immigrant advocacy group.
At a news conference Thursday at CHIRLA's headquarters, the workers called on the federal government to stop such investigations into workers' eligibility while President Obama weighs major changes to federal immigration policy.Obama promised in June to take executive action on immigration that many hope will allow millions of people in the country illegally to stay in the United States and legally work.
The president recently announced he will not take any such action until after the November election."There's no mercy, no justice, no humanity in the implementation of our broken immigration laws," said Xiomara Corpeno, CHIRLA's director of community education and outreach, who described the federal investigations of companies as "silent raids."Since Obama came to office in 2009, U.S. Immigration and Customs Enforcement has changed its approach to cracking down on companies that employ workers lacking authorization. Gone are the dramatic early-morning raids on factories and warehouses that were a hallmark of the presidency of George W. Bush, when armed agents routinely detained hundreds of workers, many of whom were eventually deported.
Now the agency conducts quiet audits of employees' I-9 documents at companies believed to have hired unauthorized workers, with the emphasis on the employer's violations, not the immigrant's.
Arrests of workers have fallen as the amount of fines the agency has collected from employers has risen.
Overall, the number of workplace investigations initiated by ICE fell dramatically in the last year, from 3,903 in the 2013 fiscal year to just 1,963 in the 2014 fiscal year, which ends next month.
The decrease can be attributed to budget cuts at the agency, according to an ICE official who was not authorized to speak publicly on the matter and spoke on the condition of anonymity.
Mark Krikorian, executive director of the Center for Immigration Studies, which advocates for stricter enforcement of immigration laws, said ICE is being too soft on immigrants here without permission and the companies that employ them.
"Audits are an important, but you need to also have work-site arrests," he said, adding that companies that employ unauthorized workers take jobs away from Americans.
"There's an enormous supply of American workers who are not only unemployed but who have dropped out of the labor market all together," Krikorian said. "The idea that there's not enough bodies to do the work here is laughable."
A representative of Vinyl Technology, which makes plastic products for customers such as the U.S. Navy and NASA, said the company had no comment on the investigation. According to its former workers, the company had around 350 employees until last week, with most earning between $8 and $15 an hour.
U.S. Immigration and Customs Enforcement, the agency that prosecutes companies for knowingly employing unauthorized workers, does not release information on its audits unless an investigation has resulted in a fine or the filing of criminal charges.
Virginia Kice, a spokeswoman for ICE, said the agency prioritizes audits of defense contractors because "the employment of unauthorized workers at locations of this nature could pose a threat to homeland security."
She said the agency's focus on audits has "reduced the need for large-scale immigration enforcement actions."
Immigrant advocates acknowledge that ICE's new approach may be gentler, but they say it still goes too far.
Even with the recent changes, they say, the system punishes workers. "It's the workers and the families that end up bearing the brunt of the burden," said CHIRLA spokesman Jorge Maria Cabrera.He pointed to the 240 immigrants who have been left scrambling to find new jobs.Lazaro, who had worked his way up to a supervisor position at Vinyl, with 30 employees under him, says he will be lucky if he finds work cleaning houses.
For more immigration news, follow Kate Linthicum on Twitter.
Sign up for Essential California for news, features and recommendations from the L.A. Times and beyond in your inbox six days a week.
You may occasionally receive promotional content from the Los Angeles Times.