Days after Florida massacre, L.A. County authorities raced to thwart a school shooting plot in Whittier
Just 48 hours after a gunman opened fire at a Florida high school, Marino Chavez was shocked at what he overheard.
As a school resource deputy, Marino Chavez said his after-lunch routine has changed little in 28 years.
When the period bell rings, Chavez strolls the campus of El Camino High School in Whittier and ushers lingering students to class. But last Friday, Chavez overheard a student say something that shocked him.
"I guarantee you the school will be shot up in three weeks," the 17-year-old student was heard telling a classmate.
Just 48 hours earlier, a gunman had opened fire at a Florida high school, killing 17.
"He didn't appear scared, but he was like, 'Well, I didn't mean it,' " Chavez said Wednesday, describing how he had confronted the student, who had an extensive disciplinary record.
Hours later, investigators with the Los Angeles County Sheriff's Department searched the teen's home and recovered two semiautomatic AR-15 rifles, two handguns and 90 high-capacity magazines.
Local law enforcement officials said they've seen a surge in tips about potential school shootings in 2018.
The day before Chavez overheard the teen's comment, detectives had investigated a 15-year-old student at El Camino High School who reportedly threatened an administrator's life after being suspended for using a cellphone in class. The Sheriff's Department determined the student did not have the ability to carry out the threat.
Authorities said that in recent days, they also have dealt with potential threats of violence in Long Beach, Inglewood and San Bernardino.
On Wednesdsay, Los Angeles County Sheriff Jim McDonnell said he was grateful his officers had the chance to head off a potential tragedy at the Whittier school.
"As we see these incidents occur one after another, we're all looking to say, 'How do we stop this?' " McDonnell said.
It's a question that the entire nation is grappling with.
Some gun enthusiasts suggest training and arming educators, but McDonnell noted that implementing that on a mass scale brings up countless variables to consider and puts targets on the backs of armed teachers.
Others, like many of the students at Marjory Stoneman Douglas High School in Parkland, Fla., want tighter gun control.
Staying with family in Los Angeles this week, 18-year-old Douglas High student Dani Tylim, said Wednesday that "it seems like changes aren't going to happen if we don't speak out…. The adults have failed us."
Speaking outside Fairfax High School, her grandmother's alma mater, Tylim didn't have a specific solution to offer Congress or her local lawmakers. She said she just wanted them to use common sense when determining who can and cannot get guns — a teenager with a history of mental health problems should not have been able to access them so easily, she said.
According to McDonnell, the El Camino High School teen, who was not identified because he is a juvenile, is being held on suspicion of making criminal threats. His older brother, 28-year-old Army veteran Daniel Barcenas, said the weapons in the home belonged to him; he has been booked on suspicion of numerous crimes, including possession of an assault weapon, McDonnell said.
One rifle was registered in Barcenas' name, authorities said. The other was not registered in the state of California. Barcenas is being held in lieu of $35,000 bail and is scheduled to appear in court Thursday morning, according to jail records. Calls to the Department of Defense seeking comment about Barcenas' service record were not immediately returned.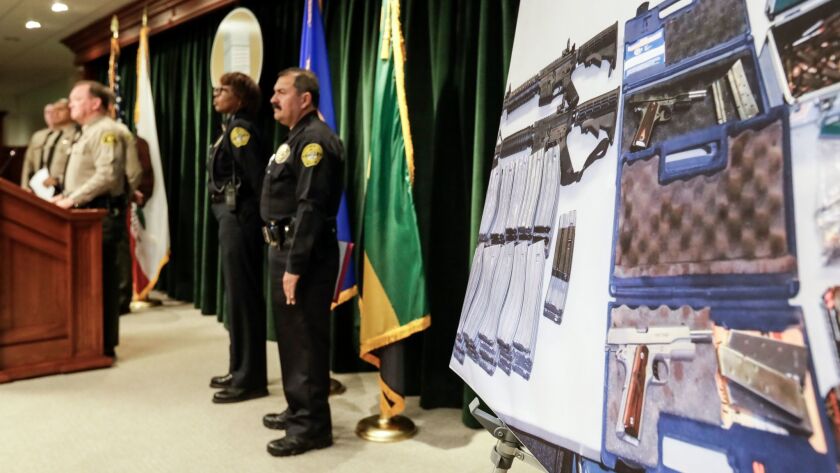 Robert Jacobsen, an attorney for the Norwalk-La Mirada Unified School District, told reporters outside the school Wednesday in video posted by KCBS-TV that the student had been angry about rules in the classroom.
"The teacher has expectations for the students to engage in learning during class time and told students to keep their cellphones and their earphones off so they can learn," Jacobsen said. "And this student wasn't happy about that…. At least what we understand at this time, it was simply over that."
Law enforcement officers in the region have been on high alert since 19-year-old Nikolas Cruz was accused of opening fire in the halls of Marjory Stoneman Douglas High on Valentine's Day. Most of the dead were teenagers, some as young as 14. Teachers who tried to shield students from the deadly gunfire also were killed.
McDonnell said that it was not clear how serious the Whittier student was about committing violence, but after the attack in Florida investigators' "main interest was to avoid letting anything like that happen." In the last week, heavy criticism has been lobbed at the FBI for failing to act on a tip about threats made by Cruz, and Chavez said Wednesday that the incident in Whittier showed the importance of heeding early warning signs.
"The Sheriff's Department can only respond if they are told," he said.
Inside the teen's home, authorities found four guns that would have been easily accessible, according to one of the arresting deputies, Martin Maciel. Ammunition was found in the teen's room, and a loaded pistol was in a nearby closet, Maciel said. In the garage, police found the two AR-15 rifles and a second pistol.
In a statement released Wednesday, Los Angeles County Supervisor Janice Hahn praised the response by Chavez and deputies.
"Thanks to the actions of school safety officer [Marino] Chavez and Sheriff's Deputies Scott Reynal and Martin Maciel, a potentially deadly and devastating attack on our children was avoided," the statement read. "As we continue to mourn the lives lost at Marjory Stoneman Douglas High School and recent mass shootings across this country, this incident is a reminder that our own communities are not immune to the epidemic of gun violence in this nation."
On Monday, a 27-year-old Norco man was arrested after he posted on Facebook that he intended to shoot people at a local community college. Police searched Jacob Ryan McBain's home turned up two loaded AR-15 rifles, two loaded handguns and a large amount of ammunition in his bedroom, authorities said.
And Inglewood police on Monday became aware of a social media post "indicating that students attending a specific Inglewood school were at risk of being targeted by a shooter," according to a news release.
Police detained the person behind the original post on Tuesday and have discussed possible criminal charges with the Los Angeles County district attorney's office. Inglewood police said they would maintain a heightened presence at all Inglewood Unified School District facilities as a result. Calls to Inglewood police seeking additional information were not immediately returned.
And on Wednesday morning, Long Beach Unified School District Supt. Chris Steinhauser alerted parents of an unconfirmed threat that an attack was being planned at Long Beach Polytechnic High School.
"While these rumors are unsubstantiated, we take them seriously and are working with law enforcement to actively investigate," Steinhauser wrote in a warning published on the school's website. "You will see additional law enforcement presence at the school today. We appreciate those who alerted us. Your students will be safe and protected at school."
Long Beach Police Sgt. Bradley Johnson said detectives received information about the potential threat Tuesday and worked "through the night" to determine its credibility. Police planned to have an increased presence at Long Beach high schools Wednesday, according to Johnson, who said no arrests had been made.
Follow @JamesQueallyLAT & @JosephSerna for crime and police news in California.
---
UPDATES:
2:30 p.m.: This article was updated with details of an arrest in Riverside County and additional comments from McDonnell and a Florida high school student.
2 p.m.: This article was updated with details on the Whittier threat and where the weapons were found.
12:35 p.m.: This article was updated with additional information from the Los Angeles County Sheriff's Department.
11:15 a.m.: This article was updated with additional information from law enforcement.
9:40 a.m.: This article was updated with comments from Robert Jacobsen, an attorney for the Norwalk-La Mirada Unified School District.
This article was originally published at 8:30 a.m.
---
The stories shaping California
Get up to speed with our Essential California newsletter, sent six days a week.
You may occasionally receive promotional content from the Los Angeles Times.