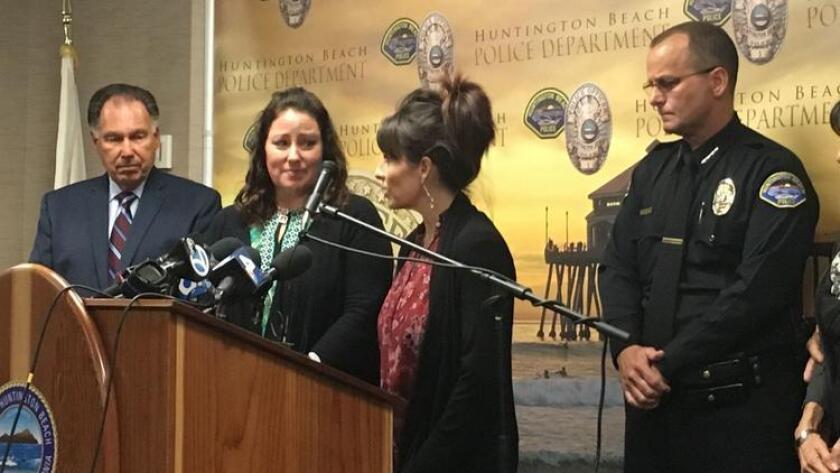 Twenty-three years ago, Alison Sommer-Castellanos was told her older brother had been shot to death in Huntington Beach.
Now authorities have arrested a Colorado man, who once taught high school in California, on suspicion of killing Kenny Paul Sommer and his friend Chen "Cosmo" Maui Blanchard.
Lamberto Ricci Castillo, 64, is charged with two counts of murder in the shooting deaths of Sommer and Blanchard, both 23, on the evening of March 31, 1994. He also faces possible sentencing enhancements for use of a firearm. If convicted, he could be sentenced to life in state prison.
He is being held at Orange County Jail in Santa Ana. He did not enter a plea at an arraignment hearing Monday.
The Huntington Beach Police Department said it reopened the case last year and reached out to the Orange County Cold Case Homicide Task Force to help in the investigation.
Castillo was arrested April 27 in Alamosa, Colo., according to a news release from police and the Orange County district attorney's office that cited "newly developed evidence."
Authorities did not elaborate on what that evidence was during a news conference at Huntington Beach City Hall, where family members of the victims described their deaths as senseless.
Sommer-Castellanos said her brother was a loving and family-oriented man who was engaged to be married.
"He was robbed at too young an age," she said.
Gina Vercnocke, who had a son with Blanchard and was Sommer's cousin, said that when she learned Castillo had been arrested, "it took awhile for me to process my feelings."
Both she and Sommer-Castellanos thanked police for bringing what they hope is an end to the search for the killer.
"It's been a long 23 years," Vercnocke said. "It's been really difficult. It's been something we have dealt with on a daily basis. There's been a lot of hardships and heartache."
According to authorities, Sommer and Blanchard were in downtown Huntington Beach when Castillo confronted them.
According to Huntington Beach Police Chief Robert Handy, Castillo had been on a walk with his wife and may have challenged Sommer and Blanchard for urinating on the street. The three argued and Castillo walked away.
He returned 45 minutes later with a handgun, authorities said.
Sommer and Blanchard were shot multiple times. Both victims were pronounced dead at the scene.
An off-duty police officer witnessed the confrontation but not the shootings, authorities said.
"Perhaps we'll never understand why Castillo senselessly took the lives" of Sommer and Blanchard, Orange County Dist. Atty. Tony Rackauckas said Monday. "But when we prosecute him for the crimes that he committed, he's going to understand a little something about the justice system."
Brazil writes for Times Community News
---