Southern California's fire devastation is 'the new normal,' Gov. Brown says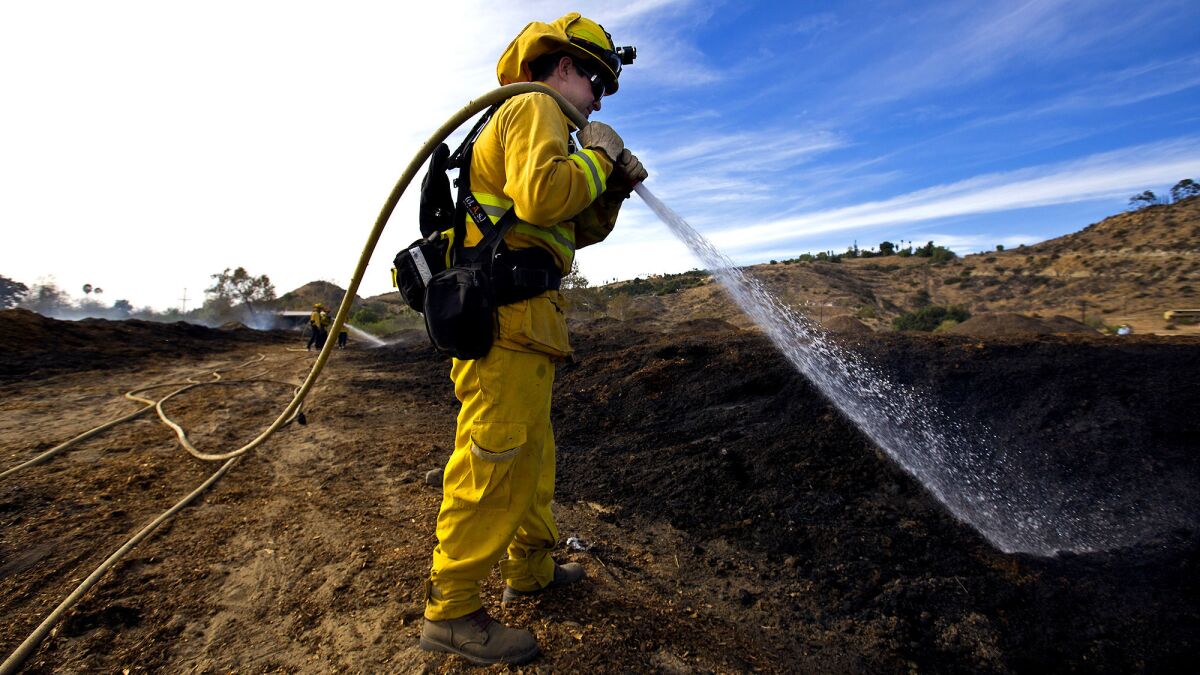 Reporting from Ventura, Calif. —
Gov. Jerry Brown surveyed the devastation Saturday in Ventura — the area hardest hit by firestorms that have displaced nearly 90,000 people in Southern California — calling it "the new normal."
The visit came four days after Brown declared a state of emergency in response to the wildfires. In all, blazes from Ojai to Oceanside have destroyed more than 790 structures and burned 175,000 acres.
During a news conference at the Ventura County Fairgrounds, Brown said climate change may exacerbate the weather conditions that caused the wildfires to explode. He expressed sympathy for residents who had lost their homes and animals, saying the fires were horrific and a "terrible tragedy for so many people."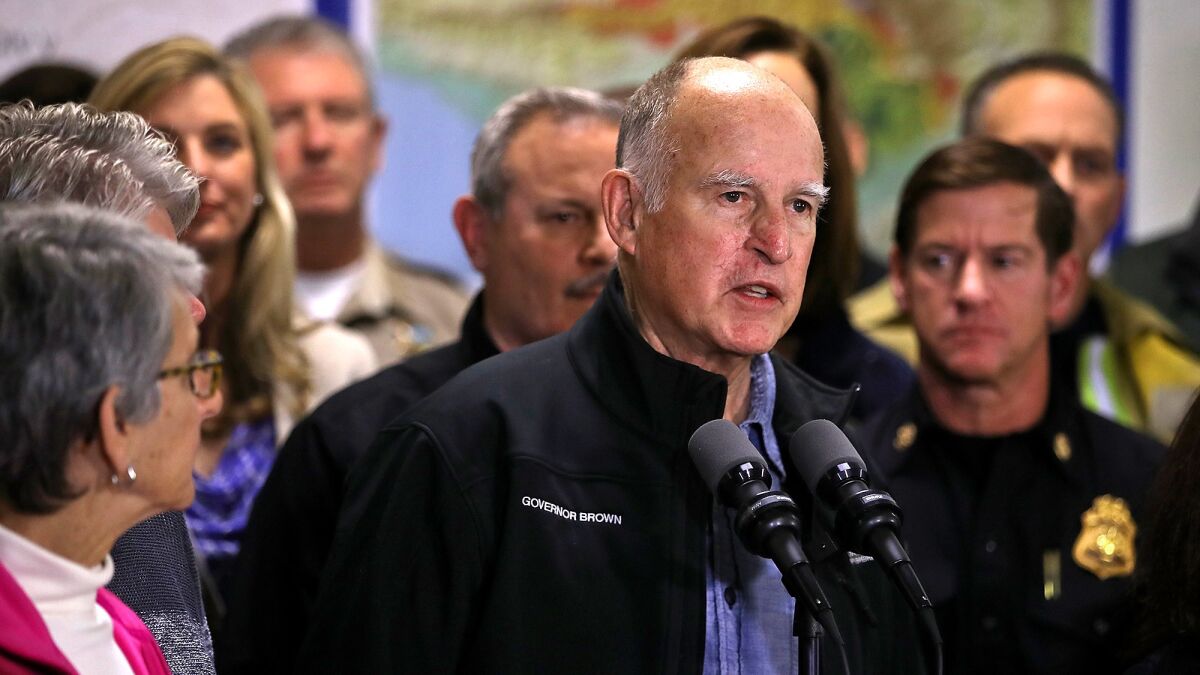 "This could be something that happens every year or every few years," he said. "We're about to have a firefighting Christmas."
By Saturday evening, officials said, the Thomas fire had crossed into Santa Barbara County. Residents in coastal communities, including Carpinteria, were told to be prepared to leave if necessary.
Dave Russell, a deputy incident commander for the California Department of Forestry and Fire Protection, said his greatest concern for Carpinteria is if the fire moves into nearby creek beds, which can have a chimney-like effect, pushing the fire quickly along the creek's path.
Fifty fire engines sat waiting across Carpinteria on Saturday evening, along with strike teams that could spring into action if the fire moved toward the coastal community.
Still, the approximately 8,500 firefighters battling the six wildfires were making progress.
As Santa Ana winds finally died down Friday, crews began to bring some of the largest fires under control. But red flag warnings remained in effect, and forecasters said the Santa Anas were expected to return to Southern California Saturday evening.
Firefighters had a successful day battling flames on the southern edge of the Thomas fire — working toward the coast as well as parts of Ojai — thanks to wind conditions and crews' ability to improve the fire lines they had established, according to Bill Murphy, a Cal Fire spokesman.
In the last six days, the Thomas fire has burned 155,000 acres and forced 88,000 people to flee their homes. Official estimates have put the cost of combating the fire at $25 million.
Across Ventura County, blackened hillsides and charred palm trees with only their trunks remaining have become a common sight.
By Saturday evening, the blaze was 15% contained. Evacuations had been lifted for most of the city of Ventura and for Santa Paula.
The cause of the fire, which began Monday east of Highway 150 near Thomas Aquinas College, is under investigation.
Firefighters continued to encounter difficulty on the east side of the blaze, where helicopter crews dropped water above the city of Fillmore. But they made progress near Highway 33 and the 101 Freeway, on the west side of the blaze.
"This is a complex fire," said Rich Macklin, a spokesman for the Ventura County Fire Department. "There are hundreds and hundreds and hundreds of men and women with packs on their backs, squirting the hills, putting the wet stuff on the red stuff."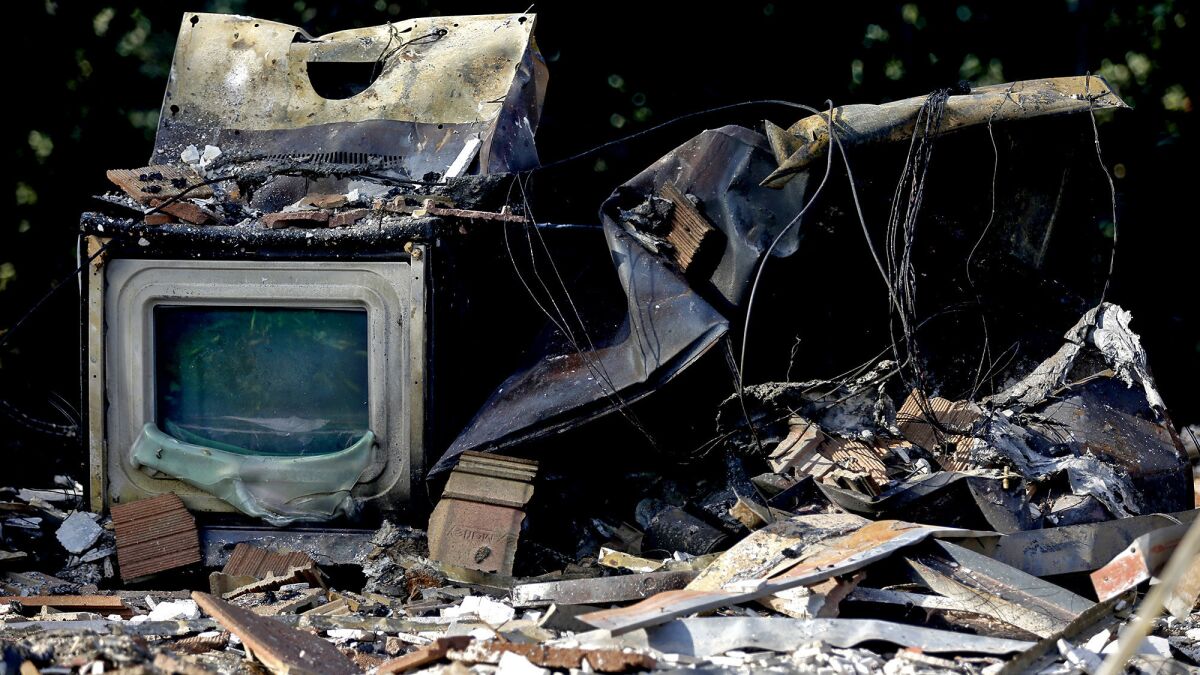 Meteorologists had advised fire officials that if Santa Anas returned Saturday afternoon, they would push the fire toward Santa Barbara County, Sespe Wilderness and the Sespe Condor Sanctuary. Ventura County Sheriff's Sgt. Kevin Donoghue said firefighters were "benefiting from lower winds than what was expected."
With improved air quality Saturday morning, residents in the Ondulando neighborhood of Ventura returned to check on their homes. Members of the National Guard stood on street corners to protect people's homes.
The neighborhood was one of the hardest hit. Rows of homes on streets near the hillside were incinerated.
Terry Davis and his wife, Tahnil Davis, inspected their home on Via Arroyo Street, which had been spared by the fire. They credited their 12-year-old daughter's passion for softball for saving their house, as well as their neighbors'.
"We happened to be building a batting cage for her, so our backyard was completely gutted," Tahnil Davis said. "Firefighters were able to park their truck in our backyard and save homes."
At UC Santa Barbara, smoke from the Thomas fire drove Student Body President Hieu Le to write a letter to Chancellor Henry Yang, asking that classes be canceled until the air quality improves.
Lee has received more than 4,000 petition signatures since Thursday, backing him up. Many students wrote that their throats hurt and that they were having trouble breathing and focusing.
"Students and staff should not have to choose between their health and money and/or grades," one student wrote. "The response from the university has been unacceptable."
In Los Angeles County, firefighters made progress on blazes in Sylmar, Santa Clarita and Bel-Air. The Creek fire was 85% contained, and the Rye fire was 80% contained. The Skirball fire was 75% contained.
In northern San Diego County, the Lilac fire, which was 50% contained, had burned 4,100 acres and destroyed 182 structures along the Highway 76 corridor that stretches west from the 15 Freeway through Bonsall and Fallbrook. Officials cautioned that dry, swirling Santa Ana winds could kick up embers that might start new fires.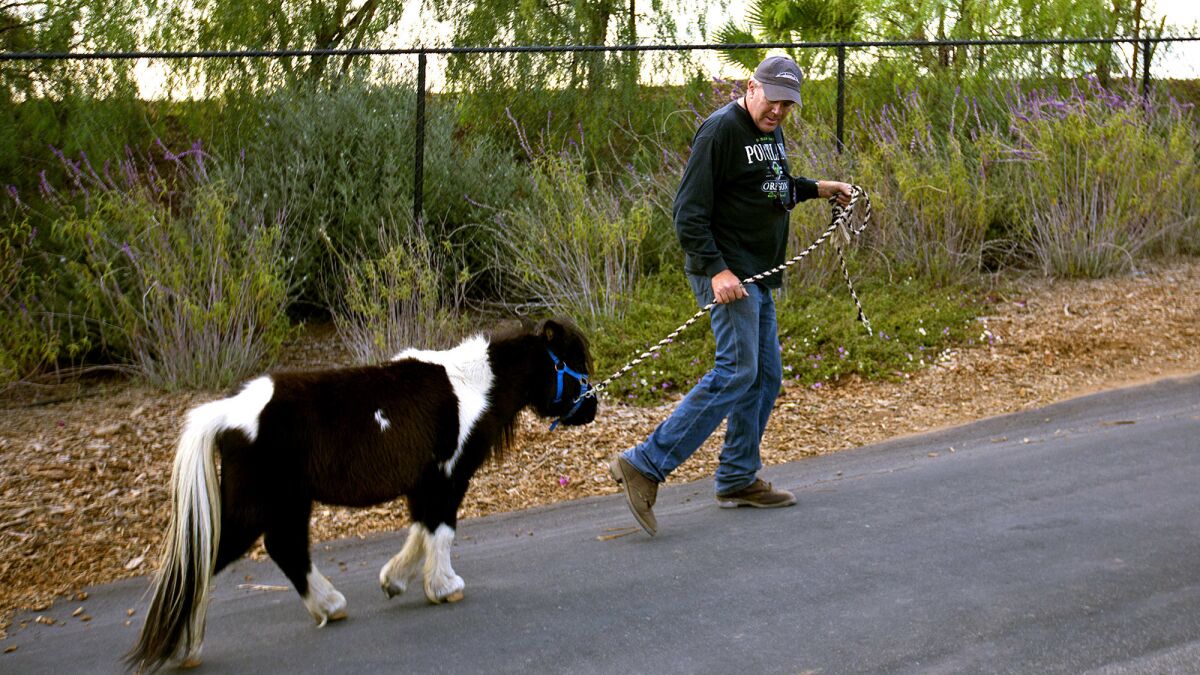 At least 46 horses were killed at a thoroughbred training facility, San Luis Rey Downs in Bonsall, where an estimated 450 were stabled. Mike Marten, a spokesman for the California Horse Racing Board, said Saturday that a small number of horses had escaped to the wilderness through a fence that was knocked down and had yet to be found.
Trainer Martine Bellocq suffered second- and third-degree burns over half her body as she tried to rescue six horses, according to Alan Balch, executive director of the California Thoroughbred Trainers. She was airlifted to UC San Diego Medical Center and placed in a medically induced coma, Balch said.
About 360 surviving horses from San Luis Rey Downs were moved to the Del Mar Fairgrounds. By Saturday, some 850 horses evacuated during the fires were stabled there.
Times staff writers Andrea Castillo and Sarah Parvini in Los Angeles contributed to this report.
The stories shaping California
Get up to speed with our Essential California newsletter, sent six days a week.
You may occasionally receive promotional content from the Los Angeles Times.