Stephon Clark's grandmother recounts horror of learning police had killed him in her backyard
Stephon Clark was killed by Sacramento police officers in the backyard of his home on March 18. 
Reporting from SACRAMENTO —
Eight days after Sacramento police shot and killed Stephon Clark, an unarmed African American man, in his backyard, civil rights groups are calling for the officers involved to be held accountable as national scrutiny around the deadly encounter intensifies.
Civil rights leaders have demanded that federal and state prosecutors investigate the officers involved in the shooting, while an attorney for Clark's family said he is seeking an independent autopsy.
"They didn't have to kill him like that," said Clark's grandmother, Sequita Thompson, at a news conference Monday at City Hall. "They didn't have to shoot him that many times."
Between sobs and gasps, Thompson struggled Monday to recount her terror when gunfire rocketed through her backyard.
"Call 911!" Thompson cried to her husband as she crawled out of the living room with her 7-year-old granddaughter in tow. Her husband told her he called police moments earlier after hearing someone tapping at the back window and calling to get in.
It turned out the police were already in the backyard. Sacramento police officers searching the neighborhood for a reported vandal encountered Thomas' grandson Stephon Clark, who lived with them in the house. Police officers fired a reported 20 rounds at the 23-year-old man. Videotapes of the encounter showed police shouting "gun, gun, gun" before opening fire, but the only object discovered near the dead man was a cellphone.
"Why didn't you shoot him in the arm? Shoot him in the legs? Send in dogs? Send in a Taser? Why, why, why?" Thompson wailed on Monday at an emotional news conference held by black community leaders and officials from the National Assn. for the Advancement of Colored People. "Justice! I want justice for my baby! I want justice for Stephon Clark. Please give us justice!"
Before their game Sunday at Golden 1 Center, Sacramento Kings and Boston Celtics players wore T-shirts bearing Clark's name. The black shirts had the words "Accountability. We Are One" emblazoned on the front and "Stephon Clark" on the back.
The NBA players wore the shirts during pregame warmups and continued wearing them during the playing of the national anthem. Some players from both teams also made a video posted on social media, saying "these tragedies have to stop" and "there must be accountability."
Sacramento police and authorities have urged the public to give them time to complete their investigation into the 23-year-old's March 18 shooting in his backyard, including a moment captured on police video when an officer says to mute the sound of the recording.
In an interview with the Los Angeles Times on Friday, Sacramento Mayor Darrell Steinberg said Clark's death, though still under investigation, "was wrong," and he pointed to the need for not only more administrative change, but also a reckoning with racism itself.
"Our kids and men don't feel safe," Steinberg said. "There is no danger if we do the right thing, if we push aggressively to change what must be changed."
Others, including House Minority Leader Nancy Pelosi (D-San Francisco), have been more blunt; Pelosi said Clark "should be alive today."
The Rev. Al Sharpton on Sunday said he was "alarmed" by the shooting. Police said Clark was armed with a gun at the time, but only the cellphone was recovered at the scene.
Sharpton said he planned to attend Clark's funeral Thursday.
Clark's death sparked tension in the state capital Friday night as protesters clashed with police in riot gear, capping a week of unrest during which protesters briefly shut down Interstate 5 and blocked access to a Kings game.
"Certainly this case has not gotten the national attention that I think it deserves," Sharpton said in a segment on his MSNBC show PoliticsNation, criticizing U.S. Atty. Gen. Jeff Sessions for not addressing police reform when he spoke to a black law enforcement group in Alabama last week. "Twenty shots at an unarmed man. I immediately was alarmed by this."
Appearing on Sharpton's show, Benjamin Crump, an attorney for Clark's family, called the shooting a "tragic, senseless killing."
"He made no threat against the police, and the police offered no warning to him. They didn't identify themselves," Crump said.
The incident began when Sacramento police officers responded to the 7500 block of 29th Street around 9:15 p.m. after receiving a call that a 6-foot-1 man wearing a black hoodie and dark pants was breaking into vehicles, authorities said. The caller said the man had broken car windows and was hiding in a backyard, according to the Sacramento Police Department.
A Sheriff's Department helicopter circling overhead spotted a man in a backyard about 9:25 p.m. and directed police officers toward him, authorities said. Deputies told police that the man had picked up a "toolbar" and broken a window to a home.
The man then was seen running south, toward the front of the house, where he stopped and was looking into another car, police said. Following deputies' directions, officers entered the front yard of a home and saw the man along the side of the residence.
Police said that the officers ordered the man to stop and show his hands, but that he ran toward the back of the home. They chased him to the backyard, where, authorities say, he turned and advanced toward the officers "while holding an object which was extended in front of him."
"The officers believed the suspect was pointing a firearm at them. Fearing for their safety, the officers fired their duty weapons, striking the suspect multiple times," the Police Department said in a prepared statement.
Clark was pronounced dead at the scene.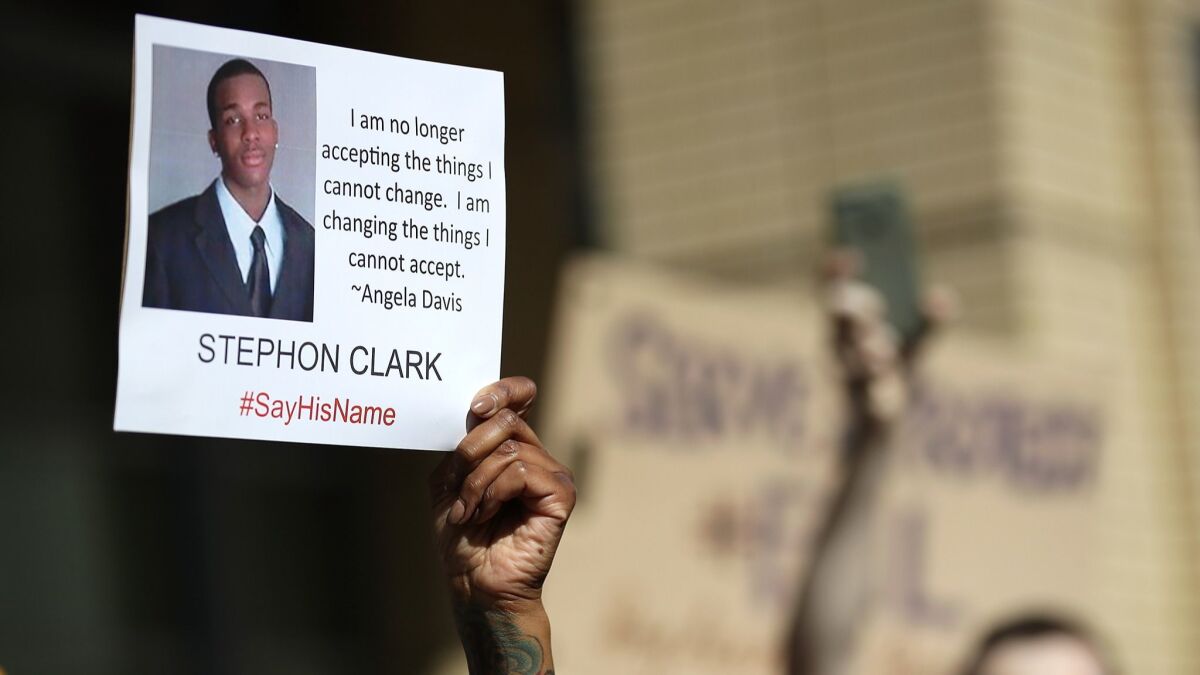 One issue that has received scrutiny is a moment in police videos when an officer is heard saying, "Hey, mute," before the sound cuts off.
Sacramento's police chief said the muting issue is part of the investigation, adding that "it builds suspicion."
"That's something we have to look at," Chief Daniel Hahn told KCRA-TV.
In that same interview, Hahn described the shooting as "a tragic event for our entire community."
Hahn said he did not know whether race played a role in the officers' actions, adding: "I think race factors into almost everything in our country, whether it's implicit bias, everything. … I think it permeates everything."
Pastor Darryl Scarbrough, the Clark family's minister, told the Sacramento Bee he has urged his congregation to show love and support to the family at this difficult time. He also said it is important that communication continue between the police and the community.
"There are officers who do good things and officers who do bad things," he said. "We can't punish the good officers for the actions of those that may be bad."
To read this article in Spanish click here
---
UPDATES:
8:35 p.m.: This article was updated with minor editing.
4 p.m.: This article was updated with additional information from Stephon Clark's grandmother, Sequita Thompson.
1:30 p.m.: This article was updated with information from Monday's news conference.
This article was originally published at 5:15 a.m.
---
Life is stressful. Our weekly mental wellness newsletter can help.
You may occasionally receive promotional content from the Los Angeles Times.