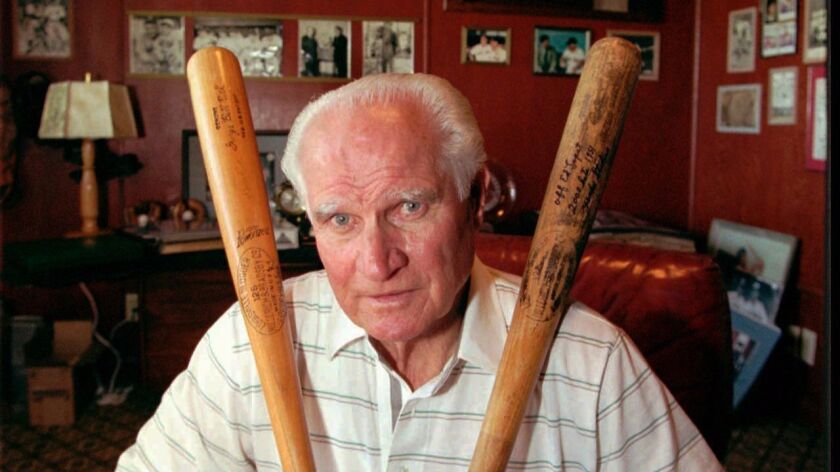 Bobby Doerr played for years alongside Boston Red Sox greats Ted Williams, Johnny Pesky and Dom DiMaggio, and while Williams was the era's dominant hitter and Pesky and DiMaggio captured the hearts of Boston's fans, the steady, genial Doerr was the glue that held the 1940s team together as it revived long-buried dreams of baseball glory at Fenway Park.
Described by Williams, his Red Sox teammate and close friend, as the team's "silent captain," Doerr played 14 seasons for Boston, beginning in 1937, when he had just turned 19. He was considered one of the best offensive second basemen of his era, driving in 100 or more runs six times in his career.
A nine-time All-Star second baseman for the Red Sox, Doerr, who had been the oldest living member of the Baseball Hall of Fame, died Monday at 99.
Doerr was a Los Angeles native and Fremont High School graduate who later made his home in Oregon. His death was announced by the Red Sox.
In 1946, when the Red Sox won the American League pennant for the first time in 28 years, retired slugger Babe Ruth declared Doerr — not Williams, who would actually win the title — the league's most valuable player. Doerr batted .409 in that year's World Series against the St. Louis Cardinals, although Boston did not prevail.
A smooth, graceful fielder, Doerr teamed with Pesky, the Red Sox shortstop, in one of the top double-play combinations of the time. Doerr set an American League record in 1948 by handling 414 consecutive chances without an error, and his fielding average of .993, a mark set the same year, would stand for nearly six decades.
When he retired at 33 because of a back injury, Doerr had appeared in 1,865 games for the Red Sox, more than any other player.
Despite his achievements, however, the modest, low-key Doerr was often overshadowed by more celebrated stars of the day, including Williams and the Yankees' Joe DiMaggio. When Doerr was elected to the Hall of Fame in 1986, it was by the Veterans Committee, a panel that considers managers, umpires and baseball executives, as well as players no longer eligible for selection by the usual voting of baseball writers.
He was delighted by the honor, nonetheless, later recalling that when the call came through, the Cooperstown official on the line quickly handed the phone to Williams, his old friend.
"Ted came on the line and said, "You're a Hall of Famer now, Bobby," Doerr told the Boston Herald in 2005. "I still get excited just thinking about it."
The enduring, remarkably close friendship among Doerr, Williams, Pesky and Dom DiMaggio, Joe's younger brother, was detailed in the 2003 book "The Teammates" by David Halberstam. The book profiles the four men, all from the West Coast, and examines the bonds that lasted long after their playing days were done. Williams died in 2002, DiMaggio in 2009 and Pesky in 2012.
Doerr and Williams were especially close, although the mercurial Williams tested the relationship with periodic eruptions about the best way to catch a fish, or section a grapefruit. The two men also engaged in a legendary, decades-long debate about hitting, with the stoic Doerr stubbornly refusing to yield to an increasingly infuriated Williams, who had studied the game like a science.
But the friendship never faltered. And when Williams' swing occasionally fell out of sync, Doerr was one of the very few allowed to correct him.
Doerr, Halberstam wrote, was the "most centered of men, straight and old-fashioned," almost more Midwestern than Californian.
"He was always talented, and always good-looking — when he was younger, there was a kind of matinee-idol quality to his looks. Yet for all that he was incorrigibly square. … He was an all-American boy who had enjoyed an all-American childhood, and in time an all-American life, and was the better for it."
Robert Pershing Doerr was born April 7, 1918, in Los Angeles, one of three children of Frances and Harold Doerr, who was a phone company supervisor. The couple gave their younger son his middle name in honor of Gen. John J. Pershing, then the top U.S. commander in World War I.
Always a gifted athlete, Doerr was 16 and a student at Fremont High in 1934 when he drew the attention of the Hollywood Stars, a minor league team in the Pacific Coast League. When the Stars offered him a contract, Harold Doerr made his son promise that he would still earn his high school diploma, a pledge he kept, returning to Fremont in the offseason for the next two years.
In 1936, the Stars moved to San Diego, where they were renamed the Padres. That season, Doerr led the league in hits and was scouted for Boston by Ty Cobb, who strongly recommended him for the majors, along with Williams, his San Diego teammate.
Doerr was signed first, with Williams following him to Boston two years later. On April 20, 1937, Doerr made his major league debut, batting leadoff and going three for five in his first game.
Over the next 14 seasons, with a one-year break in 1945 when he served in the Army during World War II, he was the calm, quiet center of the Red Sox. He hit a lifetime average of .288, breaking .300 in three years, with 223 career home runs. He was later a scout and first base coach for the Red Sox and a hitting coach for the Toronto Blue Jays. His jersey, No. 1, was retired by the Red Sox in 1988.
Mainly, though, after his playing days, he spent his time in Oregon, where he had bought land along the Rogue River while he was still a teenager. It was there that he met and courted Monica Terpin, a red-haired schoolteacher, in 1937, and married her in 1938. The couple had one son, Don. Monica Doerr died in 2003, after a long struggle with multiple sclerosis and several strokes.
Throughout his life, Doerr worked hard to keep a sense of balance.
"I had the feeling that any time you thought you were pretty good, especially in baseball, that somehow you got knocked off your pedestal," he told the Register-Guard of Eugene, Ore., in 2003. "As soon as you think you can coast, well, watch out, something's going to happen. I never had the feeling that I was good. I always had the feeling that I had to do a little bit better."
Trounson is a former Times staff writer.
news.obits@latimes.com
---