Lester Tenney, Army tank commander who survived Bataan Death March during World War II, dies at 96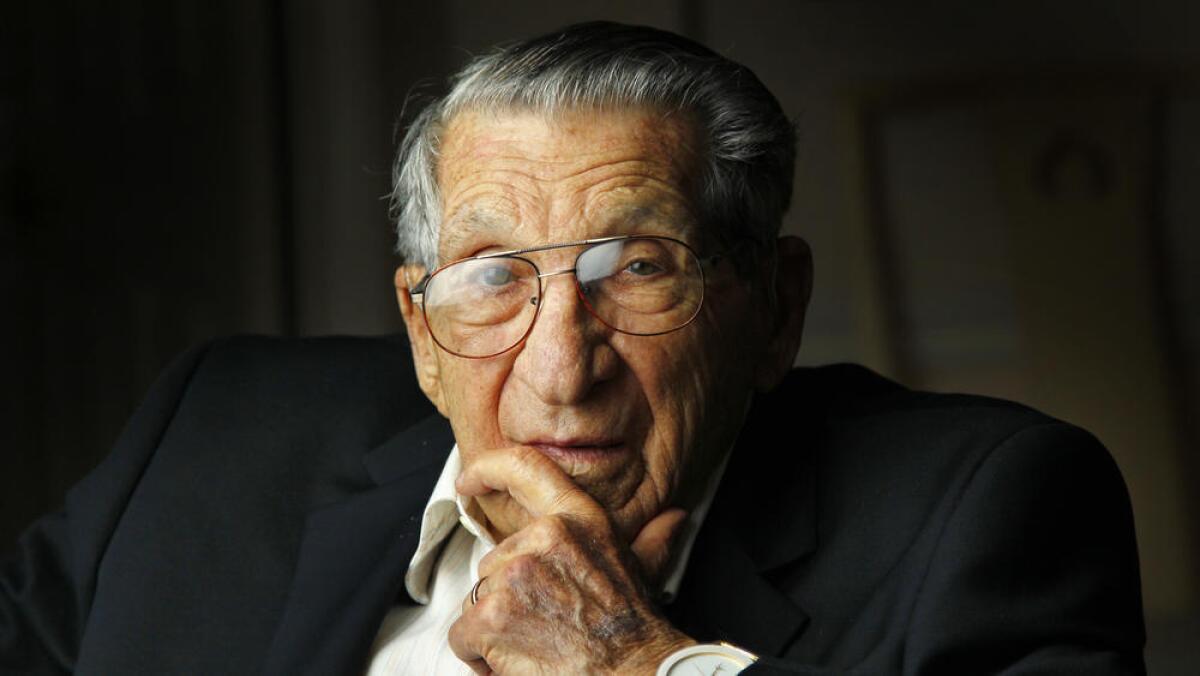 Lester Tenney, an Army tank commander who survived one of World War II's signature horrors, the Bataan Death March, and spent his later years pushing Japanese authorities to apologize for their country's war atrocities, has died at age 96.
"I've learned to forgive," Tenney said in 2012, on the 70th anniversary of the march, "but I'll never forget."
Tenney's memories of that eight-day, 73-plus mile trek and of his subsequent three years in a forced-labor coal mine — stories he shared with reporters, civic leaders, schoolchildren and in a memoir called "My Hitch in Hell" — eventually wrung apologies from government leaders and from one of the corporate giants that benefited from POW slavery.
Tenney, who lived in Carlsbad, Ca., died Friday, said David Levi, his grandson.
If you fell down, you died. If you stopped walking, you died.
— Lester Tenney
Born in Chicago on July 1, 1920, Lester Irwin Tenney joined the Army in 1940, and was sent to the Philippines. In December 1941, in the weeks after the attack on Pearl Harbor, Japanese forces overran other islands in the Pacific, including the Philippines, and Allied forces — about 15,000 Americans and 60,000 Filipinos — retreated to the Bataan peninsula.
They fought for more than three months before they ran out of food, ammunition and room to maneuver. Major Gen. Edward King ordered them to surrender.
On the march that followed, they went the first four days without food or water. Temperatures soared past 110 degrees. Stragglers and complainers were stabbed with bayonets, shot or beheaded. "If you fell down, you died," Tenney recalled later. "If you stopped walking, you died."
About halfway through the march, a Japanese officer on horseback slashed Tenney in the left shoulder with a sword. Two other marchers kept him upright while a medic stitched the wound.
Tenney said he survived by setting small goals for himself as he walked. Make it to that stand of trees. Make it to that herd of water buffalo. By the time he and the other survivors staggered into Japanese prison camps, thousands had died.
"It was awful," Tenney said. "It was inhumane. It was barbaric."
He briefly escaped from the camp into the jungle, was recaptured, and then put on a ship to Omuta, Japan, where work in a coal mine awaited. He was in the prison camp there, across the bay from Nagasaki, when the U.S. dropped the second atomic bomb in August 1945 and Japan surrendered.
Tenney came home with just eight of his teeth — the rest had been knocked out by his captors. His wife, believing him dead, had remarried. Tenney was haunted by nightmares in his sleep, and shame when he was awake. "I wasn't so proud of being a prisoner of war," he said.
But he rebuilt his life. In 1959, he met Betty Levi, and they married a year later. Tenney earned business degrees from San Diego State University and USC and became a college professor. In 1966, he and his wife moved to Tempe, where he taught at Arizona State and started a company, University Research Associates, which provided financial and retirement planning for dozens of U.S. companies.
After he retired, his memoir was published, and Tenney shifted into a role as a prominent thorn in the side of Japanese authorities unwilling or unable to acknowledge what had happened during the war. In 1999, he and other POWs sued five mining companies for reparations. A federal judge dismissed the suit, citing a 1951 peace treaty between Japan and the U.S. Still, Tenney persisted.
He traveled to Japan and spoke to schoolchildren whose history books never mentioned the Bataan march. He gave interviews and wrote opinion pieces for major newspapers in the U.S. and Japan, and he was on network TV news segments in both countries.
In 2009, as national commander of the Defenders of Bataan and Corregidor, he welcomed Japanese Ambassador Ichiro Fujisaki to the group's annual convention. From the podium, Fujisaki apologized on behalf of his country.
A year later, Tenney went to Tokyo as part of the first-ever American delegation to Japan's Peace, Friendship, and Exchange Initiative, a gesture of reconciliation from the Japanese government to its World War II prisoners.
In 2015, Tenney was invited to Washington, D.C., to watch Shinzo Abe, Japan's prime minister, give a speech to Congress. Tenney and other veterans told reporters they were unimpressed by Abe's attempt in his remarks to move beyond the atrocities. But later that day, at a gala outside the Smithsonian Institution's Freer Gallery, which specializes in Asian art, Abe apologized to Tenney in person.
The former tank commander had one final mission: Getting an apology from the mining companies. One arrived last month, in a letter from the Mitsubishi Materials Corp. Mitsubishi wasn't the company that imprisoned him, but Tenney was grateful. And optimistic that the other companies will eventually apologize, too.
Tenney is survived by his wife; son Glenn Tenney; stepsons Don Levi and Ed Levi; seven grandchildren and two great-grandchildren.
Must-read stories from the L.A. Times
Get the day's top news with our Today's Headlines newsletter, sent every weekday morning.
You may occasionally receive promotional content from the Los Angeles Times.