Richard M. Mosk dies at 76; California Court of Appeal justice and Warren Commission staffer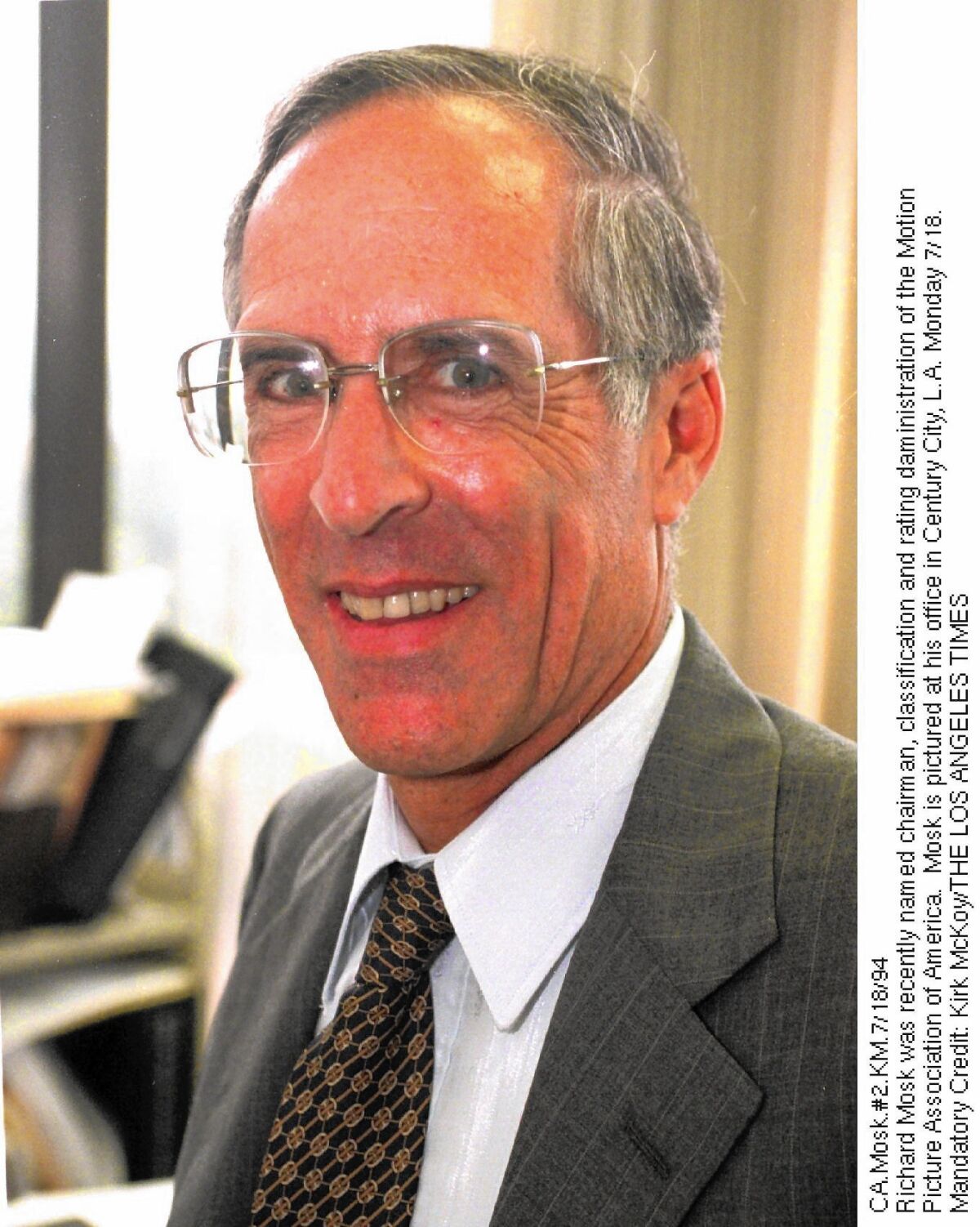 California Court of Appeal Justice Richard M. Mosk — who over more than three decades of public service investigated the assassination of President John F. Kennedy, chaired the Motion Picture Assn.'s ratings committee and served at The Hague — has died of cancer. He was 76.
The longtime Los Angeles resident was the son of the late California Supreme Court Justice Stanley Mosk, who for decades was the most liberal voice on the Republican-dominated court and served longer than any justice in state history.
The two men were close, speaking daily, and the elder Mosk often expressed the wish that his son would join the bench. Gov. Gray Davis appointed Richard Mosk to the Court of Appeal in Los Angeles in 2001, months after his father died.
Mosk's career included a 1981 appointment to sit on the Iran-U.S. Claims Tribunal at The Hague, where he served as a judge from 1981 to 1984 and 1997 to 2001. The tribunal was established to resolve disputes involving Iran and the United States after the 1979 hostage-taking of more than 50 Americans and the subsequent freezing of Iranian assets.
California Chief Justice Tani Cantil-Sakauye recalled that Mosk's varied and high-profile assignments allowed him to form friendships with presidents, governors and ambassadors.
When he filled in at the California Supreme Court during times of vacancies, he displayed a "keen intellect" as well as modesty and humility, she said. "Justice Richard Mosk leaves a powerful legacy to California's jurisprudence," she said.
As a staff member of the Warren Commission, which investigated Kennedy's assassination, Mosk was charged with examining the background of Lee Harvey Oswald.
"He firmly believed that Lee Harvey Oswald was the lone gunman," said Matthew Mosk, his son and an ABC News producer. "He did not want to see history distorted by conspiracy theories."
Richard Mosk also served on the Christopher Commission — which investigated the LAPD in the wake of the Rodney King beating — the Los Angeles Board of Inquiry on Brush Fires, the Los Angeles Commission on Judicial Procedures, the L.A. County Law Library board and the Stanford Athletic Board. He also was on the boards of the California Museum of Science and Industry and Town Hall California.
Mosk, who taught and lectured in law schools and universities in the United States and abroad, was viewed as a moderate on the bench.
But he was not afraid to dissent.
Court of Appeal Justice Frances Rothschild, a colleague on the Los Angeles-based court and a friend of 40 years, said Mosk "was an independent thinker and really cared about issues and about people."
Matthew Mosk said that his father became sick in December and decided to retire to spend more time with family. Diagnosed with pancreatic cancer, he died at his home in Benedict Canyon on Sunday.
"My dad was really proud of his father and his father's accomplishments, and I think in many ways modeled his career after his father," Matthew Mosk said. "But he was in his own right a brilliant guy with a real big heart and sense of justice."
His father's temperament, Matthew Mosk said, was "very suited to being a judge."
"He was very analytical, very thoughtful, very, very funny. He saw the humor in life. I think he enjoyed the arguments that came before him and their competitive nature and finding the right answer."
------------
For the record
9:18 p.m.: A previous version of this article referred to Richard Mosk's mother, Edna, as Minna.
------------
Richard Mosk was born May 18, 1939, and grew up in Westwood, the only child of Stanley and Edna Mosk. He obtained a degree from Harvard Law School and, as a young man, clerked for the late California Supreme Court Justice Mathew O. Tobriner.
One of his fellow clerks was California's current governor, Jerry Brown, whom Mosk recalled kept unconventional hours.
Mosk also was an avid tennis player, a huge booster of Stanford University, which he attended as an undergraduate, and a collector of college football programs.
He is survived by his wife, Sandra; his daughter Julie Morris; son Matthew and four grandchildren.
Mosk's public funeral will be held at 1 p.m. Thursday at Hillside Memorial Park & Mortuary in Los Angeles.
Twitter: @mauradolan
---
Must-read stories from the L.A. Times
Get the day's top news with our Today's Headlines newsletter, sent every weekday morning.
You may occasionally receive promotional content from the Los Angeles Times.