Stanley Weston, who conceived of G.I. Joe but reaped few financial rewards, dies at 84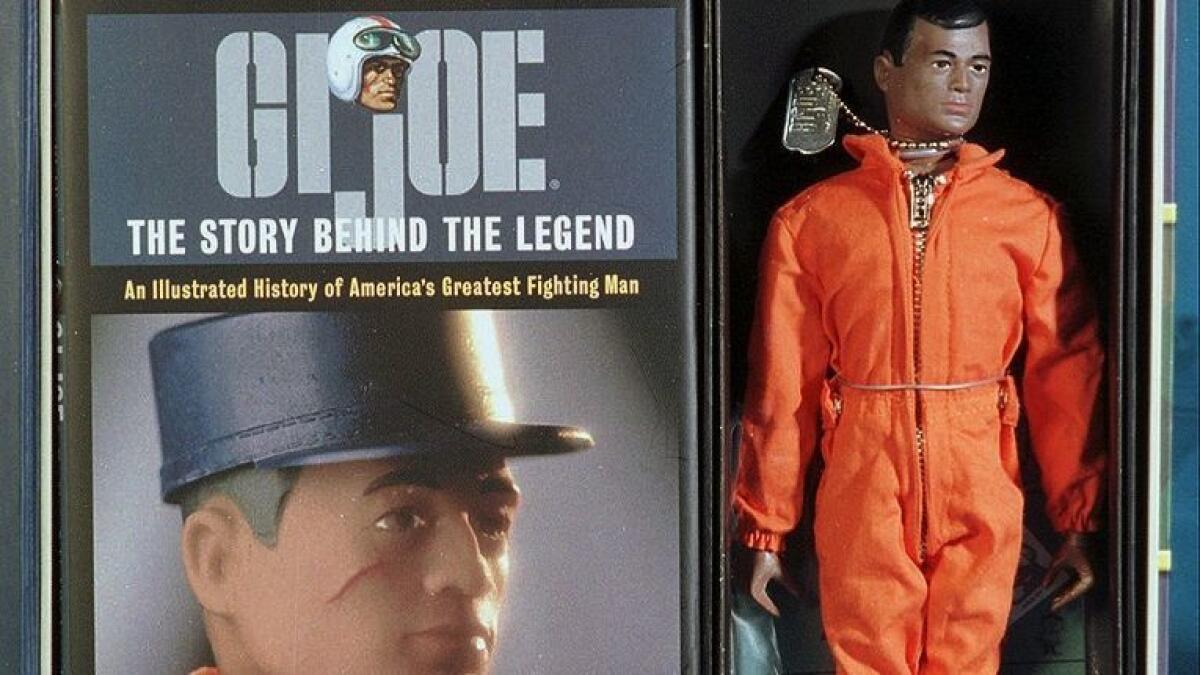 Barbie was already the doll of choice in America when it dawned on Stanley Weston that young boys — more interested in weaponry and combat than fashion and glamour, he figured — ought to have an equal.
So G.I. Joe came marching into the toy stores, an action figure that arrived attired in any branch of the service and could be twisted into a variety of ready-for-action poses.

For the record:
6:32 a.m. Oct. 1, 2023This obituary on licensing agent Stanley Weston referred to him as the person who conceived of G.I. Joe, the action figure doll. Toy inventor Lawrence Reiner, who died in 2001, also played a role in its creation and, like Weston, was compensated for his efforts. Their families disagree on the level of each man's involvement.
Whether a Marine or an Army soldier, the figures were strikingly similar — white, male and ruddy with the signs of battle already upon them in the form of a pink scar across the cheek.
The toy hit the shelves as America troops were flowing into Vietnam and quickly became a bestseller.
But the man who conceived G.I. Joe reaped few of the financial rewards.
Weston, who died May 1 in Los Angeles at age 84, sold his concept for the war toy to a Rhode Island toy company that later became Hasbro, which cemented itself as one of the nation's leading toy manufacturers based on the popularity of G.I Joe, the Monopoly board game and, eventually, more interactive figures.
Weston, after some bargaining, agreed to sell his concept for what he called "outfitted action figures" for $100,000 but then had to watch as the toy grew into a $100-million success story.
"Should he have sold for that set amount, instead of taking a small royalty in perpetuity?" Weston's brother Jay wondered in a 2012 Huffington Post article. "Of course not. But remember he had not seen the toys they developed when making that decision. Who is to say? That's life."
Weston, born in New York City on April 1, 1933, attended New York University before joining the Army as the Korean War ended.
When he returned to New York, he got married, completed his master's degree at NYU and joined the emerging licensing and merchandising industry, representing branding opportunities for pop culture figures like Twiggy and Soupy Sales.
Weston later formed his own company, Leisure Concepts, and went on to represent "Charlie's Angels" star Farrah Fawcett, the World Wrestling Federation and Nintendo. In 1967, he signed a 10-year agreement with the Major League Baseball Players Assn. for the likenesses of virtually every ballplayer in the National and American leagues.
When the Licensing Industry Hall of Fame was created, he was in the first wave inducted, beating even Walt Disney.
As much as anything, inspiration for G.I Joe sprung from the pages of a 23-volume Encyclopaedia Britannica set and repeated trips to an Army-Navy store in New York, his brother wrote.
He read everything he could on warfare and the military in the encyclopedia and bought paraphernalia for each branch of the service from the thrift shop.
Thus armed, he presented his idea for the "outfitted action figure" to Donald Levine, a Hasbro executive and Korea War veteran who is credited with creating and naming the action figure and getting it into the marketplace.
Unlike the action figures to come that were created for specific characters, G.I. Joe came with no backstory, no sworn enemy and no specific mission.
Years later, Weston filed suit against Hasbro, saying he conceived the very idea of manufacturing and selling male actions figures with uniforms and equipment that could be changed — each addition representing another sales opportunity.
In his suit, Weston claimed that he and the toy company executives had signed an agreement that the rights to G.I. Joe would revert to Weston or his heirs in 2020. But neither he nor Hasbro had a copy of the agreement.
The suit was eventually settled last year, Weston's daughter said.
Weston is survived by his brother; three children, Cindy, Steve and Brad; five grandchildren; and a half sister, Ann Sowers.
Twitter: @StephenMarble
Sign up for Essential California for the L.A. Times biggest news, features and recommendations in your inbox six days a week.
You may occasionally receive promotional content from the Los Angeles Times.