Carson mayor under investigation for not filing disclosure reports with the state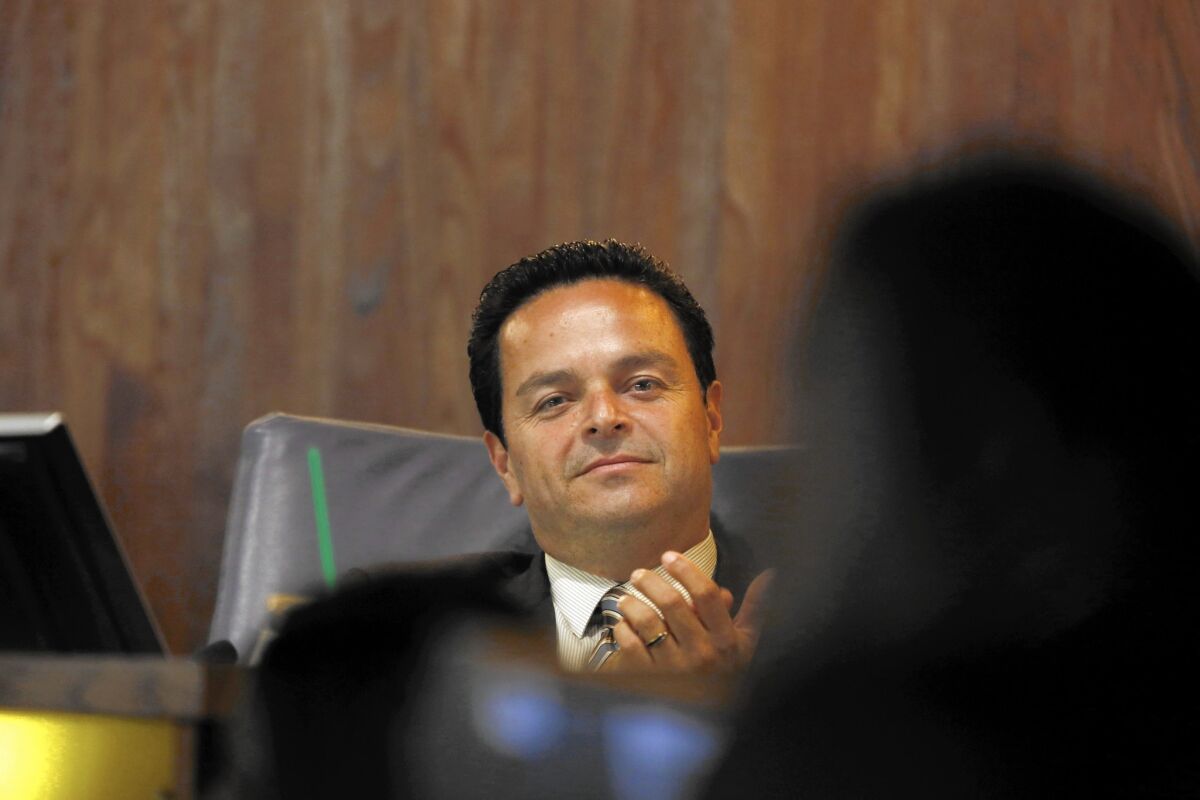 Carson Mayor Albert Robles, who is leading a high-profile effort to bring two NFL teams to the city, has failed to file disclosure statements for his personal economic interests and political campaign finances, reports that are required by California law, The Times has learned.
Robles is under investigation by the state Fair Political Practices Commission because he has not submitted the disclosure statements for his Carson position and a second elected office he holds as a member of a regional water board, agency spokesman Jay Wierenga said.
In an interview Wednesday, Robles acknowledged that he has yet to file the disclosures, due earlier this year. "I haven't gotten to it — I will get to it," he said. "I am very busy. I apologize."
Earlier this week, a Times report raised questions of whether Robles actually resides in Carson rather than in the Adams-Normandie neighborhood of Los Angeles. Robles insisted that he lives in his parents' home in Carson, but said he spends most of his free waking hours with his wife and two children at their Adams-Normandie apartment.
If Robles lives in Los Angeles, he would be ineligible to serve as Carson mayor or sit on the panel of the Water Replenishment District of Southern California. He earned more than $100,000 in total compensation from the two posts in 2013, the most recent year for which figures are available.
The Los Angeles County district attorney's office is reviewing a complaint about Robles' residency, spokeswoman Jane Robison said Wednesday. After the review, the office will decide whether to launch a criminal investigation, she said. Robison declined to say who filed the complaint.
Robles' annual disclosures of personal finances — the reports include income from investments, business interests and other sources — were supposed to have been filed in April. The most recently required statements for his campaign fundraising and spending were due in July.
Wierenga declined to discuss the Robles inquiry in detail, but said the FPPC generally sends officeholders several notices about delinquent filings before opening an investigation.
Violations of the disclosure mandates are punishable by fines.
Jessica Levinson, a Loyola Law School professor and president of the Los Angeles City Ethics Commission, said it was unusual for an elected official to not file multiple statements, as opposed to submitting one past the deadline. "A penalty may very well be appropriate," Levinson said.
This isn't Robles' first brush with the FPPC. In 2012, the agency fined him $1,200 for not filing several campaign finance statements for two committees he controlled.
To raise money for his 2017 mayoral campaign, Robles is highlighting his role
in the bid to build a Carson stadium for the San Diego Chargers and Oakland Raiders. He plans a "VIP tailgate event" at a local hotel later this month.
A flier promoting the fundraiser, which seeks contributions of up to $5,000, does not name the organization behind it or specify what the money will go toward. State law requires written solicitations for campaign funds to identify the committee raising the money.
Interested in the stories shaping California? Sign up for the free Essential California newsletter >>
Robles said the committee information should be on the flier. "If not, it's an oversight," he said, referring further questions to a campaign consultant. The consultant, Miguel Cordova, did not respond to interview requests.
"Come support Mayor Robles as he fights to bring the Raiders and Chargers to Carson," the flier says.
Mark Fabiani, a spokesman for the Chargers-Raiders project, said it had no connection to the fundraiser.
Meanwhile, The Times' report about Robles' residency has drawn mixed reaction from other elected officials in Carson.
"The current appointed mayor is exactly what we don't want in Carson," said Jim Dear, a former mayor who is now city clerk. During a heated City Council meeting in June, Dear accused Robles of not residing in the city.
Councilwoman Lula Davis-Holmes, on the other hand, said she supports Robles. "Albert says he lives in Carson and was raised in Carson. I believe him," Davis-Holmes said.
Councilman Elito Santarina declined to comment and two other panel members, Jawane Hilton and Donesia Gause, didn't respond to messages.
The Times reported that several current or former residents of the Adams-Normandie neighborhood said Robles has been a fixture there for many years. But Robles said he has lived in his parents' small Carson home ever since moving back here from the Bay Area in 2003.
At that time, Robles said, he and his wife decided to live separately, even though they were in a loving marriage that later produced two children.
Robles declined to allow reporters to examine the Carson and Adams-Normandie residences to see where he keeps his clothes and other personal belongings.
ALSO
Thousands without power as extreme heat, powerful storms hit Southern California
California lawmakers approve bills to track racial profiling, police use of force
The stories shaping California
Get up to speed with our Essential California newsletter, sent six days a week.
You may occasionally receive promotional content from the Los Angeles Times.