New 'zero tolerance' immigration crackdown fills border courts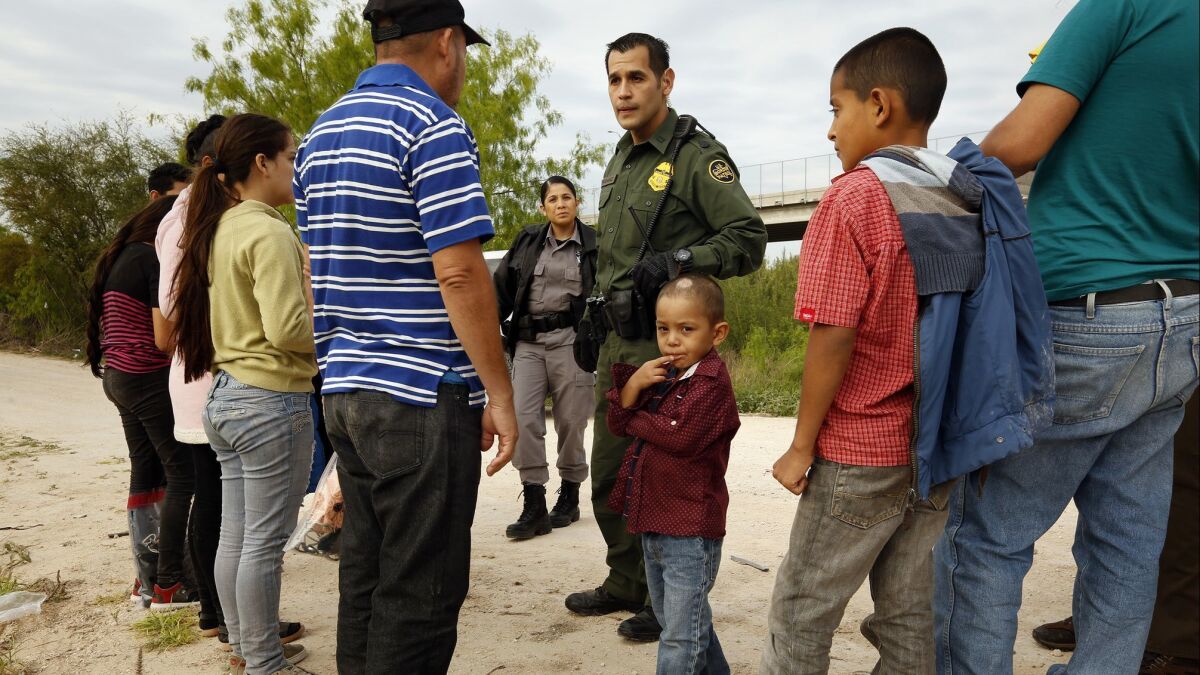 Reporting from McAllen, Texas —
The crowded courtroom reeked of stale sweat, and 92 immigrants filled all five benches, leaving standing room only for visitors and court personnel.
"It's packed in there," said one of a dozen guards and deputy marshals stationed at the courtroom this week. "This is what it's going to be like from now on — no more 'catch and release.' "
That's how opponents of illegal immigration, including President Trump, have long condemned the policy of releasing migrants with pending court cases. But under a policy the Trump administration announced last week, migrants caught crossing the border illegally are charged in federal criminal court, including those without criminal records and parents traveling with small children.
The result: scores of cases flooding the federal courts, especially here in southern Texas, the leading pathway for illegal immigration into the U.S.
"The impact is worst in McAllen, but it's everywhere," said Marjorie Meyers, federal public defender for the Southern District of Texas, calling it "an explosion."
"Our caseload has jumped in all four divisions, including Corpus Christi, which is not even on the border," she said.
The 92 immigrants appeared in the McAllen courthouse Monday. The next day, there were 50 migrants — more than in the past, but less than expected these days. At the last minute, another 50 immigrants were quarantined because of a chicken pox outbreak at a detention center. Immigration lawyers expect the caseload to increase this summer, the height of the immigration season, to perhaps 400 a day.
"We have always been one of the busiest courts in the nation," said McAllen Assistant Federal Public Defender Miguel "Andy" Nogueras. "Now it's ridiculous."
Of the 92 migrants, 65 had no criminal records. Ten were parents, all separated from their children. Most were from Mexico and Central America and listened to the proceedings with headphones linked to a court interpreter.
As U.S. Magistrate Judge Peter Ormsby explained, the first-time migrants face a misdemeanor charge, with a maximum penalty of $10,000 and six months in jail.
Most plead guilty and are sentenced to time served at their first hearing. Then they serve their sentence and are transferred to administrative immigration court for deportation. If they are caught crossing again, they will face a federal felony charge and heftier sentence.
Those who appeared in McAllen this week had been caught by Border Patrol on their way to join relatives in the Rio Grande Valley and other parts of Texas, along with New York, Virginia and South Carolina. Some brought their children. Others came to reunite. One woman was trying to celebrate her daughter's high school graduation.
The status of children is a constant theme. After Nogueras told the group that that the judge "knows many of you have been separated from your children and want to reunite," a man with graying hair raised his hand.
"I have a question about my son: Is he going back with me to my country?" said Calixton Ramon-Mateo, a Guatemalan who had pleaded guilty to crossing illegally with his 9-year-old.
Nogueras didn't have an answer. Neither did the judge or Immigration and Customs Enforcement officials who had escorted the group to court.
Before last week, most parents were charged with administrative immigration violations. They were either held by ICE with their children in family detention or released at the border — some with ankle monitors, others with notices to appear in federal immigration court.
Under the new policy, some parents are separated from children and jailed. The agency says it aims to reunify parents with their children once they are released or placed in family detention.
Border Patrol caught more than 100,000 people illegally crossing the U.S.-Mexico border in March and April, the highest monthly totals since Trump was elected. Families with children and unaccompanied minors increased from 10% of undocumented migrants detained five years ago to 40% now.
In McAllen, Ormsby arraigned and sentenced each migrant individually, repeatedly checking that they knew their rights, had met with an attorney and were not pleading under duress.
"Did anyone threaten you in any way or try to force you to plead guilty?" he asked again and again.
No, the immigrants said. The hearings took hours.
Immigrant advocates say the "zero tolerance" policy impedes asylum claims and lets the government use children as leverage, forcing parents to agree to deportation so families can reunite.
"They should be able to seek asylum first," Katy Murdza, pro bono legal project advocacy coordinator at one of two immigrant family detention centers in south Texas, said of migrant families.
Certain migrant parents were still being taken to family detention, including pregnant women and babies less than a year old, Murdza said. Some were families who claimed asylum at ports of entry instead of crossing the border illegally, while others may have been processed before the new policy took effect.
On Tuesday, a migrant mother from Guatemala apologized to Ormsby for crossing illegally into surrounding Hidalgo County on Saturday. She started to cry as she pleaded with him to reunite her with her 9-year-old daughter.
"She's already had three operations on her eyes. At her age, she can't read because of the problems with her eyes," said Mildred Lucia Rojas-Quevedo de Roguel, 37, a slight redhead in a black jacket who had no criminal record."I will go back to my country, but I need my daughter."
She was sentenced to time served and sent back to detention to await a hearing on her immigration case. It was unclear when, or if, she would see her daughter.
Rojas-Quevedo was the only mother in court Tuesday separated from her children, although others told the judge they had crossed the border illegally to join children living in the U.S.
The Trump administration piloted the zero-tolerance policy along other, less busy stretches of the border last year, from Arizona to El Paso. Immigration officials said that they were separating parents from children older than 5, and that the policy helped deter migrants and catch those posing as parents to claim asylum and avoid detention.
Immigration records show that so far this year, 700 families have been separated, including at least 100 children younger than 4.
The Department of Health and Human Services is preparing to house migrant children on military bases, as it last did during an influx of Central American families in 2014.
The agency is responsible for unaccompanied migrant youth, including those separated from parents. It has 100 shelters in 14 states with space for 10,571 children, but they're 91% full. In the next two weeks, officials will visit four potential sites in Arkansas and Texas: Ft. Bliss, and Goodfellow, Dyess and Little Rock Air Force Bases.
The American Civil Liberties Union filed a lawsuit in California on behalf of parents separated from their children and detained. One, a Brazilian mother, was detained in El Paso in August and recently released but is still waiting to be reunited with her 14-year-old son, who was sent to a shelter in Chicago.
It's not clear if the policy will be enforced the same way in the Rio Grande Valley as it was on other stretches of the border. Many more migrants are caught crossing illegally into the valley than elsewhere: 15,993 so far this year, triple the next busiest area of the border.
McAllen's court is struggling to handle the influx of mostly misdemeanor cases.
The court's three magistrate judges have transferred cases to counterparts in Brownsville and Laredo, officials said. The U.S. attorney's office for the Southern District of Texas is adding three lawyers in McAllen. Local jails and courthouse holding areas the U.S. Marshals Service uses to house prisoners are packed, Nogueras said.
"We have never seen this before and it is affecting everyone," he said.
Nogueras said he saw a woman last week caught crossing illegally a second time to find her daughter after officials separated them last year. He also represented a father separated from the 11-year-old daughter he had brought to the U.S. from Guatemala after being threatened by a gang.
"They came to him and said, 'Your daughter is becoming beautiful, we want her for a member of the gang.' He said, 'I brought her to protect her and now I don't even know where she is,' " Nogueras said.
He said many parents have no idea where their children are placed after they are separated, and instead of deterring them from returning to the U.S. illegally, the separations could drive them to return — to find their children.
"The logic of this is that parents learn their lesson. But they're going to come back. It's their kids."
As he finished Tuesday, Ormsby warned migrants, especially those hoping to reunite with their children.
"Please don't try to come back illegally to do that, because each time it's going to be a harsher sentence," he said.
The migrants thanked the judge and nodded before they were led back to the buses and jail. Some mothers were still sobbing, still in shackles.
The next day, 70 more immigrants arrived at the federal court in McAllen, 66 without criminal records, 18 of them parents separated from their children.
molly.hennessy-fiske@latimes.com
---
Must-read stories from the L.A. Times
Get the day's top news with our Today's Headlines newsletter, sent every weekday morning.
You may occasionally receive promotional content from the Los Angeles Times.