Grief, hope and prayer at vigil for Charleston shooting victims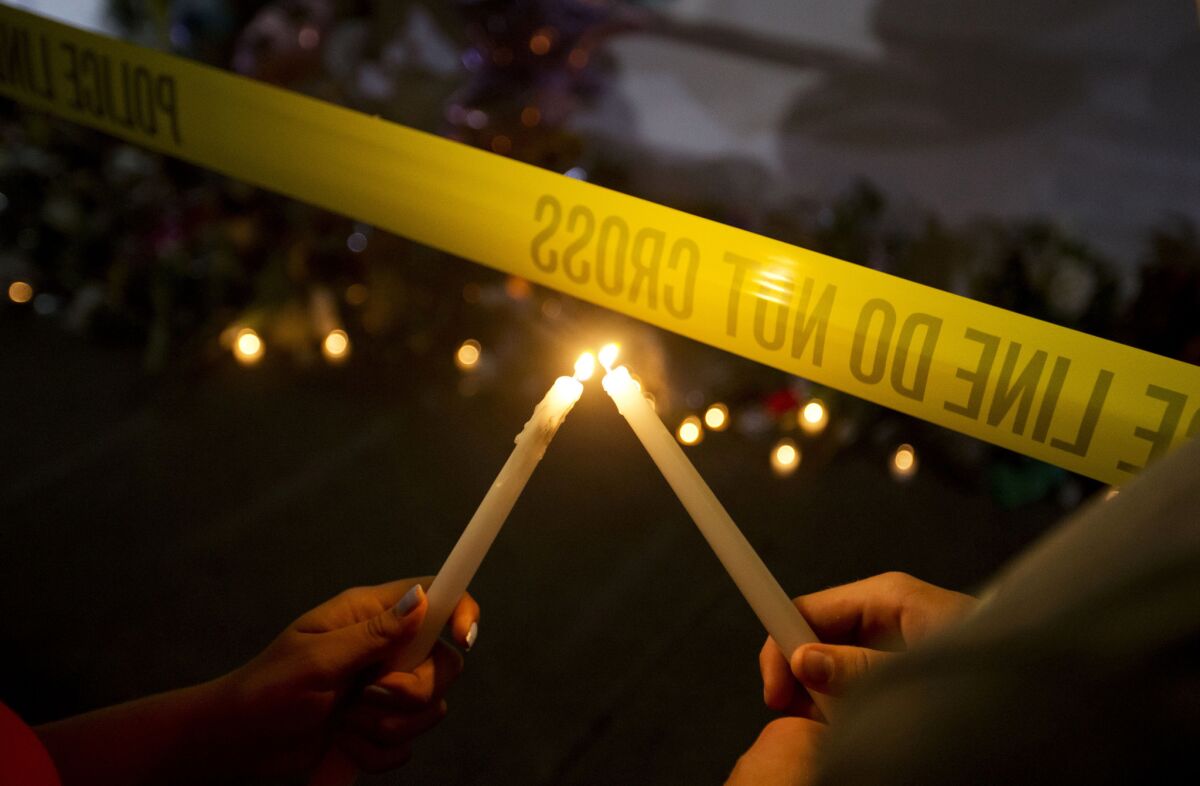 Reporting from Charleston, S.C. —
Marquita Hamilton brought her three young sons to stand in front of Emanuel AME Church, their church, and remember those they had lost.
Her pastor and eight other church members had been fatally shot here during Bible study just 24 hours earlier in what police were calling a racially motivated hate crime. The suspected gunman, Dylann Roof, 21, of Lexington, S.C., was arrested in North Carolina and returned to Charleston, where he was due to appear in court Friday.
Hamilton, 31, did not keep any of the details from sons Richard Williams Jr., 11, Michael Williams, 8, and Anthony Hamilton III, 4.
"I tell them the truth," said Hamilton, 31, who manages a McDonald's and brought her family to the church after work. "I have three boys. It's now or never. I want them to know the way the world is."
The boys remembered their late pastor, the Rev. Clementa C. Pinckney, 41, a state senator who performed their parents' marriage ceremony at the church a year ago. They remembered the Rev. Daniel Simmons Sr., 74, who counseled their parents before the wedding, and the Rev. Sharonda Singleton, 45, who supervised the children's Sunday school.
RELATED: Charleston church shooting victims: Who they were
"She had a good voice," Michael said. "It's so depressing."
It's difficult to tell children the truth without disillusioning them, to keep them on the right path in the face of adversity, Hamilton said.
"They go to Sunday school, sing in the choir.… I try to get them to do the right thing, and it's hard," she said Thursday night.
They stood clutching candles in front of the Emanuel African Methodist Episcopal Church steps, where a growing memorial included mounds of flowers and balloons.
Richard couldn't understand how the shooter could attack during Bible study. Witnesses said the gunman was in the church for about an hour before he opened fire.
"It's tragic that somebody would sit in church and then pull out a gun when you just heard about God," he said.
This is why I don't let you play with toy guns, his mother said. This is why I said no when you wanted to play paintball.
A woman volunteering with Parents Against Gun Violence passed by, handing out fliers for a march and memorial service on Saturday.
Several lawmakers came to pay their respects. Sen. Lindsey Graham (R-S.C.), who is running for president, added flowers to the growing pile.
Rep. Mark Sanford (R-S.C.), the former governor, spoke with members of the crowd, which had grown to several hundred. Afterward, he noted the racial diversity and the spirit of solidarity.
"I hear a whole lot less of a spirit of vengeance than of grace and introspection," he said. "Everybody expects that justice will be done."
Marquita Hamilton remembered the most recent time she sat down with Pinckney. They talked for an hour, she said, and his main question for her was: "Are you praying enough?"
After the shooting, that's what she keeps thinking about.
"That's why the first thing she did when she got home was pray," Michael said.
"If he was here," Hamilton said of the pastor, "he would ask all of us to just get down on our knees."
Hamilton isn't sure whether her church will have regular services this Sunday, or what it will feel like to return.
"There's always going to be spirits in this building," she said as she prepared to leave, but "I grew up in this church, and nothing's going to hold me back. This is home."
Must-read stories from the L.A. Times
Get the day's top news with our Today's Headlines newsletter, sent every weekday morning.
You may occasionally receive promotional content from the Los Angeles Times.