Clergy among those arrested in Ferguson police station protest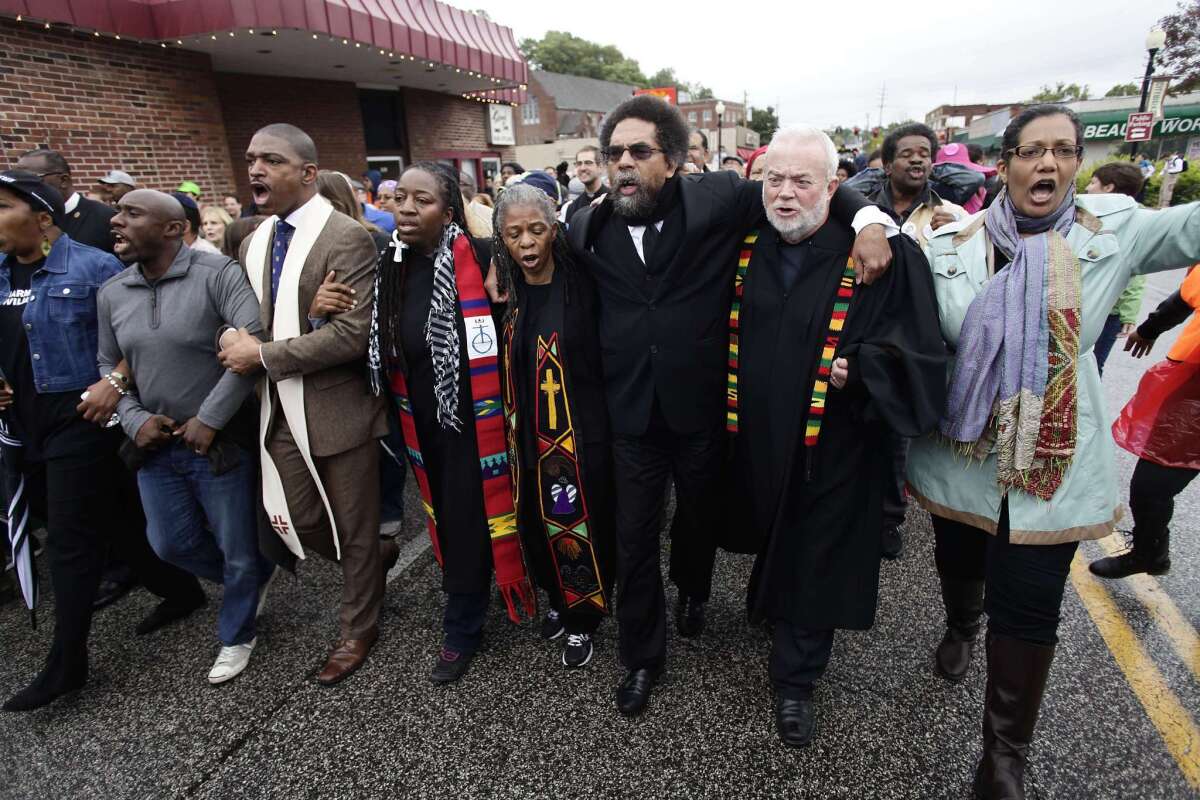 Reporting from Ferguson, Mo. —
Fulfilling a promise he made to hundreds of activists the night before, Cornel West on Monday did exactly what he came to Ferguson to do: He got arrested.
The activist and academic was among a crowd of dozens of clergy and other demonstrators who descended on the Ferguson police station Monday to protest the Aug. 9 shooting of 18-year-old Michael Brown, as well as the deaths of other black men across the U.S.
West, locking arms with several clergy from various denominations, marched toward a line of police in riot gear protecting the station. They requested a meeting with Ferguson Police Chief Thomas Jackson, and then stepped forward into a line of officers who refused to budge.
After West and the clergy were arrested, another line of clergy peacefully stepped forward and provoked their own arrests. By Monday afternoon, St. Louis County police said 48 demonstrators had been arrested at the station and six had been arrested for sitting in a nearby intersection.
The demonstration was among an array of scheduled protests in Ferguson and St. Louis called "Ferguson October," which drew hundreds of activists from St. Louis and around the country. Other protests were held at a mall and at St. Louis City Hall, where at least one young man with a banner was arrested. Protesters converged on a Wal-Mart to acknowledge the August police shooting of John Crawford III at an Ohio store. And they showed up at a political fundraiser.
Earlier, crowds marched through the streets of St. Louis after midnight and occupied the campus of St. Louis University.
Joining the morning protest were the parents of 18-year-old Vonderrit Myers, who was shot and killed by an off-duty St. Louis police officer last week in the nearby neighborhood of Shaw. Myers' family has said he was unarmed; police said they recovered a gun at the scene and three bullets Myers had fired at the officer, prompting 17 rounds of return fire.
No arrests were reported at St. Louis University, which drew some students from their dorms.
"The protesters were peaceful and did not cause any injuries or damage," said university President Fred P. Pestello. "In consultation with St. Louis Police and our Department of Public Safety, it was our decision to not escalate the situation with any confrontation, especially since the protest was nonviolent."
The protest movement that has emerged since Brown's death in Ferguson has become more organized and diversified in its tactics and targets. Demonstrators have protested outside St. Louis Cardinals games, sometimes prompting ugly responses from fans; they have also unfurled a banner in a concert hall during a St. Louis Symphony Orchestra performance. Some protesters have angrily cursed officers to their faces, others have prayed before lines of club-bearing police.
"The movement has matured. We are different protesters than in August," said DeRay McKesson, 29, an activist from Minneapolis who travels to Ferguson for demonstrations.
In August, he said, the protests had emerged organically, fed by anger and a sense of injustice. "Now, it's all of those, plus strategy," McKesson said.
A generational fissure between young demonstrators and the older protest establishment broke open Sunday night, when a crowd of hundreds interrupted a rally of older speakers and heckled the president of the NAACP. Young speakers then came to the stage and spoke of a need for people in the streets, rather than platitudes.
From that viewpoint, Monday morning's clergy protest could be viewed as a nexus between calls for street action and America's tradition of civil disobedience.
Some pastors' suits and frocks were drenched with rain as they sang "Wade in the Water," an old spiritual. Where younger demonstrators had previously been stopped by a wall of riot police, the clergy marched deep into the Ferguson Police Department's parking lot, sparking a few moments of confusion as some officers failed to stop them.
"We're standing against the criminalization of young black men ... and we believe as people of faith that our faith is supposed to look like something in public," said the Rev. Ben McBride, 37, of Oakland after lining up with other clergy to force their own arrests.
Asked about the criticism from young people the night before, McBride said: "The reality is, our young people are expressing some justified frustration with the faith community, with the world, with the status quo, so we're here in solidarity. ... It is a new movement, it is a new day, and we are not going to hold our young people back."
Elle Dowd, 26, a youth missionary for the Episcopal Diocese of Missouri, was among those arrested outside the police station, tweeting a selfie of her handcuffs.
Over Twitter, she told the Los Angeles Times that she was "here out of a deep love for both Black youth and police officers. We all deserve a better system as children of god. Black lives matter. We stand [with you] & won't stop til it's better. We love you."
When given the goodbye commonly shared during demonstrations in Ferguson — "stay safe" — Dowd responded, while still under arrest: "God doesn't always call us to safety. God calls us to faithfulness."
matt.pearce@latimes.com
Sign up for Essential California for news, features and recommendations from the L.A. Times and beyond in your inbox six days a week.
You may occasionally receive promotional content from the Los Angeles Times.