Q&A:: Was a breastfeeding infant really taken from an immigrant mother? The answer to this and other questions about families separated at the border
Video from inside the Border Patrol's controversial processing center in McAllen, Texas, during a media tour on June 17.
Last month, U.S. Atty. Gen. Jeff Sessions announced the Trump administration's "zero tolerance" policy of charging migrants in federal criminal court before their cases reach immigration court. When adults are taken to court, they are separated from their children, who are sent to shelters.
Immigrant advocates have sued the government to stop the practice and critics have called it cruel and inhumane. Here's a guide to key issues concerning family separations.
---
Trump administration officials, from Sessions to White House Press Secretary Sarah Huckabee Sanders, have said immigrant families are being separated because it's the law – what law are they referring to?
They're referring to Title 8 of U.S. Code 1325 and 1326. Federal district courts in border cities like McAllen, Texas, are now packed with migrants charged with 1325, illegal entry, a misdemeanor, or 1326, illegal reentry, a felony. The misdemeanor charge carries a potential six-month sentence, but most people are sentenced to time served. The felony charge carries a sentence of up to two years.
Is charging immigrants in criminal court new?
No. They have been charged, jailed, shackled, taken to court, convicted and sentenced en masse on some stretches of the border since 2005 through a Department of Homeland Security effort called Operation Streamline. At a court in the west Texas town of Pecos last fall, dozens of Central American men in orange jumpsuits, shackled together, listened on headsets as a translator explained that they were collectively being charged, convicted and sentenced.
What's new is making no exceptions and charging all adults, including parents. Such prosecutions, which started last year in Arizona and El Paso, Texas, are now done borderwide, with the greatest impact in Texas' Rio Grande Valley, where most immigrants cross into the U.S.
The goal is to eventually deter migrants, officials said. "There is a straight cause-and-effect with this. The number of [unaccompanied minors] and families has grown dramatically over the last few years because of not prosecuting family members. It's a clear line -- cause and effect. That's why we have to do this," a Homeland Security official said during a briefing with reporters Friday.
Is the practice of separating parents and children being challenged?
Yes. The American Civil Liberties Union sued on behalf of a Congolese mother detained in San Diego and a Brazilian mother who was charged in El Paso while their children were sent to shelters in Chicago.
Last month, the Texas Civil Rights Project, Women's Refugee Commission, University of Texas School of Law Immigration Clinic and Garcia & Garcia Attorneys also filed an Emergency Request for Precautionary Measures with the Inter-American Commission on Human Rights on behalf of separated families. The American Immigration Lawyers Assn. and other groups had already complained last fall to the Homeland Security Office for Civil Rights and Civil Liberties and the Office of the Inspector General challenging the separations.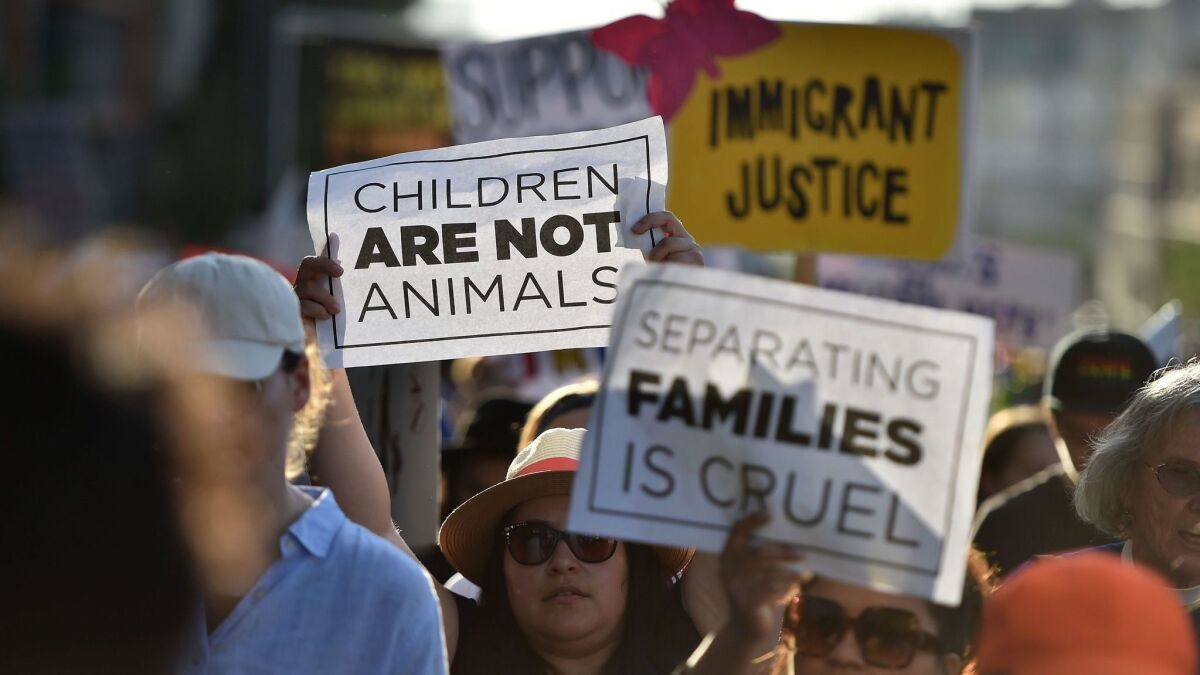 How are migrant children separated from their parents?
In the Rio Grande Valley, Border Patrol agents who catch immigrant families have been advised not to separate them in the field, officials said. They wait until after they drive families to the central processing center in McAllen.
Parents have complained to immigrant rights groups that authorities don't explain what's happening or are deceptive. The Texas Civil Rights Project has documented cases of parents who said they were told their children were being taken for a bath at the processing center. Instead, the children were separated from the parents. Federal public defenders said they have heard similar accounts.
Parents who appeared in federal court in McAllen earlier this month appeared confused about where their children had been taken, why and whether they would be reunified. When they asked the judge and Border Patrol agents for clarity, they did not receive answers.
Homeland Security officials denied Friday that information was withheld from immigrants. Officials said that before parents in the Rio Grande Valley are taken from the processing center to court they are given fliers explaining the family separation process in English and Spanish. The parents are also allowed to see their children before they leave for court and detention, officials said.
"Accusations of surreptitious efforts to separate are completely false," a Homeland Security official said.
Are immigrant children being held on the border — where temperatures often climb past 100 in the summer — in tents?
This week, Health and Human Services opened what it called a "soft-sided" and "semi-permanent" shelter for 360 unaccompanied minors outside El Paso in Tornillo, Texas. The tents, however, are air conditioned.
Immigrant advocates decried the desert shelter as a "tent city." Similar facilities were erected after an influx of Central American families arrived in the U.S. in 2014, but were later dismantled. Health and Human Services is also considering whether to open temporary shelters at military bases near the border, as it did in 2012.
Has separating families discouraged immigration?
It's too soon to say. U.S. Customs and Border Protection Commissioner Kevin McAleenan said that because it can take Central Americans about a month to journey with a smuggler to the border, the impact of the new policy is unclear.
The number of immigrants who sought asylum or were caught crossing the southern border in May – 51,912 – is about the same as the totals for the previous two months.
Overall, the number of families caught crossing has actually increased 17% in the past six months, and by 37% in the busy Rio Grande Valley, according to Border Patrol figures.
How many children have been separated from their parents on the border, and where do they go?
A total of 1,995 children have been separated from 1,940 adult guardians who were prosecuted for entering the country illegally from April 19 to May 31, officials said Friday.
Children held by Border Patrol must be turned over within 72 hours to Health and Human Services, whose Office of Refugee Resettlement places them in shelters. HHS contracts with 100 shelters in 17 states. They currently house 11,432 migrant children.
Adults charged in federal criminal court are transferred to the custody of U.S. marshals, held at adult detention facilities, local jails and as of this month, federal prisons, including a facility in Victorville, Calif.
CNN reported Thursday that Border Patrol agents took a breastfeeding baby from an immigrant mother. Is that true? Is there a cutoff age for separating migrant children from parents?
Homeland Security officials denied the CNN report, which quoted a lawyer for the Texas Civil Rights Project relaying the experiences of a Honduran woman. "We do not separate babies from adults," an official said, except in cases where a person poses a threat or is believed not to be the parent.
Officials declined to specify an age at which they would not separate immigrant children from parents.
Lawyers at the Texas Civil Rights Project questioned the government response. "We stand by our accurate recounting of what was told to us during the short period we are able to conduct the interview," in federal criminal court, said Natalia Cornelio, the group's criminal justice director. "It is egregious that they would go after this woman's story rather than divert the much-needed time and resources to these manufactured human rights crises. I know what I heard from this lady. She told it to me in tears. I have no reason to doubt the traumatic event she experienced."
Reporters this week were allowed to tour a shelter for immigrant children in Brownsville. Who runs these shelters, and how are children treated?
The Casa Padre shelter is run by Southwest Key, an Austin, Texas-based nonprofit, among the largest shelter providers in the country with 27 facilities in Arizona, California and Texas housing thousands of youth. The Brownsville shelter was state licensed to house 1,200 youth and recently received a variance to house 297 more. On Wednesday, it had 1,469 boys ages 10 to 17.
The former Walmart was clean, divided into dorm rooms with spare cots set up for added children. Boys stood in the hallways wearing T-shirts and basketball shorts, some smiling and saying hello. Reporters touring the facility were not allowed to speak with the children or staff. Boys could be seen playing video games, soccer and basketball. There are classrooms, and officials said children receive six hours of daily instruction.
However, a youth care worker at a Southwest Key shelter in Tucson, Ariz., resigned this week because of what he called under-staffing and chronic problems. In an interview with The Times, he said conditions at the shelter have led to children running away and attempting suicide.
Are U.S. officials turning back asylum-seeking families at the border?
Homeland Security officials insist families are not being prevented from seeking asylum at border crossings. "That is not true at all," an official said Friday. "They will be allowed to make their claim in court."
But just when immigrants can make a claim is unclear. Customs officials on border bridges have stopped scores of Latin American families that have camped out on the bridges with their children, sometimes for weeks, without access to showers or a steady supply of food and water. In Hidalgo, Texas, migrants were forced to wait even after they crossed to the U.S. side of the bridge. After hearing those reports, Sen. Jeff Merkley (D-Ore.) and other congressional lawmakers plan to visit the Hidalgo bridge Sunday.
Those who asked to enter the U.S. to apply for asylum have been told they had to wait until there was detention space. Legal advocates insisted that was not a legal justification for blocking asylum-seeking families from entering the country.
molly.hennessy-fiske@latimes.com
Twitter: @mollyhf
---
UPDATES:
12:35 p.m.: This article was updated to report that tent shelters erected to hold children are air conditioned.
This article was originally published at 3 a.m.
---
Must-read stories from the L.A. Times
Get the day's top news with our Today's Headlines newsletter, sent every weekday morning.
You may occasionally receive promotional content from the Los Angeles Times.