Vegas shooter had anti-anxiety drugs in his system, autopsy shows, but motive behind massacre remains a mystery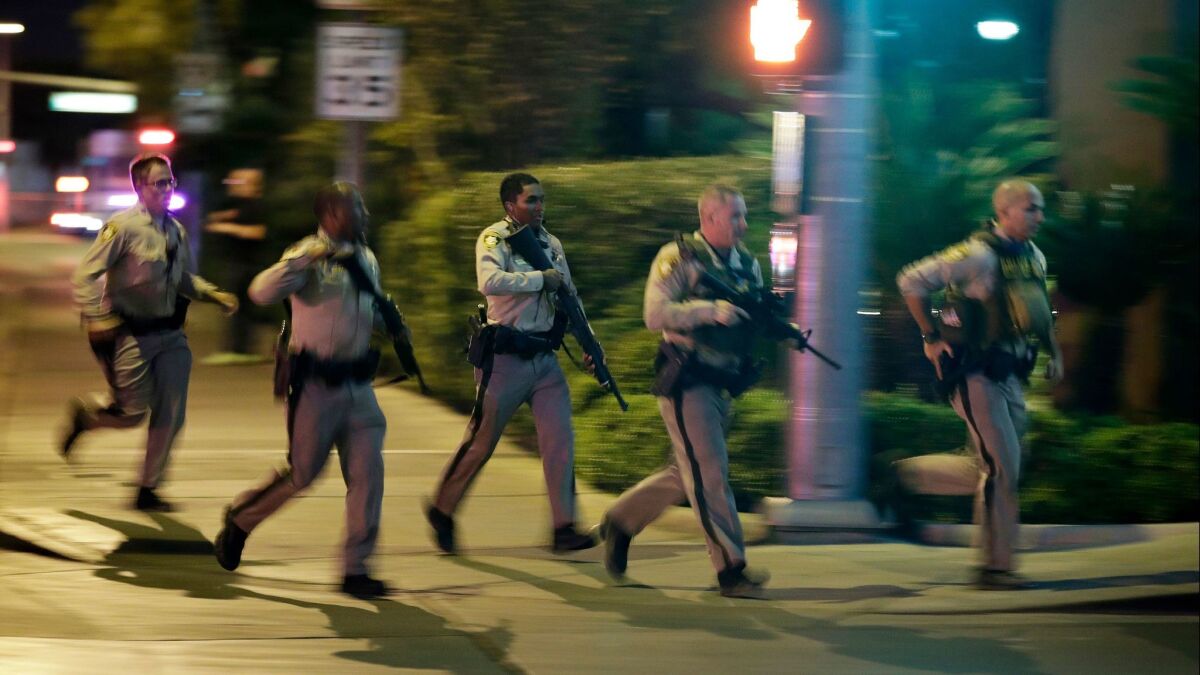 Reporting from Las Vegas —
Stephen Paddock was overweight, had some anti-anxiety medication in his urine, and suffered from the usual wear and tear that comes with aging.
But the autopsy released Friday failed to help answer why Paddock chose to perch himself in the window of his 32nd-floor hotel room and kill 58 people while wounding hundreds in the worst mass shooting in modern American history. He committed suicide by shooting himself in the mouth. No suicide note or manifesto has been found.
The autopsy showed Paddock to be physically an otherwise unremarkable 64-year-old man. He was balding. His teeth were in poor condition. He suffered from hemorrhoids.
The mystery of why he trained his guns on more than 20,000 people attending the Route 91 Harvest country music festival Oct. 1 has been confounding. Clark County Sheriff Joe Lombardo has said Paddock — a prolific high-stakes gambler with a particular affinity for video poker — had been on a losing streak in recent years, and he believes the losses might've been a factor. The FBI has said it will release a report later this year on their findings.
In a preliminary investigative report issued by Lombardo last month, there was testimony from Paddock's girlfriend, Marilou Danley, that he had become emotionally distant. She also said he was germophobic. In that same report, his doctor said Paddock was afraid to take medication and may have been bipolar. He also described Paddock's behavior as "odd" and said he last saw him a year before the shooting.
The doctor also noted the only ailment Paddock suffered from was a muscle tear that came from a slip-and-fall incident at a casino a few years earlier.
The autopsy also included a short report from Stanford University, which studied his brain to determine whether there was anything unusual. It revealed what it called "the most striking abnormality" in the hippocampus, a part of the brain involving human learning and memory. The report did not say whether the abnormality might have affected his behavior.
Hundreds of pages of search warrants have also been released in the last few weeks, but they only revealed a man who had been on a gun-buying binge a year prior to the shooting.
In the 34 years before September 2016, Paddock had purchased 29 firearms. But in the following 11 months, he bought more than 55.
When police entered his hotel room, they found about two dozen guns — some fitted with "bump stocks," devices used to simulate automatic firing. Paddock fired more than 1,100 rounds from his room. Authorities also found explosives and ammunition for AR-15 and AR-10 rifles.
Four laptops were also seized from the room, including one that contained hundreds of images of child pornography. Last year, his brother, 58-year-old Bruce Paddock, was arrested in Los Angeles on charges of possessing child pornography.
Another brother, Eric Paddock, picked up the remains of Stephen Paddock last month from the Clark County coroner's office.
The coroner released redacted autopsy reports for the 58 victims last month, but it had delayed the release of Paddock's until it was finalized.
Twitter: @davemontero
---
UPDATES:
8:45 p.m.: This article was updated with additional details from the autopsy and background on the shooting and investigation.
This article was originally published at 7 p.m.
---
Must-read stories from the L.A. Times
Get the day's top news with our Today's Headlines newsletter, sent every weekday morning.
You may occasionally receive promotional content from the Los Angeles Times.