Is it OK to mention a person's immigration status in court? Washington state says no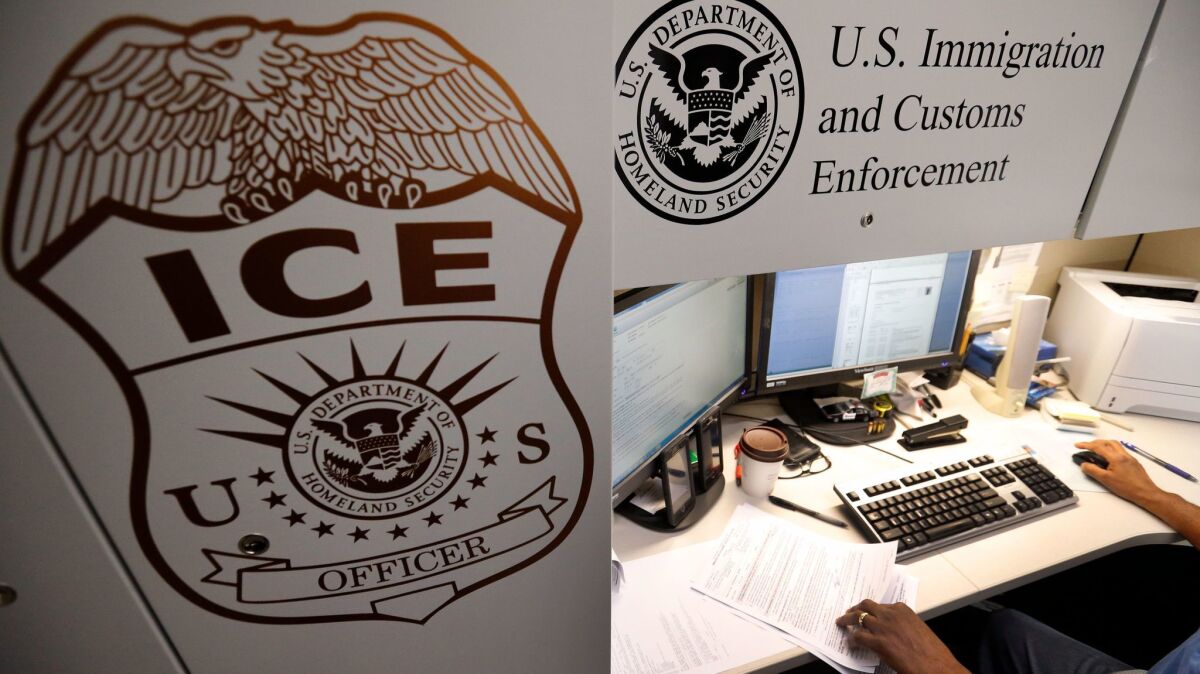 Reporting from SEATTLE —
With visa in hand, Alex Salas came to the United States from Mexico in 1989, moved to Seattle the following year, worked construction jobs, raised a family and paid his taxes. His visa expired in 1994 and he applied for citizenship, but didn't follow up. He was living in the country illegally on a rainy day in 2002 when he slipped off a ladder and fell 30 feet to the ground.
Thirteen surgeries later, the carpenter sued the scaffolding company for using a ladder that lacked a textured, non-slip surface. What played out over the next 15 years changed Salas' life forever and led this month to a new rule that, with rare exceptions, bars attorneys from bringing up an immigrant's legal status in Washington's civil or criminal courts.
Salas was still recovering from a crushed pelvis, broken arm and leg, and traumatic brain injury when his suit went to trial in 2006. A jury agreed the company was negligent. But it awarded Salas, father of three, no damages.
Salas and his attorney figured they knew why. The company's attorneys referred to him in court as an "illegal alien," though his immigration status had nothing to do with the lawsuit.
After an appeals court upheld the verdict, the state Supreme Court overturned it in 2010 because of the trial judge's "abuse of discretion." Five years later, at a new trial in which the company's attorneys were prohibited from mentioning Salas' status, another jury awarded him $2.56 million.
The new rule, approved by the state Supreme Court on Nov. 8, takes effect next September, but is already being used as a judicial guide. Called Rule 413, it makes immigration status "generally inadmissible" in civil and criminal trials unless it is "an essential fact to prove an element of, or a defense to [the claim or charge], or to show bias or prejudice of a witness."
Though California has a similar rule for civil courts, the Washington state rule is thought to be the first in the nation to include criminal cases as well, potentially affecting the nearly 1 million immigrants in Washington.
"Stop monkeying around and let's get to the heart of the case, that's what this rule says," said Joe Morrison, a Columbia Legal Services attorney in Wenatchee, Wash., who has spent most of the last 25 years representing central Washington farm and orchard workers.
Morrison, among a group of attorneys and scholars who had been formulating the rule for five years, said he often heard the argument that not revealing a person's immigration status in court deprived a jury of fully weighing the truth of testimony. It goes to the witness' character, as objecting attorneys say in court.
But it can clearly be prejudicial, Morrison and others argue, and such questioning isn't allowed in other cases.
"Those same arguments could be made to allow me to get at someone's tax records, or to probe their fidelity to their spouse," Morrison said. "If I'm suing a corporate defendant for unpaid wages or race discrimination, why shouldn't I be able to ask for 10 years of tax records to see if they were telling the truth about all their income? If they lied on their taxes, doesn't that go to their character? Or if they cheated on their spouse or sexually harassed another person, doesn't that go to the witness' character?"
Though the rule was ultimately agreed on by a political cross-section of legal eagles from Morrison's Columbia group, Northwest Immigrant Rights Project, Legal Voice and the Washington Assn. of Prosecuting Attorneys, others were dead set against it.
The Washington Assn. of Criminal Defense Lawyers was opposed, and the Washington Defender Assn. expressed concern the rule was "unnecessary, unworkable and would not accomplish proponents' goals."
Sean O'Donnell, a King County judge and president of the state Superior Court Judges' Assn., urged the high court to reject the proposal, saying it "would be redundant of existing evidence rules."
But the rule's authors said their aim was not only fair trials but making it easier and safer for crime victims to come forward without fear of being asked to show their papers.
"Yes," said Gonzaga University law professor Ann Murphy, who helped draw up the rule, "the purpose is for undocumented individuals to be able to report crimes, be witnesses in trials, be able to sue their employers.
"The process for the rule was begun before President Trump took office, but the rationale for it is even stronger now," Murphy said, adding that Immigration and Customs Enforcement agents have gone to courthouses.
A report, issued Wednesday by the Immigrant Defense Project, shows ICE arrests and attempted arrests of immigrants at New York courthouses had jumped from 11 last year to 110 so far this year.
"Immigrants seeking justice in the criminal, family and civil courts should not have to fear for their freedom when doing so," the report said.
Andy Miller, one of the rule writers and a prosecutor in Benton County, in the farmlands of eastern Washington, said: "If victims and witnesses to crime believe that they are going to be asked about their immigration status, they will be less likely to report crime, less likely to cooperate and testify at trial. This is especially true in domestic violence and sexual assault cases."
Miller agreed that Trump wasn't the motivation when his group first started to meet about the rule.
But Trump's hard line on deportations and insistence on building a border wall had an influence. A background paper on the rule's creation explains:
"In light of the 'significant danger' that immigration status evidence poses to the fact-finding process, a court rule is needed. This is true especially in light of a flurry of federal executive orders that have further inflamed the topic of immigration, resulting in an increased risk of prejudice caused by the admission of immigration status."
Alex Salas couldn't be reached for comment about the rule he helped birth. He is reported to be living in Houston.
Public reaction so far has been mixed, but "fortunately I have not received any hate mail — yet," Murphy said.
Anderson is a special correspondent.
ALSO
DACA negotiations slow as Trump demands more than Democrats will give
https://Border Patrol losing agents faster than it can hire new ones
59,000 Haitians living in U.S. must leave within 18 months, Trump administration says
Must-read stories from the L.A. Times
Get the day's top news with our Today's Headlines newsletter, sent every weekday morning.
You may occasionally receive promotional content from the Los Angeles Times.