Man arrested in Waffle House shooting had displayed bizarre behavior in recent years, police say
Bureau of Alcohol, Tobacco, Firearms and Explosives personnel search a wooded area Monday for the suspect who shot and killed several people in a nearby Waffle House in Nashville.
(Shelley Mays / Associated Press)
Investigator at a Nashville Waffle House where several people died after a gunman opened fire on Sunday.
(Mark Humphrey / Associated Press)
Nashville police gather alongside a wooded area as they search for a shooting suspect near a Waffle House restaurant Sunday.
(Mark Humphrey / Associated Press)
Metro Nashville Police use a SWAT team and bomb squad to serve a search warrant at the apartment of the suspected gunman who opened fire with an assault rifle at a Waffle House restaurant in Nashville.
(Rick Musacchio/EPA)
Metro Nashville Police used a SWAT team and bomb squad to serve a search warrant at the apartment of the suspected gunman who opened fire with an assault rifle at a Waffle House restaurant in Tennessee.
(Rick Musacchio / EPA)
Law enforcement officials work the scene of a fatal shooting at a Waffle House in the Antioch neighborhood of Nashville on Sunday.
(George Walker IV / AP)
Reporting from ATLANTA —
Travis Reinking, who was arrested Monday on suspicion of gunning down four people at a Waffle House restaurant in Nashville, had displayed increasingly bizarre behavior in recent years, once complaining to relatives that he was being stalked by pop singer Taylor Swift.
Reinking was taken into custody Monday after a nearly 34-hour manhunt involving scores of law enforcement officers.
A tip from a construction worker led authorities to Reinking, 29, in a wooded area less than a mile from where he was last spotted Sunday morning behind his apartment complex southeast of downtown Nashville.
The area had been the site of aerial and canine searches Sunday and ground searches Monday morning, a Nashville police spokesman said.
Reinking's movements since the shooting, as well as a possible motive, remain unknown. He refused to make a statement and requested a lawyer when he was arrested.
Metropolitan Nashville Police Lt. Carlos Lara said Reinking carried a backpack containing a silver Kimber semiautomatic weapon with .45-caliber ammunition, a flashlight and a holster.
He did not resist when officers approached him with guns drawn, Lara said.
Photos released by police showed a disheveled Reinking in a ripped burgundy T-shirt and dark jeans, handcuffed in the back of a law enforcement vehicle.
"We are glad to know that our community will receive justice," acting Nashville Mayor David Briley said in a Twitter post thanking law enforcement officials for their hard work in the case. "The people of Antioch and all of Nashville can breathe a sigh of relief."
Reinking is expected to be booked on four counts of criminal homicide. A federal official said Reinking's father, Jeffrey Reinking, might also face charges for giving the weapons back to his son after his firearms authorization was revoked last year.
"It is possible if you transfer weapons knowingly to a person that is prohibited that could potentially be a violation of federal law," said Marcus Watson, a special agent with the Bureau of Alcohol, Tobacco, Firearms and Explosives.
Police said Reinking was wearing only a green jacket when he opened fire with an AR-15 rifle in the Waffle House parking lot about 3:25 a.m. Sunday.
After shooting and killing two people outside, he shot out the front window of the restaurant, sending shards of glass flying, police said.
Four people were killed: Taurean C. Sanderlin, a 29-year-old employee of the restaurant; Joe R. Perez, 20; Deebony Groves, 21; and Akilah Dasilva, 23, who was critically wounded in the restaurant and died at Vanderbilt University Medical Center.
The death toll probably would have been higher, police said, if a Waffle House customer, James Shaw Jr., 29, had not charged the gunman while he was reloading. After wrestling the rifle away, Shaw tossed it over the counter, prompting the gunman to flee.
Reinking shed his jacket, which contained two magazines of AR-15 ammunition, law enforcement officials said.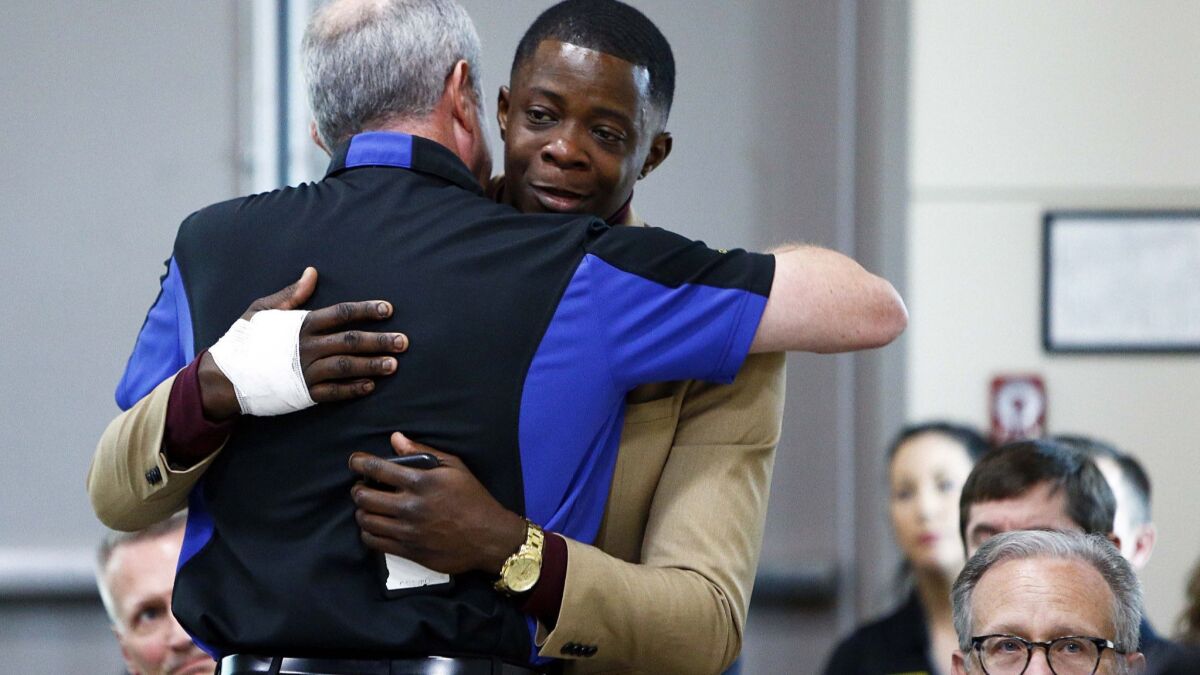 When Reinking was last spotted Sunday morning, he was wearing black pants and no shirt or shoes, police said.
All schools in the search area Monday followed lockout procedures, allowing students to move throughout campus but admitting no guests or visitors.
"We have a man who has exhibited significant instability," Don Aaron, a police spokesman, said as he urged residents across the Nashville area to be vigilant. "We are concerned for the citizens not just here but anywhere he may go."
Reinking, who moved from Illinois to Tennessee in fall 2017 and worked in the construction industry, has a history of bizarre and delusional behavior, authorities said.
In his hometown of Morton, Ill., he was regarded as somewhat of a loner and considered to be socially awkward, according to friends. He came from a Christian family and was home-schooled, but he also took some classes at a public high school.
In July, he was arrested by the Secret Service for being in a restricted area near the White House. After trying to cross a security barrier, he declared himself a "sovereign citizen" who wanted to speak with President Trump.
On Aug. 24, sheriff's deputies in Tazewell County, Ill., revoked Reinking's Illinois firearms authorization and he subsequently "voluntarily surrendered" four firearms, including the AR-15 used in the Waffle House shooting.
Tazewell County Sheriff Robert M. Huston said in a news conference Sunday that deputies then gave the guns to Reinking's father, who had a valid firearms owner's identification card and a legal right to take custody of the weapons.
"He was allowed to do that after he assured deputies that he would keep them secure and away from Travis," Huston said.
The Tazewell County Sheriff's Office released several police incident reports involving Travis Reinking.
In May 2016, a sheriff's deputy met him and his parents in a drugstore parking lot after his parents called for help, saying Reinking was having delusions that Taylor Swift was harassing him by hacking his phone and Netflix account.
About a month later, police were called to a public swimming pool in Tremont, Ill., after Reinking reportedly "barged into the pool" wearing a pink woman's house coat, swam in his underwear and exposed his genitals to lifeguards.
At a Sunday news conference, Waffle House Chief Executive Walter Ehmer joined a string of law enforcement officials in thanking Shaw for his heroism.
"You don't get to meet too many heroes in life," Ehmer said. "We are forever in your debt."
Shaw, who was released from a hospital Sunday morning after being grazed by a bullet, dismissed the idea that he was a hero.
"I didn't really fight that man to save everyone else," he said at the news conference. "That may not be a popular thing. I took the gun so I could get myself out."
Since the shooting, some Nashville officials have called for tougher gun legislation.
"Tragedies like this are a fundamental threat to our way of life in America," Briley, the acting mayor and a Democrat, said in a statement Monday. "Everyone should be able to go to a restaurant or church or school without fear."
Jarvie is a special correspondent.
The Chicago Tribune contributed to this report.
---
UPDATES:
5:20 p.m.: The story was updated with comments from Carlos Lara and Marcus Watson.
12:40 p.m.: The story was updated throughout with staff reporting and quotes from acting Nashville Mayor David Briley.
The story was originally published at 8:40 a.m.
---
Must-read stories from the L.A. Times
Get the day's top news with our Today's Headlines newsletter, sent every weekday morning.
You may occasionally receive promotional content from the Los Angeles Times.