Judge bars U.S. from enforcing Trump asylum ban at Mexican border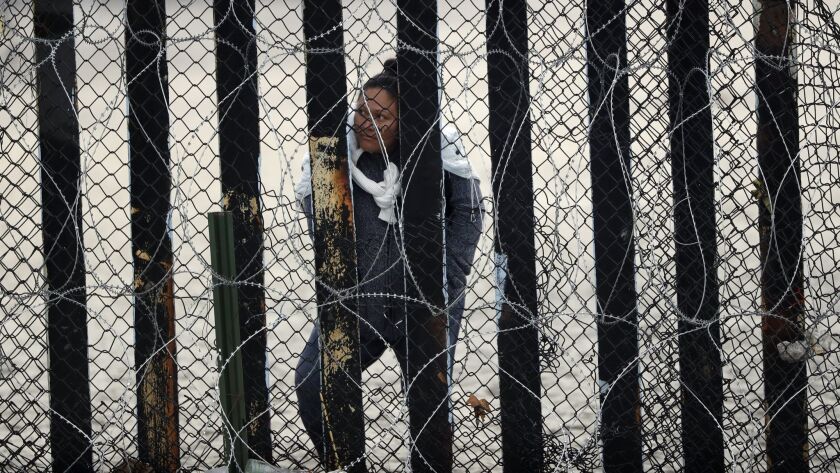 Reporting from San Francisco —
A federal judge has temporarily blocked the Trump administration from denying asylum to immigrants who cross the border at places other than official points of entry.
U.S. District Judge Jon S. Tigar, who serves in San Francisco, said President Trump's Nov. 9 order restricting eligibility for asylum violated an immigration law passed by Congress.
"Whatever the scope of the president's authority, he may not rewrite the immigration laws to impose a condition that Congress has expressly forbidden," Tigar wrote in a ruling posted online late Monday night.
Trump issued his order in response to caravans of thousands of migrants headed from Central America to the U.S. border. The president also ordered active-duty troops to the border.
Several immigrant-rights groups sued to block Trump's order.
The Immigration and Naturalization Act passed by Congress says any immigrant who has arrived in the U.S. may apply for asylum "whether or not at a designated port of arrival."
Tigar issued a temporary restraining order to remain in effect until Dec. 19, when the administration and the challengers must return to court.
RELATED: Read judge's ruling issuing a temporary restraining order »
Evidence shows that the federal government limits or meters the number of people who may ask for asylum at points of entry, resulting in delays that can span more than six weeks, wrote Tigar, an Obama appointee.
The Trump administration on Tuesday called the asylum system "broken" and "abused by tens of thousands of meritless claims every year."
"As the Supreme Court affirmed this summer, Congress has given the president broad authority to limit or even stop the entry of aliens into this country," the administration said in a statement issued by Homeland Security Department spokeswoman Katie Waldman and Justice Department spokesman Steven Stafford.
"Asylum is a discretionary benefit given by the executive branch only when legal conditions are met and a favorable exercise of discretion is warranted," the statement said.
The statement cited a provision of the Immigration and Nationality Act, which says the president may suspend the entry of immigrants or impose restrictions on them when their entry would be detrimental to the U.S.
Homeland Security estimates about 70,000 people a year claim asylum after crossing illegally. But illegal crossings overall are well below historical highs from previous decades.
About 3,000 people from the caravans have arrived in Tijuana, across the border from San Diego.
Lee Gelernt, who argued the case for the ACLU of Northern California, said Trump's order on asylum put people's lives in danger.
"There is no justifiable reason to flatly deny people the right to apply for asylum, and we cannot send them back to danger based on the manner of their entry," he said.
The challengers argued that some migrants did not know how to get to the official border crossings or could not get to them safely.
---
UPDATES:
11:25 a.m.: This article was updated with staff reporting.
8:30 a.m. Nov. 20: This article was updated with comments from the administration, additional details and background on other rulings.
This article was originally published at 11 p.m. Nov. 19.
---
Must-read stories from the L.A. Times
Get the day's top news with our Today's Headlines newsletter, sent every weekday morning.
You may occasionally receive promotional content from the Los Angeles Times.