Ferguson selects Arizona police commander to run its embattled department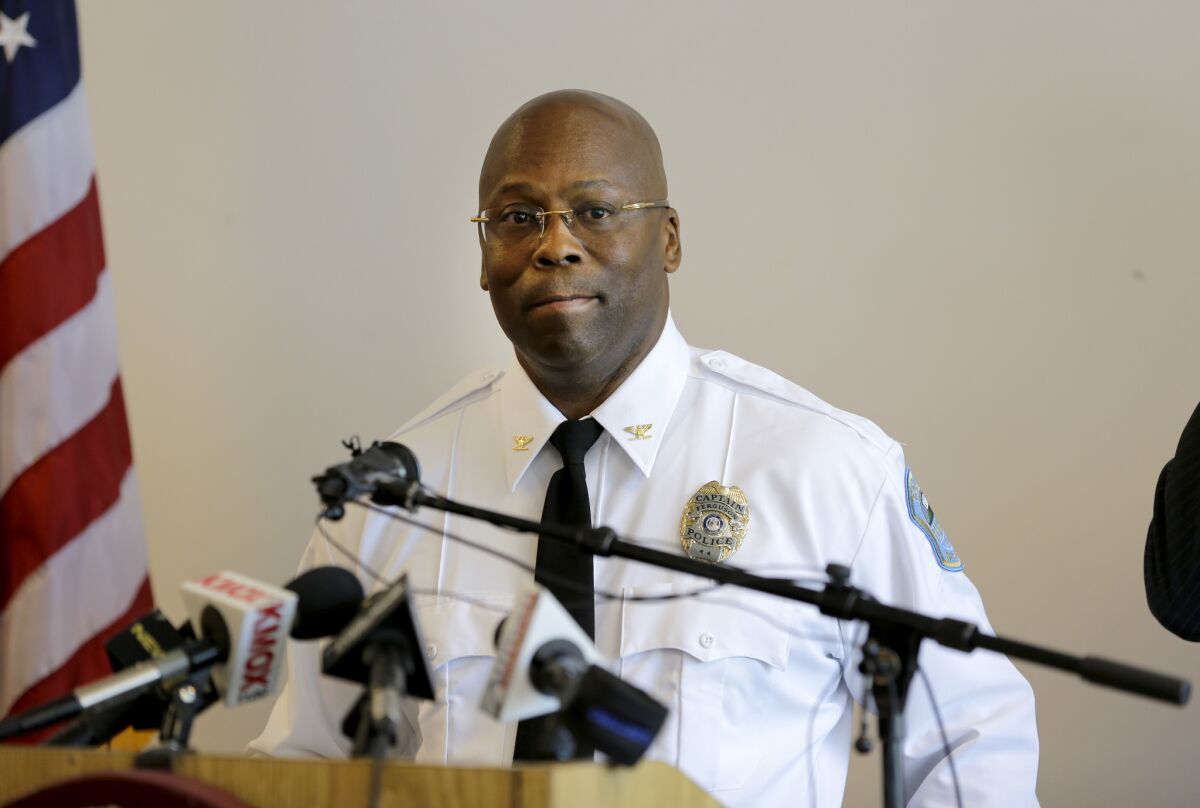 The announcement that a veteran black law enforcement officer on Thursday will take over the beleaguered Police Department in Ferguson, Mo., might seem emblematic of change in a city where, just a year ago, power seemed tilted firmly toward the city's white residents.
But in Ferguson, 67% of the residents identify as black, and many of them say they are approaching the appointment of interim Police Chief Andre Anderson with a measure of caution. Even black residents in neighboring towns who were caught up in last year's protests feel that way.
"I'm optimistic … but just because he looks like me doesn't mean he's the right one," said Cat Daniels, a 63-year-old Florissant, Mo., woman who routinely cooked for protesters outside the town's police headquarters last year. "It could just as well mean they put a puppet in place."
That feeling of systemic disenfranchisement exists in Ferguson. At this time last year, the Police Department was more than 90% white. Five of the town's six council seats were filled by white residents, and Ferguson's lone municipal judge oversaw a court system that the Justice Department later determined was engaged in institutionalized racism.
If Anderson is to heal the deep divide between Ferguson's residents and its Police Department, experts and local leaders say he had better be prepared for a lengthy fight.
Ferguson Mayor James Knowles III on Wednesday praised the selection of Anderson, an Army veteran who previously oversaw criminal investigations for the Glendale, Ariz., Police Department.
"The city of Ferguson and our Police Department have endured a tremendous amount of distrust during the past nine months," Knowles said in the statement. "We understand that it will take time to once again gain the trust of everyone. We believe that Cmdr. Anderson can make recommendations to the Police Department that will be innovative and will have longstanding improvements for our citizens and to the entire community."
Anderson has served in law enforcement for more than 20 years, the statement said. He oversaw homicide, fraud and domestic violence investigations in Glendale, and served as a member of several undercover task forces with the FBI and the Drug Enforcement Administration, the city said.
A graduate of the FBI's National Academy, Anderson holds a master's degree in education and leadership from Northern Arizona University, according to his LinkedIn profile. He also served as a regional vice president for the National Organization of Black Law Enforcement.
Anderson will replace Lt. Col. Al Eickhoff, who took up the chief's post after the resignation of Thomas Jackson. It was Jackson who oversaw the chaos that enveloped Ferguson following the death of 18-year-old Michael Brown on Aug. 9, 2014.
Brown was shot and killed by Ferguson Police Officer Darren Wilson, sparking months of protests that at times spun out of control, leaving parts of the St. Louis suburb burned and dozens of buildings destroyed.
Ferguson officials were heavily criticized for their response to violent protests that followed Brown's death and a grand jury's decision not to indict Wilson in the shooting. A federal investigation later charged that racism was essentially institutionalized within the department, with blacks facing an overwhelming amount of stops and citations.
Ferguson officials said they were hopeful that the decision to hire a black leader to take over policing of a majority black community would spark some change, but cautioned against boiling the town's problems down to a simple race issue.
"I think it's a very good step in the right direction, but I do want to say that some of the issues with law enforcement are not just black and white," Democratic Committeewoman Patricia Bynes told the Los Angeles Times.
"A lot of it is police accountability, a lot of it has to do with police culture regardless of the officer's skin color. But I am hopeful that, in his position, that [Anderson] is able to bring a change of culture to the Ferguson Police Department."
Interim City Manager Ed Beasley was also hired from Glendale, Ariz., and Bynes said she hoped his previous work with Anderson would lead to "a kind of synergy" in Ferguson.
Policing experts warned that Anderson's hiring would not be a panacea for the larger issues causing Ferguson's black residents to feel disenfranchised. The experts also said the new chief could try and curb the racial profiling and misconduct that the Justice Department said ran rampant through the department, but there is little Anderson can do about poverty and unemployment in the black community.
"Policing is just a part of a much bigger equation. What's going to cause fundamental change in Ferguson is going to be the important question," said Eugene O'Donnell, a professor at the John Jay College of Criminal Justice and a former New York City assistant district attorney. "If I'm a black high school graduate in Ferguson, what are my options now? How am I going to be in the middle class? How am I going to retire?"
The decision to hire a chief from outside the area might help foster change, O'Donnell said, but it may also draw resentment from veteran officers who had hoped to claim the promotion.
"I'm sure there are people in the department who feel they were unfairly maligned. The department was sort of dismissed as a factory of bigots," he said. "There are likely to be people whose aspirations were thwarted. Bluntly, it's tricky because you bring in a person of color, and the white officers may say, 'Was that the only criteria to pick someone?'"
Eickhoff, the previous interim police chief, was skewered by national media and local activists after a June interview with the Los Angeles Times. In that interview, he claimed Ferguson police officers were shot at while trying to recover Brown's body last year. Eickhoff also seemed to dismiss the Justice Department report that found serious problems with the city's police.
Bynes said she was not sure whether Eickhoff's comments to The Times led to the decision to replace him. Either way, she said, the city needed to hire someone far removed from Ferguson politics if it hoped to heal the deep mistrust between police and residents.
"Bless his heart, the police chief [Eickhoff].... He's kind of been there and wants to take up and defend his force that he's been a part of," she said. "So I think some new blood, some new eyes, some new ears, some new ideas, is what's needed."
Daniels, who believes St. Louis County is fiercely split along racial and economic lines, said she wished Anderson's race could be taken out of the conversation. She'd rather talk about his plans for the department than what he looks like.
"It's not a black thing and it's not a white thing. It's about being fair," she said. "In Ferguson and St. Louis as a whole, that's what we want, to be treated as equals."
Follow @JamesQueallyLAT for breaking news
Must-read stories from the L.A. Times
Get the day's top news with our Today's Headlines newsletter, sent every weekday morning.
You may occasionally receive promotional content from the Los Angeles Times.