Two years after Sandy Hook, poll finds more support for gun rights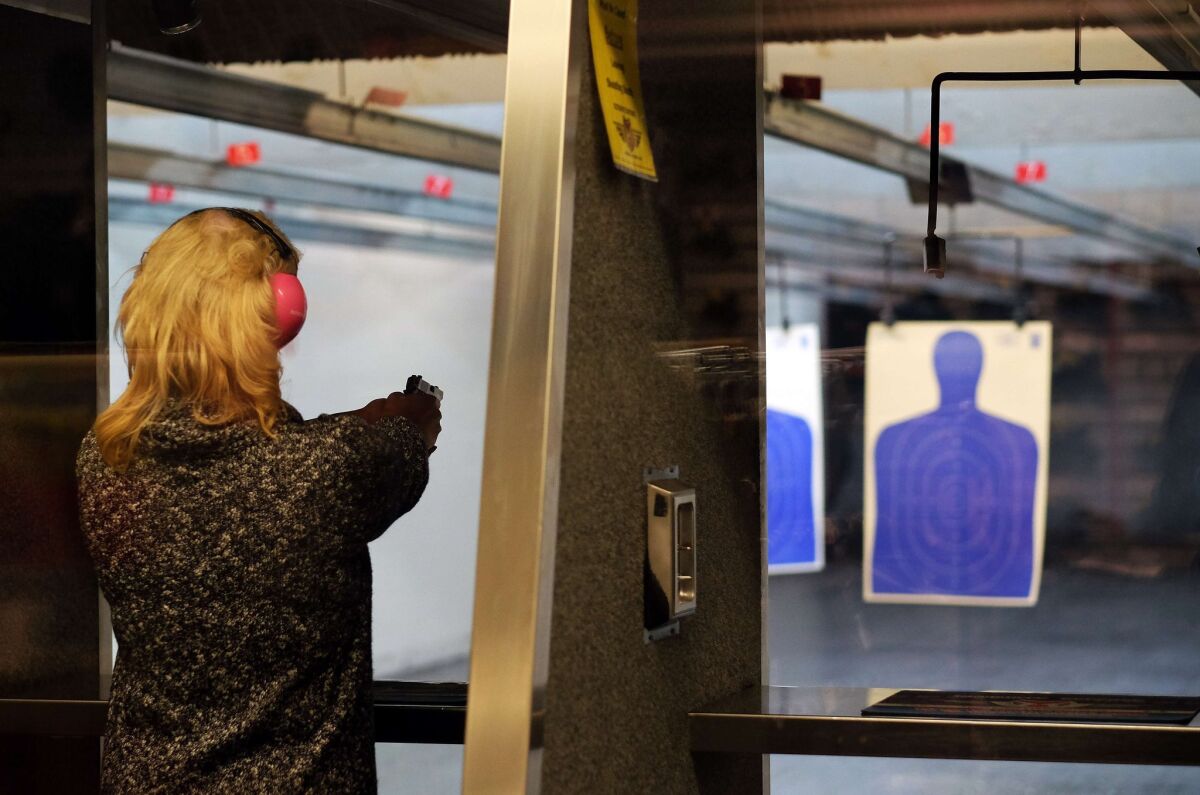 Two years after the horrific Sandy Hook Elementary School shooting left 20 children and six educators dead, the families grieved quietly on Sunday as Newtown, Conn., held no public ceremonies.
The massacre by a gunman who used semiautomatic weapons and large-capacity ammunition magazines stirred national debate over gun control and led to a debate in Congress over universal background checks, but efforts to stiffen federal laws fell short.
Since then, devotees of the 2nd Amendment have rallied more Americans to their point of view, judging by a new survey from the Pew Research Center. The poll shows that public support for gun rights has surpassed those who believe more gun control is needed.
Fifty-two percent of those surveyed said it's more important to protect the rights of Americans to own guns, while 46% say it's more important to control gun ownership. It's the first time in more than two decades that the Pew survey has found more support for gun rights than gun control.
A Pew survey in January 2013, a month after Sandy Hook, found that 51% of Americans said gun control was needed, compared to 45% who said it was more important to protect the rights of people who own guns.
A month earlier, in the immediate aftermath of Sandy Hook, Pew found that 48% said gun ownership protects people from crime, and 37% said it puts safety at risk.
The difference was more dramatic in Pew's latest survey, conducted Dec. 3-7 and released last week. Fifty-seven percent said gun ownership protects people from a crime -- 9 percentage points higher than two years ago. Those who said gun ownership puts people at risk remained essentially the same, at 38%.
In the wake of 2012 mass shootings that also included an Aurora, Colo., movie theater and a Sikh temple in Oak Creek, Wis., several states with Democratic-controlled legislatures passed stricter gun-control laws.
Measures that limit ammunition magazines to 15 rounds and require universal background checks were passed and signed into law by Colorado Democrats, who control both chambers and the governor's mansion. Similar measures passed in statehouses including Connecticut, New York and Maryland.
Still, a recent report from the group Everytown for Gun Safety, which advocates stricter gun-control laws, found that since Sandy Hook there have been at least 94 shootings at K-12 schools, community colleges and universities. Those incidents include suicides, fatal and nonfatal assaults, and accidental shootings. Last Friday, Portland, Ore., police arrested a suspect in a shooting that injured three people outside an alternative high school. Law enforcement said that shooting was gang-related.
Though the Pew survey did not allude to school shootings, it did find strong partisan and racial divides over the question of whether gun ownership protects people from crime.
Eighty percent of Republicans believe gun ownership protects people from crime, while 35% of Democrats say the same. And 69% of Democrats favor gun control, compared with just 22% of Republicans.
Outrage over the deaths of unarmed black men at the hands of police has spawned recent protests nationwide. In the Pew survey, 54% of black respondents said gun ownership protects people from crime. That figure has changed dramatically from December 2012, when just 29% of blacks said gun ownership offers protection from crimes and 53% said it puts safety at risk.
Pew's overall poll has a margin of error of plus or minus 3 percentage points. The error margin for subgroups is higher.
Follow on Twitter @kurtisalee or email kurtis.lee@latimes.com
Must-read stories from the L.A. Times
Get the day's top news with our Today's Headlines newsletter, sent every weekday morning.
You may occasionally receive promotional content from the Los Angeles Times.