Washington state's wildfires rage beyond 600,000 acres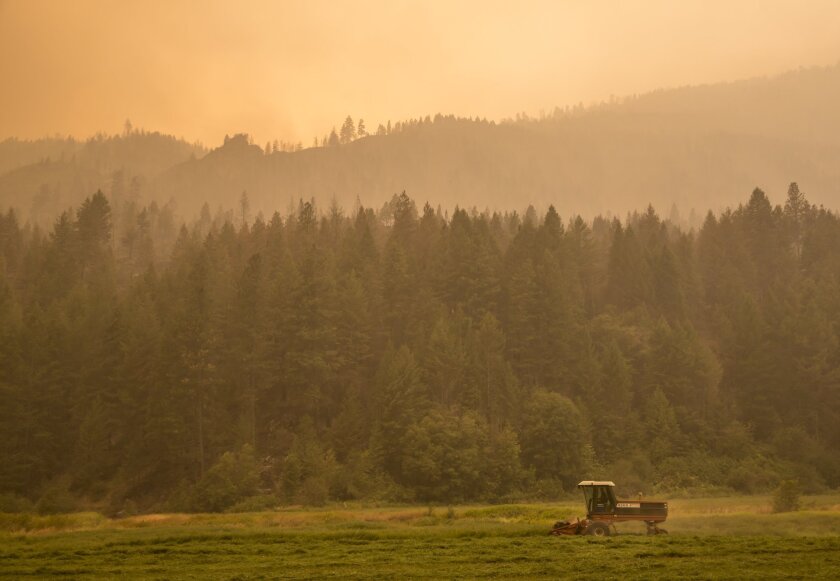 Dozens of wildfires continued to ravage the Pacific Northwest, particularly Washington state, as more firefighting equipment and manpower arrived from across the nation over the weekend.
Twelve uncontained fires in Washington covered more than 600,000 acres Sunday, according to the National Interagency Fire Center. Gov. Jay Inslee's office said more than 200 homes had been destroyed and 12,000 homes remained threatened.
More resources to battle the blazes became available after the Obama administration declared a federal state of emergency in the area last week.
National Guard Blackhawk helicopters from Colorado, Minnesota and Wyoming headed over, Inslee's office said in a statement. An incident management team from San Diego went north to oversee a new staging area at Fairchild Air Force Base near Spokane, the governor's statement said, and 20 large fire engines "specifically designed to protect threatened communities and residences" were coming from Arizona, Colorado, Nevada and Utah.
NEWSLETTER: Get the day's top headlines from Times Editor Davan Maharaj >>
Emergency workers from Australia and New Zealand have been deployed as well, and when the state sought help from residents who have firefighting know-how, thousands reportedly volunteered.
The largest set of blazes in Washington is the Okanogan Complex fire, which killed three firefighters and injured four others last week near the town of Twisp, about 150 miles northeast of Seattle.
Covering about 240,000 acres, it was 10% contained as of Sunday afternoon.
Firefighters there "were making good progress in the morning," helped by an infusion of National Guard members, calmer winds and a layer of fog that lasted into the early afternoon, fire spokesman Rick Scriven said.
But after the fog lifted, the blazes flared up again, he said, and shifting winds posed a challenge. Monday's weather wasn't expected to be ideal either.
"The relative humidities, they're low, low, low, and the temperatures are going to be up to the 90s," although winds are expected to be calmer, Scriven said.
Blazes spread in multiple ways, he said. One is crown runs, in which fire "goes from tree to tree to tree" without touching the ground. Another is torching, in which fire climbs a tree and wind disperses the embers.
Read more about California wildfires >>
One of the four firefighters injured last week — Daniel Lyon, 25, of Puyallup, Wash. — remained in critical condition at Harborview Medical Center in Seattle, hospital officials said Sunday. He was in intensive care with burns to about 60% of his body. The hospital said the public was welcome to send him notes of encouragement.
The three others were recuperating at home after being released from the hospital, according to the Washington Department of Natural Resources.
Smoke was fouling the air in many areas. Okanogan County, for example, warned Sunday that "the air quality remains very unhealthy" and advised residents to wear masks and limit outdoor activity.
Meanwhile, an unusual wildfire continued to burn in a rainforest on western Washington's Olympic Peninsula. The Paradise fire, which began in May, covers about 2,600 acres of Olympic National Park, according to the National Park Service and U.S. Forest Service.
"This is a reflection of severe conditions — the driest spring in over 100 years and a snowpack that was only 14% of average," officials said on InciWeb.
That fire is 40% contained.
In Oregon, a dozen uncontained fires were burning more than 400,000 acres, and in California, 14 uncontained blazes covered more than 280,000 acres, according to the National Interagency Fire Center. Idaho had 16 uncontained fires covering about 145,000 acres.
For more news, follow @raablauren on Twitter.
MORE FIRE COVERAGE:
Washington state fires draw flood of volunteers to join the battle
Wildfire in Big Bear burns 100 acres and forces evacuations
Washington town, still rebuilding from 2014 wildfire, welcomes evacuees -- and their dogs
---
Must-read stories from the L.A. Times
Get all the day's most vital news with our Today's Headlines newsletter, sent every weekday morning.
You may occasionally receive promotional content from the Los Angeles Times.