A Puerto Rican nationalist seen as a hero by some and a terrorist by others is set to be freed
Some people call Puerto Rican nationalist Oscar Lopez Rivera a hero and a freedom fighter. Others call him a terrorist.
Regardless of how people perceive him, after serving more than 35 years in custody for his role in a violent struggle for independence from the U.S., Lopez Rivera is expected to be a free man Wednesday. His 70-year sentence was commuted in January by President Obama.
Many Lopez Rivera supporters have been looking forward to his release, including organizers of New York City's Puerto Rican Day Parade. In early May, event organizers announced that they would honor him at the June 11 parade with the title of National Freedom Hero.
Iris Dipini, treasurer of New York City's Puerto Rican Nationalist Party, said Tuesday that she planned to celebrate the day Lopez Rivera's sentence ends.
"It's a jubilant day for all us," Dipini, 41, said in a phone interview. "A man that was going to die in prison [is about to be] released. It's a victory for Puerto Ricans who believe in freedom and anti-colonialism. This could be anyone's father or grandfather."
Puerto Rico is a U.S. territory. Spain ceded the island to the United States at the end of the Spanish-American War in 1898 and Congress made Puerto Ricans U.S. citizens in 1917. The commonwealth status, which provides some autonomy, began in 1952.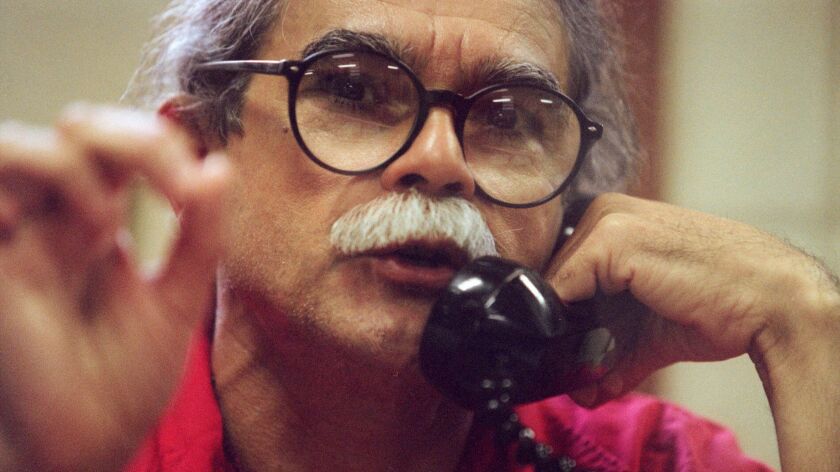 Lopez Rivera, who moved to Chicago from Puerto Rico as a child with his family, was a member of the leftist group Armed Forces of National Liberation, also known by its Spanish acronym FALN, which sought Puerto Rican independence.
Authorities in the 1970s and 1980s considered the group a terrorist organization linked to more than 100 bombings across New York, Chicago, Washington and Puerto Rico.
The violence associated with the group makes it difficult for some observers to understand why a man who was convicted in 1981 of seditious conspiracy "to overthrow the government of the United States in Puerto Rico by force" would be praised.
One of the group's bombings took place in 1975 at New York's Fraunces Tavern, killing four people and injuring scores more.
Joseph F. Connor's dad, Frank, was one of those killed. It was four days after Connor's 9th birthday, which his parents had planned to celebrate that evening. His dad, who was 33, worked at J.P. Morgan and was having lunch with his colleague, who also died in the attack.
"My dad deserved better than what he got," Connor said in a phone interview. "I try to teach my kids that there are certain things worth fighting for and my dad is one of them. We didn't ask for this."
Lopez Rivera was not charged in the Fraunces Tavern bombing but faced other charges including the interstate transportation of firearms with the intent to commit violent crimes. He was never convicted of hurting anyone and was never tied to specific bombings, said his lawyer, Jan Susler.
Connor began to publicly speak out against Lopez Rivera after President Clinton offered clemency to several jailed FALN members, including Lopez Rivera in 1999, which would have left him eligible for release in 2009. Lopez Rivera refused, and made a decision to stay in prison until other members were released, Susler said.
Obama in January commuted Lopez Rivera's sentence along with those of more than 200 other people.
Shortly after, Lopez Rivera was allowed to move to his daughter's house in Puerto Rico, where he has been under house arrest. After his release, Lopez Rivera, 74, has a packed schedule; he has speeches and appearances planned in Chicago, San Francisco and Puerto Rico.
Meanwhile, the island is struggling to overcome a more than $70-billion debt. And a nonbinding referendum on whether Puerto Rico's voters favor statehood, independence or the current status is planned for June 11.
The New York parade organizers emphasized the push for positive change.
"Our parade has a pioneering history and legacy of championing the people's voice and providing a platform that prompts healthy discussions and leads to positive change," organizers said in an online statement. "We will continue to celebrate the rich cultural pride, heritage, identity and tradition that bind us together."
---
UPDATES:
8:20 p.m.: This story was updated throughout with Times reporting.
This story was originally published at 9:15 a.m.
---
Must-read stories from the L.A. Times
Get all the day's most vital news with our Today's Headlines newsletter, sent every weekday morning.
You may occasionally receive promotional content from the Los Angeles Times.