Destruction of Arkansas' Ten Commandments monument places spotlight on separation of church and state
The 6-foot-tall stone monument engraved with the Ten Commandments — a capstone of sorts to years of debate in Arkansas over the separation of church and state – was erected with little pomp on the lush grounds of the state Capitol. Less than 24 hours later, the monument came crumbling down after a Dodge Dart plowed into it.
On Wednesday, as maintenance crews cleaned up the debris, many summed up the incident as the latest chapter in an ongoing nationwide battle over the separation of church and state. Across the country — at state legislatures, city council hearings and school board meetings — questions about whether the Ten Commandments should be displayed have led to legal battles and stark debate over the role of religion in public life and interpretations of the 1st Amendment.
The violence was captured in a Facebook Live video posted by the man charged with ramming the monument, Michael Tate Reed. In the video, Reed can be heard yelling, "Oh, my goodness — freedom!" as his car slams into the 6,000 pound granite slab.
"This really was a horrifying surprise," said Arkansas state Sen. Jason Rapert, who in 2015 sponsored the Ten Commandments Monument Display Act, which called for erecting the monument on the Capitol grounds in Little Rock. "It's truly an act of violence toward the people of Arkansas."
Republican Gov. Asa Hutchinson, a proponent of the monument's placement, voiced dismay on Twitter over its destruction, saying that "resorting to property destruction is never the answer to a policy disagreement. Very troubling that a Capitol monument is destroyed."
Moments after the incident early Wednesday, police arrested Reed, 32, and booked him into Pulaski County Jail. He was being held on preliminary charges of defacing objects of public interest, criminal trespassing and first-degree criminal mischief.
Authorities in Oklahoma on Wednesday afternoon identified Reed as the man arrested in 2014 for ramming his car into a similar Ten Commandments monument outside the state Capitol in Oklahoma City.
Reed was taken to a hospital where he received mental health treatment, but was never formally charged in that case, according to the Tulsa World. The paper reported he was released from the hospital in January 2015 under an agreement with the Oklahoma County district attorney's office for continued treatment and therapy.
In Arkansas, Republicans, who for years have controlled both chambers of the Legislature, overwhelmingly approved Rapert's bill in 2015. The measure called for the monument to be erected on the outside of the state Capitol and, among other things, cited a 2005 U.S. Supreme Court decision that said the Ten Commandments monument on state grounds in Texas did not violate the 1st Amendment.
At its core, the Supreme Court ruling in Van Orden vs. Perry found that, although the Ten Commandments are religious, they "have an undeniable historical meaning," and that Texas had erected various monuments on state grounds representing key themes in the state's political and legal history.
Since the bill's passage, a private foundation raised nearly $26,000 for the Arkansas monument and its installation. Last month, a state panel gave final approval to its design and location. The monument's design, apparently influenced by Van Orden vs. Perry's emphasis on history, included not just the text of the Ten Commandments, but the wording "Presented to the people of Arkansas by the American History and Heritage Foundation."
"I'm born and raised in the Bible Belt," said Republican state Sen. Dave Wallace on Wednesday. "I, for certain, don't see anything wrong with it."
Other people, however, saw plenty of problems.
"I didn't want it there, and I still definitely don't want it there," Anne Orsi, president of the Arkansas Society of Freethinkers, said Wednesday. "With that being said, I don't agree with the monument's destruction…. There needs to be more discussion on the issue."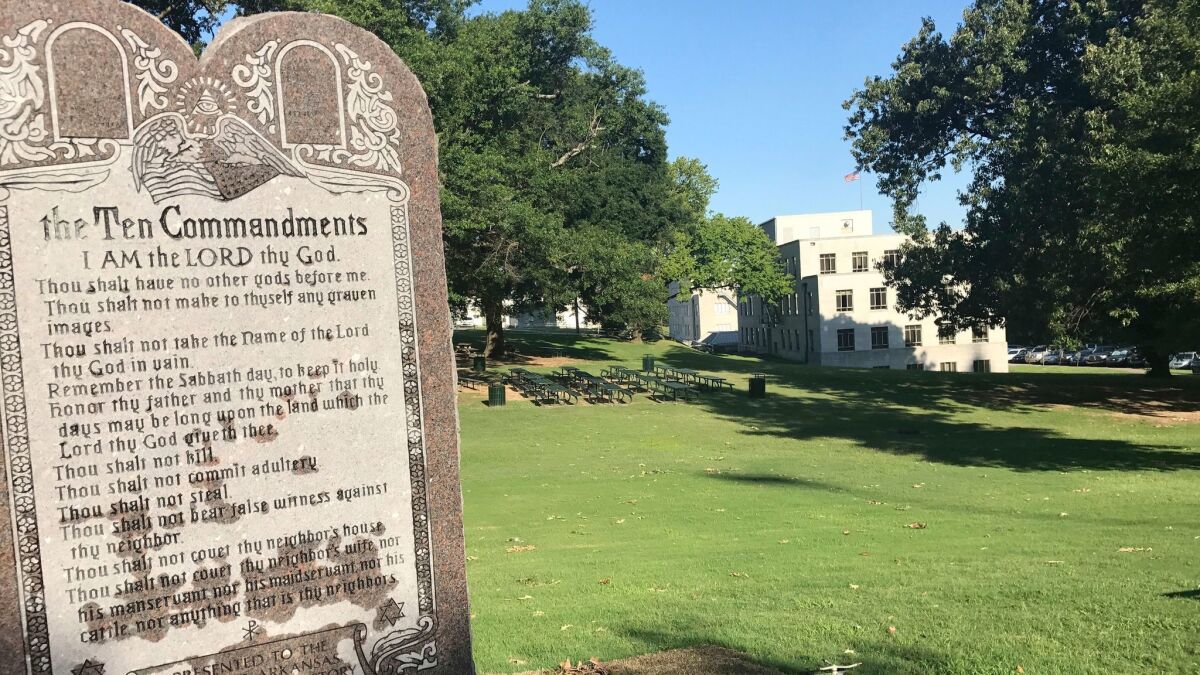 Other people, however, saw plenty of problems.
"I didn't want it there, and I still definitely don't want it there," Anne Orsi, president of the Arkansas Society of Freethinkers, said Wednesday. "With that being said, I don't agree with the monument's destruction…. There needs to be more discussion on the issue."
Orsi said that too much legislation is rooted in religious beliefs, pointing toward Republican efforts in her state to, among other things, pass "bathroom bills" that require people in public schools and government buildings to use bathrooms and locker rooms that correspond with their birth gender.
Her group, along with the American Civil Liberties Union of Arkansas, planned to file a lawsuit to have the statue taken down, arguing it's in violation of the 1st Amendment by condoning a faith.
"The ACLU remains committed to seeing this unconstitutional monument struck down by the courts and safely removed through legal means," Rita Sklar, executive director of the ACLU of Arkansas, said in a statement.
Randall Balmer, a professor of religion at Dartmouth College who has written about the separation of church and state, said debate over the issue is ongoing and amplified at a time when partisanship and polarization are at extraordinary highs in the country.
"Will this change?" he said of the polarization. "It's unlikely."
The Supreme Court's ruling in Van Orden vs. Perry has not stopped debate, or lawsuits, on public displays of religious material.
Last year, officials in Itawamba County, Miss., removed a Ten Commandments plaque hanging inside the courthouse. Its removal came after the Wisconsin-based nonprofit group Freedom From Religion Foundation threatened litigation.
In 2015, followers of the Wicca faith sued the town of Bloomfield, N.M., over a 3,000-pound Ten Commandments monument on the City Hall's front lawn. The group viewed it as a governmental endorsement of religion. A district court judge eventually ruled the monument should be removed on the grounds that it violated the 1st Amendment.
For Rapert, he said Wednesday's destruction is symbolic of the current political climate in the country.
"When people don't agree with others it seems they just lash out," he said, noting the incident this month in which a man in Virginia began shooting at a Republican congressional baseball practice. "It's unfortunate this is happening."
But, Rapert said, he will move forward with replacing the monument.
"We won't let this bitterness and hatred stop us," he said.
Twitter: @kurtisalee
ALSO
Brian Head wildfire, now the largest active blaze in the country, sparks political heat as well
Three Chicago cops indicted in alleged cover-up of Laquan McDonald shooting details
Ivanka Trump leads U.S. condemnation of China and other countries for human trafficking
---
UPDATES:
3:55 p.m.: This article was updated throughout and with comments from Jason Rapert, Dave Wallace, Anne Orsi, Rita Sklar and Randall Balmer.
This article was originally published at 6:50 a.m.
---
Must-read stories from the L.A. Times
Get the day's top news with our Today's Headlines newsletter, sent every weekday morning.
You may occasionally receive promotional content from the Los Angeles Times.