Brian Head wildfire, now the largest active blaze in the country, sparks political heat as well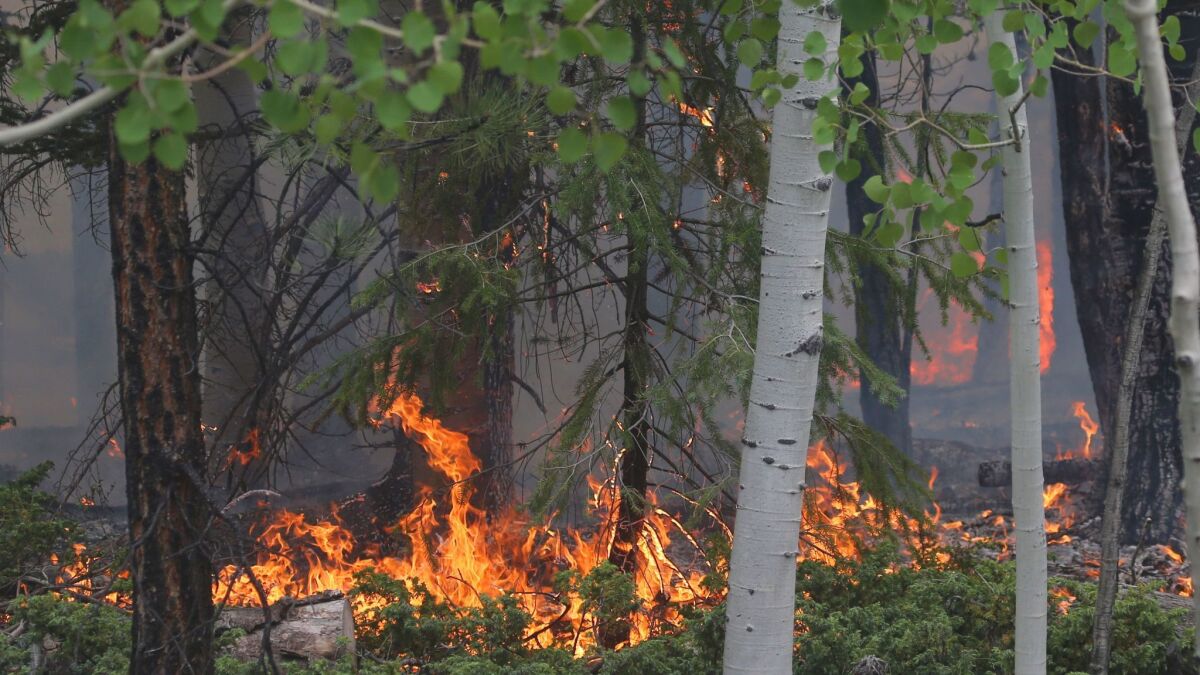 Reporting from Las Vegas —
The largest active wildfire in the country has forced the evacuations of more than 1,500 residents, destroyed 13 homes and charred at least 49,000 acres near Brian Head resort in southern Utah, officials said Tuesday.
The blaze that started June 17 is only 10% contained, and fire officials continue to battle hostile conditions that include low humidity and hot temperatures. The area will be under a red-flag warning through Thursday.
Elayn Briggs, incident spokeswoman for the Brian Head fire, said more than 1,400 firefighters are battling the blaze and include personnel from federal, state and local agencies. Firefighting crews from Idaho and Nevada have also been called in to help.
There have been no casualties aside from a few minor injuries, Briggs said.
"It's a dynamic situation," she said. "There's a lot of issues with this fire, and years of drought have taken their toll."
She said dead trees left by bark beetle infestations — as in many areas in the West — have also contributed to the fire's size and fury.
Smoke plumes have been visible from Interstate 15 and from cities as far away as Beaver and Cedar City. In nearby Bryce Canyon National Park, clouds of smoke edged up over parts of it, and nearby campgrounds restricted the use of open fire pits.
Burke Wilkerson, Brian Head resort vice president and general manager, said he hoped to open for the busy summer season as soon as possible after the main highway to the town is opened.
"Most of the fire activity has occurred in the areas outside and north of town, and due to the extraordinary efforts of firefighters, Brian Head resort, the town of Brian Head and other local businesses have been unaffected by the fire," Wilkerson said in a statement. "None of Brian Head resort's land or infrastructure have been burned or otherwise damaged."
Utah Lt. Gov. Spencer Cox toured the site Monday, and Garfield County and Iron County law enforcement have been involved in restricting access to nearby burning areas.
The fire has also sparked political heat.
Republican Utah state Rep. Mike Noel on Monday blamed environmental groups for the fire.
"When we turned the Forest Service over to the bird and bunny lovers and the tree-huggers and the rock-lickers, we turned our history over," he said at a news conference in Brian Head. "We're going to lose our watershed and we're going to lose our soils and we're going to lose our wildlife and we're going to lose our scenery — the very things you people wanted to protect. It's just plain stupidity."
Steve Bloch, legal attorney with the Southern Utah Wilderness Alliance, said Noel's comments were "shameful" in their attempt to politicize a fire.
"I feel his language is indicative of the overheated rhetoric from Utah politicians pushing their strident, anti-environmentalist views," Bloch said in a phone interview. "It is really shameful that Noel and other state and local politicians would try to seize on this tragedy for political points."
The fire has reached into remote areas of Dixie National Forest, where heavy fuel is continuing to feed it. Briggs said when it emerges from there, firefighters hope to get a better handle on it as it moves into lighter sagebrush.
Briggs said the cause of the fire is under investigation, but is related to human activity.
Twitter: @davemontero
ALSO
Mandatory evacuations ordered as wildfire in San Luis Obispo County destroys one building
5,800-acre wildfire burning near Beaumont is 20% contained
---
Must-read stories from the L.A. Times
Get the day's top news with our Today's Headlines newsletter, sent every weekday morning.
You may occasionally receive promotional content from the Los Angeles Times.