The Senate races to watch in Republican bid to seize control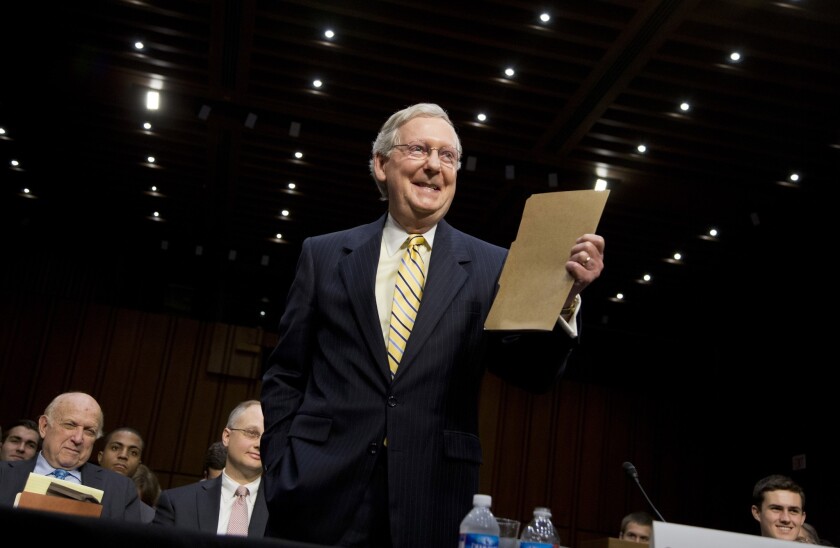 If there's a single overriding question this election season it's this: Can Republicans seize control of the U.S. Senate?
There are 435 House seats up in November, but barring an upset of Eric Cantoresque proportion, there seems virtually no chance that Democrats can win the 17 seats they need to topple Republican Speaker John A. Boehner.
The mathematics (not a whole lot of competitive seats) and the demographics (older, white, more conservative voters are the likeliest to turn out in November) both work against Democrats, as do prevailing political headwinds. Indeed, the most probable scenario is for Republicans to modestly increase their House majority.
The Senate, then.
Republicans need a gain of six seats to take over, a not insignificant number but also not a huge hurdle. There are 36 seats open; 21 of them are held today by Democrats.
Here's where the numbers start stacking up in favor of the GOP. Of the dozen or so most competitive races, virtually all are for seats held by Democrats. Of those, seven are in states that President Obama lost in 2012: Alaska, Arkansas, Louisiana, Montana, North Carolina, South Dakota and West Virginia.
Looking ahead, there are two important questions to consider. One is whether the political climate has been so firmly set that the majority of voters have already made up their minds, leaving them impervious to new events or information — the robust jobs report for June, say, or the Supreme Court decision granting private businesses the right to deny employees coverage of certain kinds of birth control.
"At what point do we pass the point of no return?" mused Stuart Rothenberg, who handicaps elections for his nonpartisan Rothenberg Political Report. "It's getting late, but I don't like to say never."
The other question won't be answered until election day, Nov. 4: "Can Democrats really make good on their pledge to get out their dropoff voters?" asked Jennifer E. Duffy, an analyst with the Cook Political Report, another nonpartisan guide to campaigns and elections.
"They're capable and have the resources to do it," Duffy said of Democratic efforts to rally younger and minority voters along with others who tend to show up only for presidential elections. "But it's never been tried in a midterm [election] to this extent."
Handicappers say Republicans are very likely to pick up open Senate seats in Montana, South Dakota and West Virginia. A failure in any one of those three would almost certainly guarantee Democrats keep their majority. A sweep would get the GOP halfway to a takeover.
That leaves a little over a half dozen races that appear to be the most competitive and, thus, the places that will decide control of the Senate.
They are, in alphabetical order:
Alaska: Democrat Mark Begich is considered one of the most vulnerable incumbents in the country, having won election in 2008 with just 48% of the vote in a state that leans strongly Republican. The Aug. 19 GOP primary is a three-way contest between Dan Sullivan, a former head of the state's Department of Natural Resources; Lt. Gov. Mead Treadwell; and Joe Miller, a tea partier who was the 2010 U.S. Senate nominee. Both Sullivan and Treadwell are strongly positioned against Begich should they win the nomination.
Arkansas: Democrat Mark Pryor was reelected in 2008 with a whopping 80% support. (His father, David, is a former Arkansas governor and three-term U.S. senator.) The climate could not be more different this time, due in large part to the overwhelming unpopularity of President Obama. The Republican nominee, Rep. Tom Cotton, has managed to unify the disparate business, social conservative and tea party wings of the GOP.
Colorado: Democrat Mark Udall appeared to be cruising to reelection without serious opposition until Republican Rep. Cory Gardner jumped into the race. Gardner has had to move toward the middle, however — a shift he has not always executed with grace — in a state that has been tough for the GOP in the last few election cycles.
Georgia: This red state offers a rare pickup opportunity for Democrats, with the retirement of the GOP's Saxby Chambliss. The Democrat is Michelle Nunn, daughter of the state's revered longtime Sen. Sam Nunn. Businessman David Perdue is wrestling Rep. Jack Kingston in a July 22 runoff. It's a tough but not impossible race for Nunn.
Iowa: Establishment Republicans got the candidate they wanted in state Sen. Joni Ernst. Democratic Rep. Bruce Braley undercut his candidacy with some early mistakes, but Ernst has proved a less than sure-footed campaigner. The race is to fill the seat being vacated by the retiring Democrat Tom Harkin.
Kentucky: Senate Minority Leader Mitch McConnell blew past his tea party competition in the GOP primary but faces a stiff challenge from Democratic Secretary of State Alison Lundergan Grimes. Both candidates have a solid core of support; the fight will be for a relatively small but decisive swath of the electorate.
Louisiana: Democratic Sen. Mary Landrieu, now in her third term, has never won with more than 52% of the vote, even though -- or perhaps because -- Landrieu is a household name in Louisiana politics. (Her father is a former New Orleans mayor; her brother currently holds the job.) She is running against a crowded Republican field, which seems certain to push the contest past November to a Dec. 6 runoff. Rep. Bill Cassidy is seen as her strongest opponent.
Michigan: Republicans had very high hopes for Terri Lynn Land, a former secretary of state, but her early performance has been wanting. Still, the race remains competitive against Democratic Rep. Gary Peters. The seat is being vacated by retiring Democrat Carl Levin.
North Carolina: Democrat Kay Hagan is at or near the top of the list of most vulnerable incumbents. She won election in 2008 as President Obama carried the state for Democrats for the first time in 32 years. Now he's a drag on her candidacy. Hagan's GOP opponent, House Speaker Thom Tillis, was the choice of the Republican establishment over tea party opposition. Outside groups have spent a fortune targeting the incumbent but the race has stayed close.
Follow @markzbarabak for more on national & California politics
---
Must-read stories from the L.A. Times
Get all the day's most vital news with our Today's Headlines newsletter, sent every weekday morning.
You may occasionally receive promotional content from the Los Angeles Times.