Newsletter: Essential California: L.A.'s crackdown on homeless camps faces legal obstacles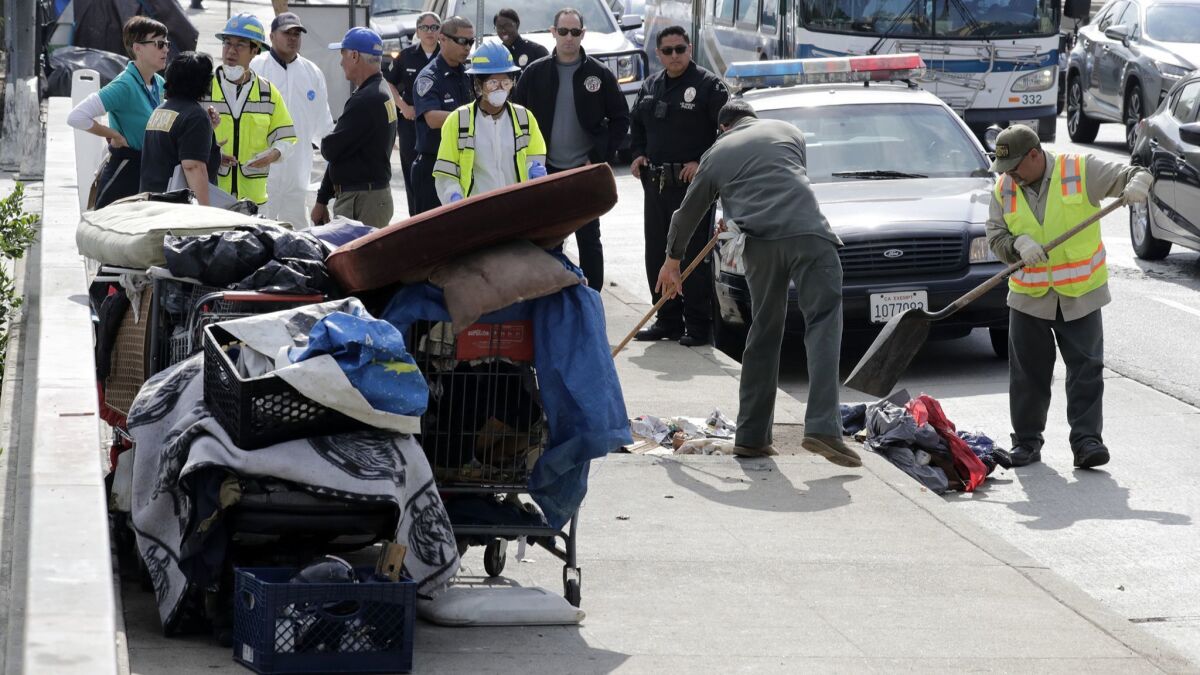 Good morning, and welcome to the Essential California newsletter. It's Wednesday, Oct. 24, and here's what's happening across California:
TOP STORIES
The effort in Los Angeles to address complaints about the homelessness crisis is about to hit a critical moment, with big implications for the mayor. Legal issues are clouding the city's cleanup and enforcement plans — and thrusting Mayor Eric Garcetti between angry property owners and religious and civil rights advocates as he launches an aggressive drive to take control of L.A.'s sprawling homeless encampments. Los Angeles Times
— Gavin Newsom took a tough stance on homelessness as a leader in San Francisco. What does it say about how he would handle the issue as governor? Los Angeles Times
'Ultra-high end' or not?
Real estate tycoon and reality TV star Mohamed Hadid once boasted that a luxurious mega-mansion he was building in the hills of Bel-Air would sell for more than $100 million. But more recently he saw the county dramatically reduce the valuation — and in turn his tax bill. Why? The question of how much the colossal home is worth opens a window into the rarefied world of high-end real estate in Los Angeles, where developers compete in Bel-Air, Brentwood and Malibu to build the biggest, most extravagant and most expensive homes. Los Angeles Times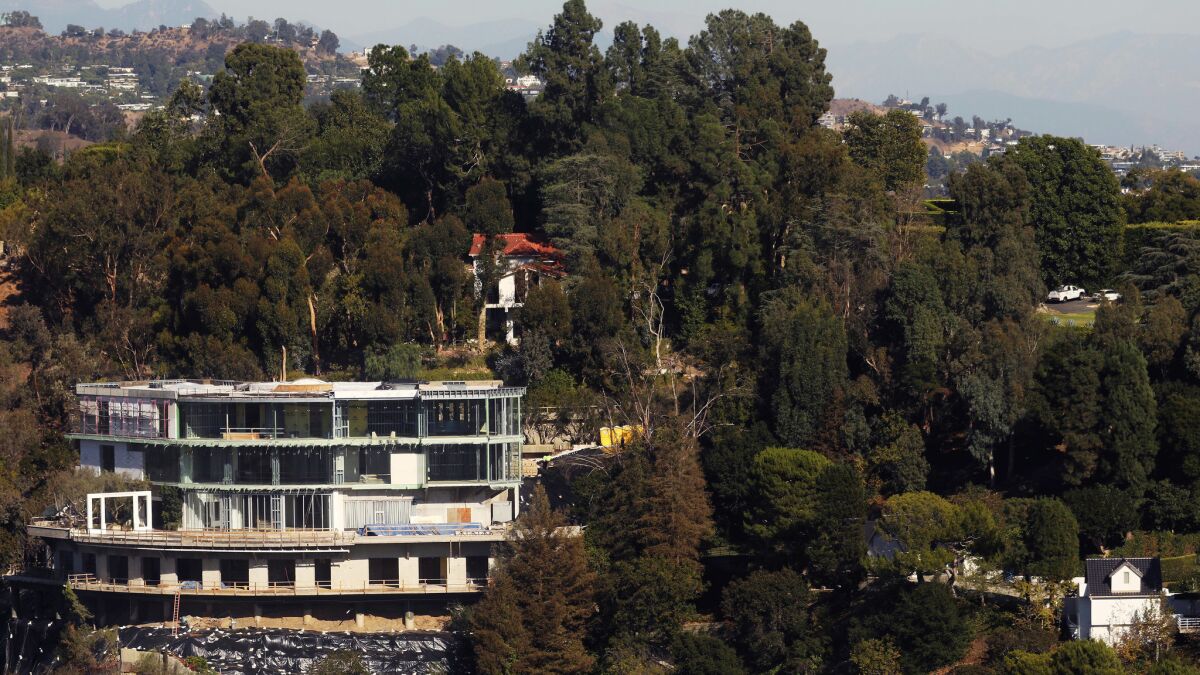 Chasing eyeballs
Facebook has long been a social network, a place where its more than 2 billion monthly users can share baby photos, celebrate engagements and donate money in honor of a friend's birthday. Now, it's rolling out new features and video in a bid to become a destination for original entertainment content — with premium shows that rival network television and user-generated clips similar to what's on YouTube. Some question whether Facebook can win in this area. Los Angeles Times
Get the Essential California newsletter »
L.A. STORIES
World Series woes: The Dodgers could not recover from their mistakes and fell to the Boston Red Sox in Game 1. In the 8-to-4 loss Tuesday at Fenway Park, "Boston met every Dodgers action with a more forceful reaction." Los Angeles Times
— The last Red Sox-Dodgers meeting in the World Series a century ago was epic. "They were fourteen innings of such baseball as shuttles the heart of a genuine fan back and forth between his mouth and his heels." The New Yorker
— The man who invented one of the great L.A. put-downs speaks out. "We didn't really like the Lakers very much because of their Hollywood style, their cheerleaders, their air conditioning." Los Angeles Times
Listen to the latest edition of our new sports podcast "Arrive Early, Leave Late," with insights on the World Series, LeBron James and the NFL.
Crash landing: A vintage small plane crashed onto the 101 in Agoura Hills on Tuesday afternoon, shutting down the freeway in both directions, authorities said. No injuries were reported. Los Angeles Times
Good for business: How HBO's "Insecure" is helping South L.A. restaurants featured on the show. Some call it the "Issa effect." Eater Los Angeles
Hot property: There were concerns after the Aliso Canyon gas leak that no one would live in Porter Ranch. Three years later, however, the real estate market there is hot. Los Angeles Daily News
Did someone mention "Kobe"? The best of times, worst of times for the Lakers as LeBron James dazzles without winning. Los Angeles Times
Meet Emma Summers: She was the unlikely oil queen of Los Angeles. Los Angeles Magazine
In Ladera Heights: How Magic Johnson started something big when he brought Starbucks south of the 10. It changed a lot. L.A. Taco
CALIFORNIA POLITICS
Punching bag: With election day nearing, President Trump is trying to turn the "resistance" in California and elsewhere into a campaign issue. Los Angeles Times
— Trump criticized and again mischaracterized the state's water management. "You have so much, you don't know what to do with it," he said. "It is a disgrace." Los Angeles Times
— California: The other red meat. New York Times
More than half a million: California has lost more jobs to China since 2001 than any other state, fueled by Silicon Valley outsourcing and the continued shrinking of Southern California's apparel industry, a new report says. Los Angeles Times
In Cupertino: How the future of a ghost mall has become a political football. Mercury News
UC investigation: A former UC Riverside vice chancellor sexually harassed two women with unwanted touches and invitations to drink, a University of California investigation has found. James Sandoval has denied the allegations. Los Angeles Times
CRIME AND COURTS
Public record: An Orange County Superior Court judge Tuesday reversed an order barring journalists from reporting on a search warrant filed in the case against a Newport Beach surgeon facing felony charges of drugging and raping seven women dating to 2009. Los Angeles Times
Gruesome: Investigators have recovered additional human remains at an Antelope Valley property where they found the body parts of three people this month and are continuing to seek a 34-year-old man identified as a person of interest in the case, a Los Angeles County sheriff's spokeswoman said. Los Angeles Times
THE ENVIRONMENT
Holding their fire: A National Park Service plan for a controlled burn in an ancient sequoia grove in the western Sierra Nevada has been canceled for the second time this year, further delaying a delicate forestry operation aimed at triggering new growth near the world's largest tree. Los Angeles Times
Kelp needs help: Why California's underwater forest of kelp is under attack. New York Times
Trying times: A winery struggles to rebuild after the Tubbs fire. Press Democrat
CALIFORNIA CULTURE
Sad: More bad news for what was supposed to be the Netflix of movies. MoviePass' parent is planning to unburden itself of the cinema subscription service — spinning it off as a separate, publicly traded company — after racking up massive losses. Los Angeles Times
End of an era: Ed Catmull, the Pixar Animation Studios co-founder who helped pioneer the computer-animation industry and led Walt Disney Co.'s animation business to its contemporary renaissance, is retiring. Los Angeles Times
Taking a dip: It was a rare moment at Hearst Castle: Getting to actually swim in one of William Randolph Hearst's glorious pools. New York Times
Here we go again: Is Disneyland about to raise prices to manage attendance? Orange County Register
Scary: This is perhaps San Francisco's most famous haunted house. But is the ghost story true or fiction? SF Gate
Heard it through the grapevine: There's a fight in the Central Valley over the price of raisins. Fresno Bee
He knew "everybody": This Palm Springs restaurateur extraordinaire brought Hollywood dining, Sinatra, disco and even the mob to the dinner table. Desert Sun
CALIFORNIA ALMANAC
Los Angeles area: sunny, 79, Wednesday; sunny, 82, Thursday. San Diego: fog, 73, Wednesday; sunny, 74, Thursday. San Francisco area: partly cloudy, 65, Wednesday and Thursday. San Jose: mostly sunny, 71, Wednesday; sunny, 75, Thursday. Sacramento: partly cloudy, 76, Wednesday; sunny, 83, Thursday. More weather is here.
AND FINALLY
Today's California memory comes from Jeane Vinson:
"My parents and I moved to Pomona to live with my mother's parents in 1954. They had a big house with a huge stone porch where my older cousin and I would sit and listen to 45s on his record player, contained in a tiny suitcase. The treat on Saturday was to drive through the orange groves to the A&W Root Beer stand and order a root beer float and a baby burger! I recently moved back to SoCal after 23 years in Hawaii and am so happy to be back home. California rules!"
If you have a memory or story about the Golden State, share it with us. Send us an email to let us know what you love or fondly remember about our state. (Please keep your story to 100 words.)
Please let us know what we can do to make this newsletter more useful to you. Send comments, complaints and ideas to Benjamin Oreskes and Shelby Grad. Also follow them on Twitter @boreskes and @shelbygrad.
---