Trump criticizes — and again mischaracterizes — California's water management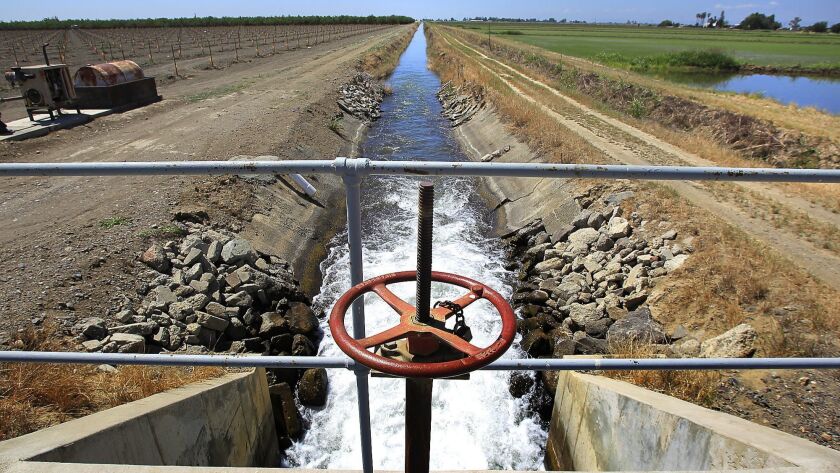 Reporting from Washington —
President Trump claimed Tuesday that California mismanages its water resources, dismissing the possibility of drought and accusing the state of sending water out to sea that could be used to help farmers in the Central Valley.
Trump also threatened to withhold federal disaster dollars from California, which he incorrectly claimed is impeding firefighters' access to water during wildfires.
"We're tired of giving California hundreds and hundreds of millions of dollars all the time for their forest fires when you wouldn't have them if they managed their forests properly," Trump said. "They don't. They have lousy management.
"California, get on the ball. Because we're not gonna hand you any more money," he continued. "It's ridiculous."
Speaking at the White House before a group of county officials from California, Alaska and Hawaii, Trump first related his impressions of the water shortage from having toured part of the state with Rep. Devin Nunes (R-Tulare) four years ago. He described how he was informed that acres of dry farmland were not the result of a drought, which was severe at the time.
The state, he claimed, has more than enough water.
"You have so much, you don't know what to do with it," he said. "It is a disgrace."
Instead of allowing farmers to access the water, the state is intentionally releasing it into the Pacific Ocean, he said.
"They have a valve — like a faucet, but massive," he continued. "And the water goes out into the Pacific Ocean."
Exactly what Trump meant was unclear, but his remark seemed to refer to a long-standing complaint from some Republican lawmakers that environmental rules designed to preserve the health of the Sacramento-San Joaquin River Delta limit the amount of water that can be diverted away from rivers and pumped to Central Valley farms.
The comments came after Trump, claiming a water shortage has hurt firefighters, signed a directive last week to override environmental protections that were put in place to protect salmon and smelt fisheries.
He admitted, during his ad-libbed comments, that he had "no idea" what smelt are.
The tiny, endangered delta smelt is at the heart of California's water wars and plays an important role as an indicator of the overall ecological health of the delta.
Trump first blamed California's water policies for making fires "worse" as wildfire season exploded in August, even though firefighters made it clear they had ample access to water.
"I know California well," Trump said Tuesday. "And I see houses, beautiful houses, people are very proud of their house. Their lawn is brown. It's dead. It's dying, it's dead. And they end up taking it out and just have sand in front of their houses."
---
Life is stressful. Our weekly mental wellness newsletter can help.
You may occasionally receive promotional content from the Los Angeles Times.