LeBron James hits game-tying shot, but Lakers remain winless after overtime loss to Spurs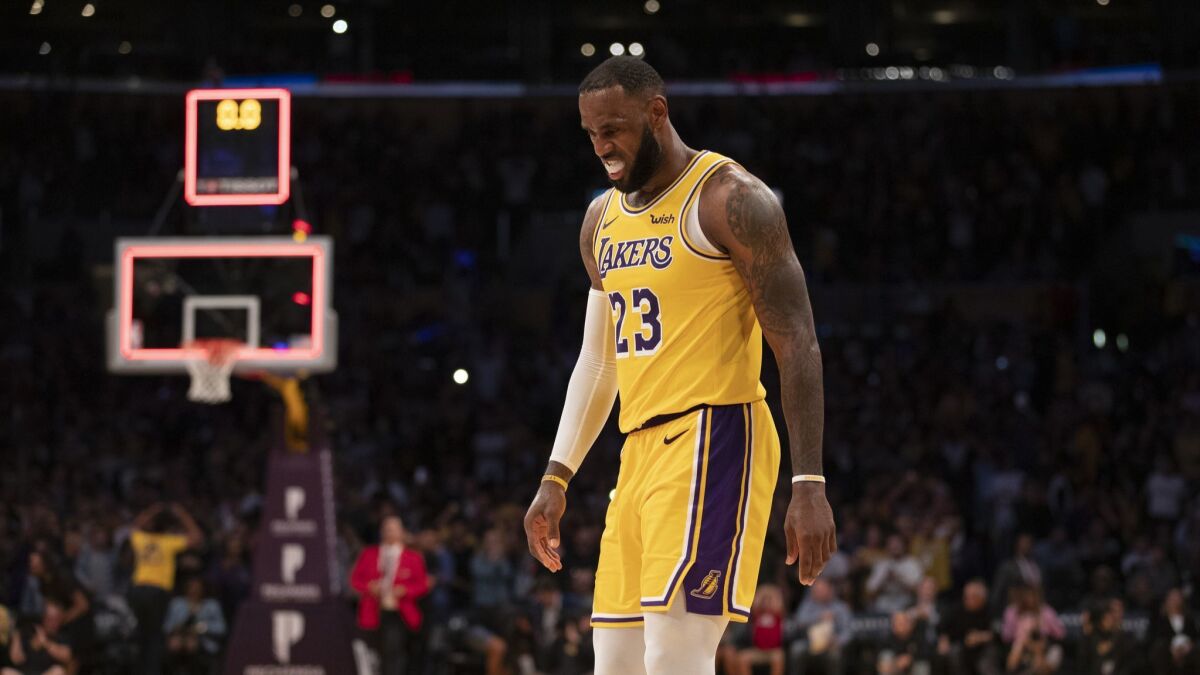 Don't test LeBron James' memory on moments like these.
He knows it's been a long time since his team started a season 0-3.
"Yeah, since my rookie year," he said pleasantly Monday night at Staples Center about 15 minutes after the Lakers' 143-142 overtime loss to the San Antonio Spurs.
He smiled wryly.
"Yeah," James said. "I know."
His Cavaliers team actually went 0-3 during his second season in the league, too, but the point remains — it's been a very long time.
And even though he hasn't experienced this in a while, James isn't allowing it to try him too much. He has spent the last three months asking for patience — from fans, from reporters and from himself. And while he slogs through these difficult early days of his Lakers career, he reminds himself of that.
"I know what I got myself into," James said. "It's a process. I get it. We'll be fine. I didn't come here thinking we were going to be blazing storms right out the gate. It's a process and I understand that. It's frustrating not to get the win, but I've showered and I'm good now."
James finished with 32 points on 11-for-25 shooting, nine for 17 in the second half.
Kyle Kuzma, back in the starting lineup for the first time since last season, scored 37 points, one shy of his career high. He made 15 of 25 shots.
Josh Hart had 20 points and 10 rebounds.
San Antonio was led by center LaMarcus Aldridge, who scored 37 points with 10 rebounds.
Newcomer DeMar DeRozan, acquired from the Toronto Raptors last summer in a trade for Kawhi Leonard, scored 32 points with 14 assists and eight rebounds.
"We had our chances," James said. "I mean, up six with a minute to go, less than a minute to go. Just couldn't get a stop. We had a turnover in that minute, Rudy [Gay] hit a big shot from down one, I miss two free throws, which is unacceptable. They made a shot and missed a shot."
The Lakers were shorthanded because of the suspensions of Rajon Rondo and Brandon Ingram.
Rondo will sit out three games and Ingram four.
In their place, Lonzo Ball started at point guard and Kuzma at small forward.
The Spurs took an 18-point lead in the first quarter before the Lakers slowly chipped away at their deficit.
James made only two of eight shots in the first half, scoring only four points.
The absence of Ingram and Rondo altered the Lakers rotation in other ways too.
Given San Antonio's size, the Lakers activated Johnathan Williams, an undrafted rookie from Gonzaga, and played him 14 minutes. He scored eight points with four rebounds and added energy to the Lakers lineup.
The Lakers trailed for most of the game, until Hart hit a three-point shot to tie the score in the fourth quarter.
Late in the quarter, the Lakers trailed by six points when Aldridge grabbed two offensive rebounds on one possession.
With the second, Aldridge scored to give the Spurs an eight-point cushion with 1:10 left in regulation.
But the Lakers didn't concede.
It was James who sent the game into overtime, but also James who couldn't quite push the Lakers to their first victory.
With less than 10 seconds remaining in regulation, James looked over to the Lakers bench briefly before making a three-point shot. He had made only one of five three-point shots to that point, but he made this one to tie the score at 128-128 with 2.4 seconds left.
At that moment James served as the Lakers' closer.
But James' brilliance late in regulation didn't transfer to overtime.
James missed two free throws with the Lakers leading by one point and 11.2 seconds left in overtime.
Patty Mills hit a long two-pointer with 6.8 seconds left to give the Spurs the game's final lead.
James took a shot that would have won the game, but it fell short.
"They made every shot they needed to make tonight and we almost did," Lakers coach Luke Walton said. "We'll take LeBron going to his left on a stepback jumper for game every single night."
LeBron scares Pop
On Monday morning James was asked how the Spurs had changed.
"Pop's still there, ain't he?" he said of coach Gregg Popovich. "They're not different at all."
Popovich is used to seeing James only twice a season unless their teams meet in the Finals.
Now with James in the West, he'll see him at least four times. That's OK with Popovich, but he could've done without one big reminder overnight.
The window of his hotel room looked out over a large James billboard.
"It was horrifying seeing LeBron's face outside my hotel room," Popovich said. "He's already big and now he's monstrous. I was scared to death."
Follow Tania Ganguli on Twitter @taniaganguli
---
All things Lakers, all the time.
Get all the Lakers news you need in Dan Woike's weekly newsletter.
You may occasionally receive promotional content from the Los Angeles Times.