Editorial: L.A. declares a homelessness emergency; now what?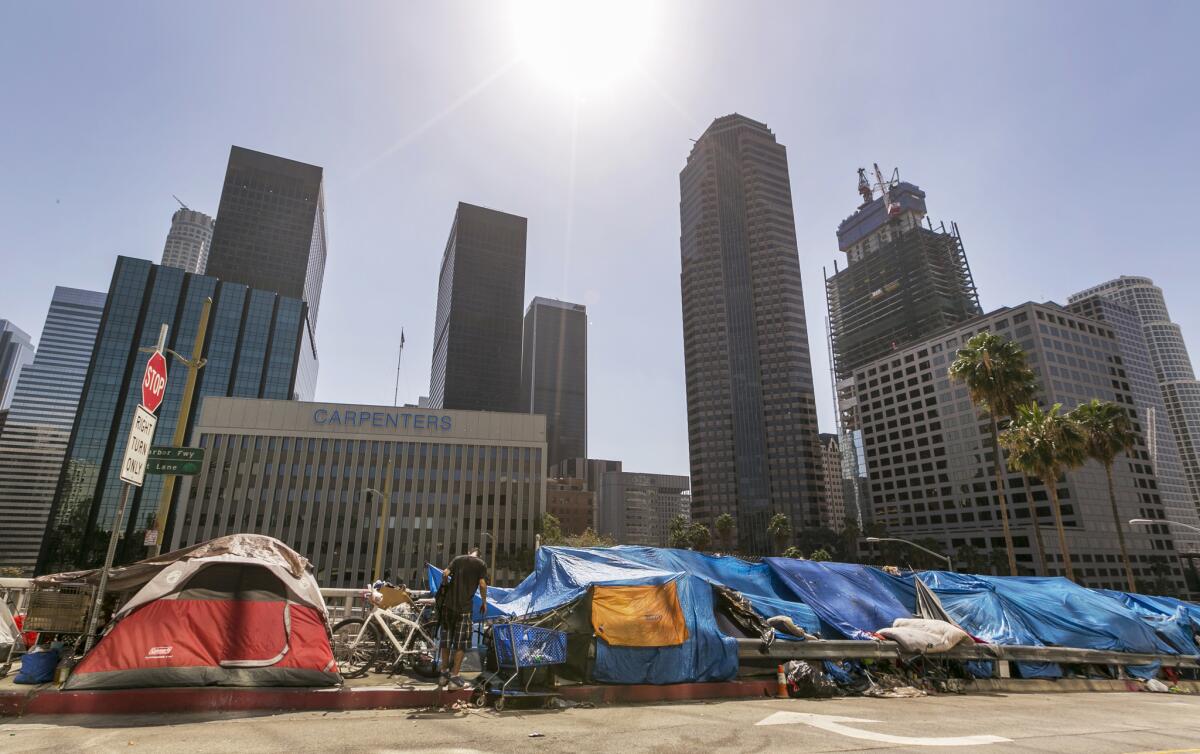 The Los Angeles City Council declared homelessness a local emergency Tuesday, and there's little question about the accuracy of that assessment. More than 25,000 city dwellers are homeless, up 12% from two years ago, and the city has seen a staggering increase in street-side encampments. But then, homelessness has been alarmingly pervasive in Los Angeles for decades, despite a series of initiatives by mayors and council members to bring it under control. And it's not clear yet how this latest effort will yield any better results.
City officials can't fix a problem that exists in every council district by hauling homeless people and their belongings off the streets. The city needs an ambitious master plan to provide housing, both temporary shelter and permanent units, and to connect homeless Angelenos with the therapeutic services they need to get back on their feet.
A declaration of emergency is not a master plan, although the council could produce an effective one if its members are as focused and serious as they say they are, and if they can explain why previous city efforts have failed to solve the problem. The main pledge Tuesday was the council's plan to commit $100 million toward solving the problem of homelessness. Why they picked that number wasn't clear; nor was it apparent where in the city's strained budget the council would find the money.
Assuming it manages to produce the funds, the council should support rapid re-housing for the newly homeless or those at risk of becoming so, while also creating more permanent supportive housing for chronically homeless people who need mental health services, job counseling and other forms of assistance. But here is where another problem arises, one that the council and Mayor Eric Garcetti did not dwell on. Not only is this form of housing costly, many communities have resisted having it in their midst. If city officials want this to work, they must convince their constituents that this kind of housing can fit into their communities. New housing shouldn't be relegated just to skid row or Venice.
Declaring a state of emergency won't make it easier to put supportive housing units in neighborhoods that don't want them. But there may be some other advantages for temporary efforts: for example, it could clear the way for the city or a nonprofit to use property it owns for a safe parking program for those who live in their cars while waiting for housing.
The issue of homelessness has again become a high priority in the consciousness of city residents and leaders. But the memory of past pronouncements and vows to end homelessness makes us wary about the latest one. It's encouraging that city leaders recognize that the problem is growing and will be costly to solve. But the proof will come if and when city officials follow through with real housing and services.
Follow the Opinion section on Twitter @latimesopinion and Facebook
A cure for the common opinion
Get thought-provoking perspectives with our weekly newsletter.
You may occasionally receive promotional content from the Los Angeles Times.