Op-Ed: The wisdom of Barbara Bush: If someone doesn't like being first lady 'there's something wrong with her'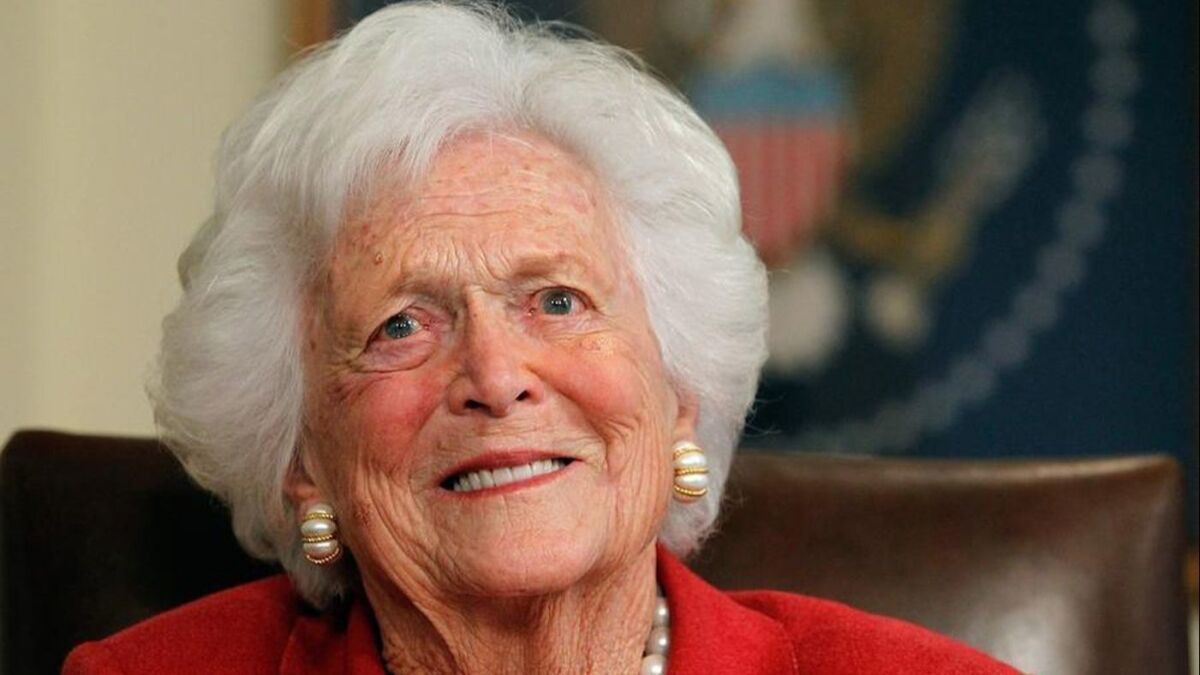 Barbara Bush's plainspoken decision to "not seek additional medical treatment," at age 92, was a punctuation point on a forthright public life. She didn't want anyone to feel sorry for her; she knew that as first lady and mother and wife to presidents, she had been blessed.
The title of first lady can seem anachronistic. It is accompanied by no job description, no pay; even now, when most women must and do work. There is not a single mention of a president's spouse in the Constitution.
Some first ladies have dreaded taking on the role — Bess Truman and Pat Nixon were never particularly fond of it, Jacqueline Kennedy said the title "first lady" sounded "like a saddle horse," and Melania Trump seems particularly beleaguered (she is in a uniquely challenging position because of her divisive husband). Barbara Bush, in contrast, reveled in it. She was a political pro. To her, being first lady was a high honor and no great chore.
I interviewed Bush in 2014 for a book about the White House residence staff. She was eager to praise them, and she genuinely seemed to miss them and life in what others have termed the "Great White Jail."
During her first year, Bush used the first lady's spotlight to dispel a myth about AIDS.
Bush told me some of her happiest family memories were White House memories. She and George H.W. Bush were married for 73 years, the longest presidential marriage in history, and they shared 17 grandchildren and seven great-grandchildren. "Our Washington children — Doro [daughter Dorothy] and Marvin's children — could be out playing, riding bikes, or they would be swimming in the swimming pool," she told me. "It's a great place for hide and go seek — trust me."
Unlike Trump, who waited for her son, Barron, to finish school before moving into the White House, Bush could not wait to take advantage of its perks and privileges. In her memoir, she wrote giddily, "The White House has the most glorious collection of art, and I pretty much got to choose just who I would like to spend the next four years with: Glackens, Twachtman, Winslow Homer, Cassatt, Monet, Cezanne…."
If someone doesn't like being first lady, she said dismissively, "then there's something wrong with her. It's a big opportunity." During her first year, Bush used the first lady's spotlight to dispel a myth about AIDS. She spent nearly an hour at a Victorian townhouse near the White House where infants living with HIV were being cared for. She was photographed cradling the babies.
"You can hug and pick up AIDS babies and people who have the HIV virus" without hurting yourself, she said. "There is a need for compassion."
But she could also be tough. Nicknamed "the Silver Fox" and "the "Enforcer" by family members because of how fiercely she protected them, she knew Washington well. Her husband's resume included eight years as Ronald Reagan's vice president as well as leading the CIA. She had seen the presidency up close before George H.W. Bush won the job. When he didn't like something the media said, he would occasionally warn the reporter, "Look out, the Silver Fox is really mad at you."
I asked her if she was as outraged as some other first ladies about the cost of living in the White House. The taxpaying public should know that the first family pays for its personal dry cleaning and for meals for its members and its personal, as opposed to official, guests. She had no time for outrage. "We had lots of guests, as did George W., and we paid for those private guests. But the bill would come and it would say 'One egg: 18 cents.' Mrs. So and So had an egg and a piece of toast. The bills were minute compared to what you would normally pay."
She was nostalgic about the horseshoe pit her husband had installed next to the White House swimming pool. Bush family members played tournaments with the butlers, engineers and painters who worked at the mansion. "The tryouts were practically like primaries," she said, with her customary dry wit.
I spoke to more than 50 former staffers at the White House, and Barbara and George H.W. Bush were by far their favorites. She returned the compliment, remembering the names of the butlers who worked in the private residence on the second floor and referring to them as "just like family."
Bush was relentlessly upbeat when we talked. "We still have wonderful things happening to us because George was the president," she said, unwavering in her support of her husband. After her first 100 days in the White House, she told another reporter, "I have really loved every minute of it. Of course, I have always been one to think that you should love your life."
But even Bush recognized how daunting being first lady can be: "I'd like to go back and live there and not have the responsibility," she said at one point.
One particular talent Bush brought to the job may have been responsible for her high approval ratings: a determined sense of humor about herself. On the eve of her husband's inauguration she joked, "My mail tells me that a lot of fat, white-haired, wrinkled ladies are tickled pink. I mean, look at me — if I can be a success, so can they."
Kate Andersen Brower is a CNN contributor and author of the forthcoming book "First in Line: Presidents, Vice Presidents and the Pursuit of Power." She is the author as well of "First Women: The Grace and Power of America's Modern First Ladies" and "The Residence: Inside the Private World of the White House."
Follow the Opinion section on Twitter @latimesopinionand Facebook
---
Life is stressful. Our weekly mental wellness newsletter can help.
You may occasionally receive promotional content from the Los Angeles Times.