Op-Ed: So the U.S. isn't in the World Cup. Get over it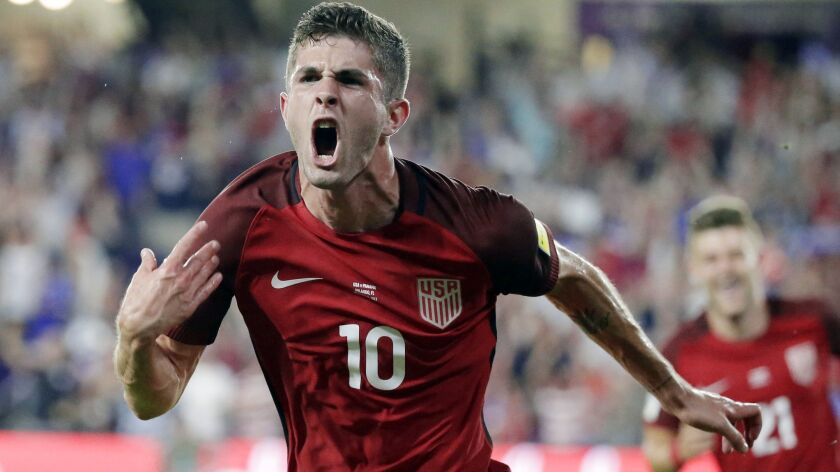 Are you done yet? All cried out?
Yes, it is sad the U.S. men's team didn't qualify for the FIFA World Cup for the first time in three decades. So very sad. We understand.
But throw away all that crumpled Kleenex and cheer up. Here are just a handful of reasons to thank your lucky stars and stripes that the U.S. is not among the teams competing in Russia this week.
We've joined an elite club!
For the first time, America can be mentioned in the same sentence with global soccer behemoths such as Italy, the Netherlands and Chile. That is called achieving parity. Of course, we also joined such carcasses as Sri Lanka, Chad and Guam, all of which flamed out in World Cup qualifying. But if you want to be a killjoy, go read the obituary page.
America's GDP is safe.
With no "home team" to root for, the nation's workforce won't spend lunch hour getting drunk in sports bars and stumble back to the office useless. Now that the U.S. economy is humming along again, the last thing we need is a repeat of 2010, when the American star Landon Donovan scored an overtime winner and Uncle Sam took the afternoon off.
There's humiliation and there's humiliation.
Would you rather be embarrassed losing in a rickety stadium before a handful of fans in Cueva, Trinidad (and maybe a couple thousand cable subscribers), or in Moscow's 80,000-seat Luzhniki's Stadium with hundreds of millions of TV viewers watching around the globe and a smirking Vladimir Putin in the VIP box? Do we really have to ask?
Think of the savings.
You don't have to spend $20 on an American Outlaws T- shirt. Or worry about a $15 dry cleaning bill after spilling nachos on your pants at O'Brien's Sports Bar. Or a lost $20 bet to a trashki-talking Russia fan. It starts to add up.
You can explore new cross-cultural opportunities.
Without a dog in the hunt, no one can accuse you of being a soccer Judas if you root for another country. So why not decant a bottle of Chateau Margaux, saute some escargots and bellow, "Allez les bleus!" Or, rock that Bjork swan dress when Iceland takes the field? Of course, if you want to show your support for the host nation, just hack into the computers of the other 31 teams.
There are plenty of other outlets for your pent-up jingoism in the weeks ahead.
The World High School Bass Fishing Championship, for example, on Lake Pickwick in Florence, Ala. Also, the World Championship of Bull Riding in Bismarck, N.D. Not to mention the World Hot Dog Eating Championship where we know we can cut the mustard, as opposed to the World Cup.
At least you're not Christian Pulisic.
He's 19 years old. He's the best American player ever. He's already the centerpiece of the national team. And now he has to wait four more years to strut his stuff. If he's not sulking, what's your excuse?
You still get to see Lionel Messi and Cristiano Ronaldo.
Messi's Argentina and Ronaldo's Portugal both qualified, which puts the two greatest players of the modern era on the same stage. It's the darting little genius vs. the fast and furious ab-flexer. We are lucky to be alive to witness this Clash of the Titans. If that doesn't get you fired up, consider…
You won't have to read this tweet.
@realDonaldTrump. Beat Mexican thugs. Animals. Rapists. Drug dealers. Sockher players. Very Bad. Must build wall. Mexico will pay. Make American Socker great again. NO COLLUSION!
David Hirshey and Roger Director are writers and soccer fans living in Los Angeles.
Follow the Opinion section on Twitter @latimesopinionand Facebook
---
A cure for the common opinion
Get thought-provoking perspectives with our weekly newsletter.
You may occasionally receive promotional content from the Los Angeles Times.