Op-Ed: What if the Grand Canyon had been our second national park?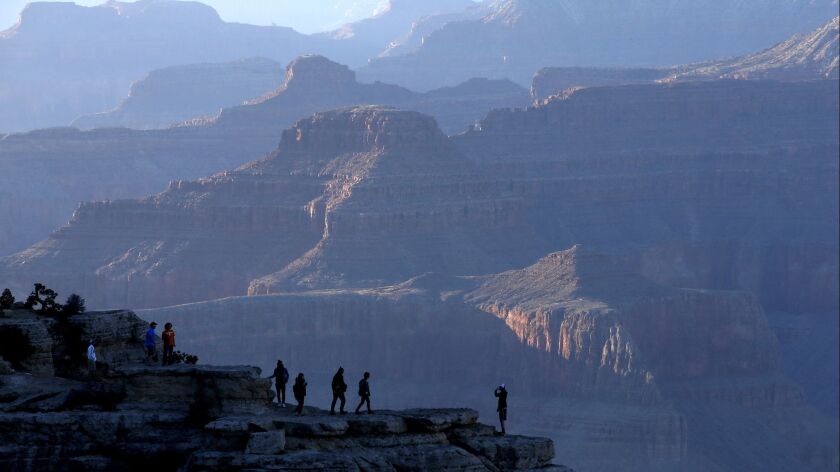 A century ago this week, Congress passed a law officially designating the Grand Canyon a national park.
Depending on how you count — whether you include earlier national parks that were later eliminated, for instance — the Grand Canyon was either our 12th or 15th national park, or somewhere in between.
But it could have been our second national park. Indiana Sen. Benjamin Harrison introduced a bill proposing as much 37 years earlier. If Harrison's colleagues in Congress had passed that legislation, we might not have given the executive branch the sweeping powers over national monuments that presidents continue to abuse today.
The most enduring consequence of this 37-year wait: the precedent it set for executive powers over public lands.
Harrison acted just a decade after John Wesley Powell led the first official expedition through the Grand Canyon, in 1869, and three years before Yellowstone became the first national park, in 1872. Harrison's bill was forwarded to Interior Secretary Henry Teller, a Coloradan who was no fan of this newfangled notion of conservation.
Teller told the Senate that the bill was unnecessary: "The natural scenery along the Colorado River of the West, within the boundaries of the proposed reservation, does not require the creation of a public park to preserve it." This doomed Harrison's attempt, as well as two subsequent attempts he made. Congress was unwilling to proceed in the face of opposition from the executive branch.
Harrison's failed proposals opened the door for private interests to engage in mining, irrigation, water development and tourism in the area. Eventually, all this business prompted presidents to act to protect the Grand Canyon.
First, Harrison, who was elected president in 1888, established a forest reserve there. Theodore Roosevelt then created a game preserve. Next, in 1908, Roosevelt proclaimed the Grand Canyon a national monument, invoking new powers that Congress granted to the executive branch in the Antiquities Act of 1906. Eleven years after that, Congress finally passed a law declaring it a national park.
The most enduring consequence of this 37-year wait: the precedent it set for executive powers over public lands.
In passing the Antiquities Act, Congress was careful to limit the president's power to smaller sites with historic or scientific value. But Congress messed up. The actual text ended up being far more sweeping than the law's intent.
Congress had repeatedly rebuffed attempts by the executive branch to empower the secretary of the Interior with the ability to designate scenic landscapes as new national parks. But the Antiquities Act's reference to places with scientific and historical value offered a backdoor means of protecting areas that were really valued for their scenery. And though earlier proposals would have limited national monuments to only 640 acres, the final text had a more flexible provision, referring to "the smallest area" necessary.
Roosevelt was the first to exploit this opening when he named the Grand Canyon a national monument. At the time, his action provoked a bit of an outcry, but the reaction was muffled because, well, it was the Grand Canyon. Most everyone agreed that it deserved our highest level of protection. Indeed, many thought it was a national park already.
Initially, the president's use of the Antiquities Act to designate national monuments that function as national parks was viewed as a temporary, interim measure, pending full congressional study of the area. But presidents soon named other large, scenic landscapes as national monuments, citing Roosevelt's action. Many of our most iconic national parks began as national monuments, including Zion, Grand Teton and Glacier Bay.
Then, in recent decades, Presidents Clinton and Obama proclaimed many more national monuments, and much larger ones, citing the Grand Canyon as precedent. In many cases they acted because Congress had declined to elevate the areas to national park status.
Enter the Fray: First takes on the news of the minute »
This presidential practice has it backward. The original idea was to give Congress time to decide about national park status, not to override decisions that Congress has already made. Now, acting under a similarly broad view of presidential power, President Trump wants to shrink some of those monuments, and his power to do so is currently being litigated.
Congress is perfectly capable of managing the complex task of extending conservation protections to public lands. This month, the Senate passed a sweeping public lands conservation bill. "It took public lands to bring a divided government together," Montana Republican Sen. Steve Daines said of the legislation. House Natural Resources Committee Chairman Raul M. Grijalva, an Arizona Democrat, called the bill "an old-school green deal."
Had Congress listened to Sen. Harrison instead of Interior Secretary Teller in 1882, we would be celebrating the 137th anniversary of Grand Canyon National Park instead of its centennial. We also wouldn't be stuck with the tradition of executive overreach that still haunts us today.
John Copeland Nagle is a law professor at the Notre Dame Law School.
Follow the Opinion section on Twitter @latimesopinion or Facebook
---
A cure for the common opinion
Get thought-provoking perspectives with our weekly newsletter.
You may occasionally receive promotional content from the Los Angeles Times.