Op-Ed: How L.A. can gain housing (and transit ridership) without infuriating the neighbors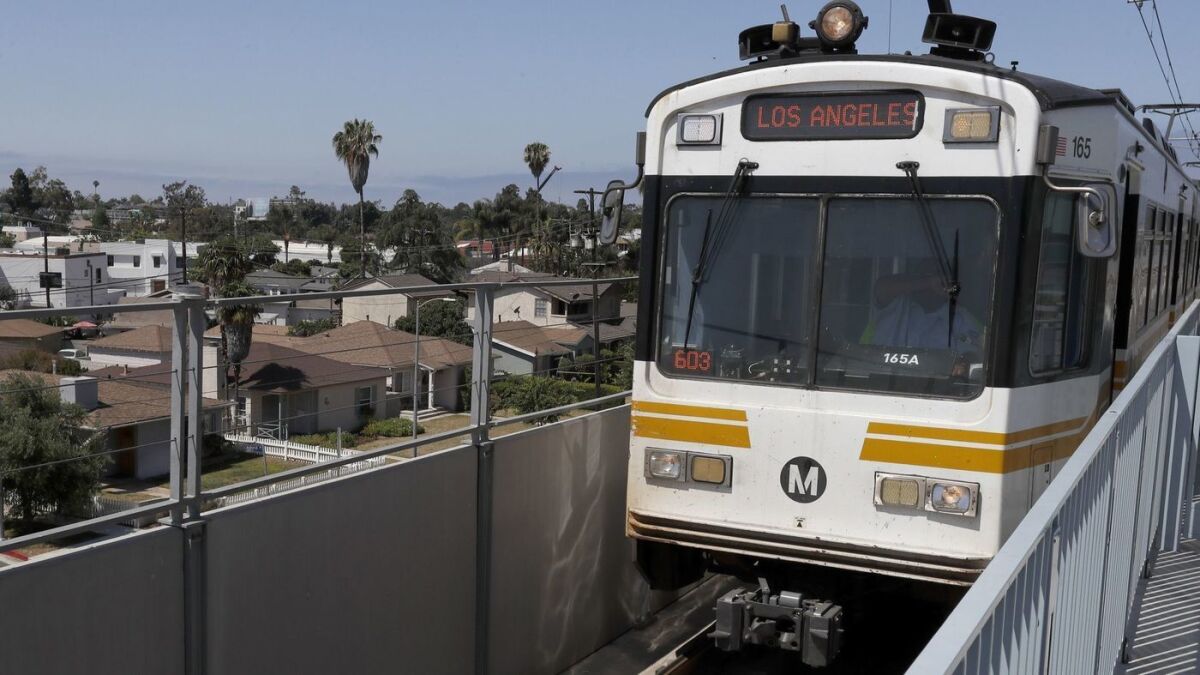 Should Los Angeles allow higher density housing in single-family neighborhoods near rail transit stations? Higher density will create more housing and increase transit ridership, but many homeowners view higher density as a bad neighbor. If a developer demolishes a single-family home to build a four-story box, the developer makes money, the new residents gain housing, and the transit system gets more riders, but the nearby homeowners get stuck with an outsized eyesore.
The Expo Line station at Westwood/Rancho Park, for example, is in the middle of a single-family neighborhood. Apartment buildings nearby might anger the current residents, but some cities are using "graduated density zoning" to solve this problem: It allows higher density, subject to limits, but also protects homeowners from unwanted development.
In Monopoly, players must buy four houses before they can build a hotel. With graduated density zoning, developers must assemble a group of houses before they can build apartments. The land remains zoned for single-family housing on sites of less than a given size, such as one acre. Only if enough homeowners agree to sell their adjacent properties for land assembly will the zoning allow multifamily housing on the newly formed site.
Homeowners can prevent land assembly by refusing to sell. Nevertheless, graduated density zoning encourages homeowners to join a land assembly because more units per lot means higher prices for their property, perhaps triple the value of a single-family house.
In 1996, Simi Valley adopted graduated density zoning when it doubled the housing density allowed on sites 13 acres or larger in a semi-rural part of town. Four years later, 200 homes had been built on 31 acres formerly occupied by eight single-family houses, three travel trailers, one mobile home and various storage buildings and animal pens. The city required sound walls, lush landscaping and pedestrian walkways in the new development, and to this observer, the multifamily housing is a neighborhood improvement.
Glendale uses graduated density zoning to improve the design of apartment buildings as well as to add housing. On lots wider than 90 feet, the city increases density by 25% and raises the building height from two stories to three. Because most of the city's residential lots are only 50 feet wide, the zoning encourages land assembly for infill housing. Apartment buildings on the larger sites can include courtyards, gardens and other amenities that are hard to provide on a small site.
On the other side of the country, Jersey City, N.J., adopted graduated density zoning around its Journal Square transit hub in 2010. This area, a short ride to Manhattan on the subway under the Hudson River, has many small parcels of land dating from its original settlement in the 17th century. To encourage assembling this fragmented land, the zoning allows six times higher housing density on sites larger than 60,000 square feet than on sites smaller than 6,000 square feet. The incentives worked. Jersey City's graduated density zoning sparked a building boom, including a 54-story apartment building on assembled land in surroundings that were mostly parking lots and small commercial buildings.
Enter the Fray: First takes on the news of the minute from L.A. Times Opinion »
But what if graduated density zoning enabled an apartment tower in a single-family neighborhood? Los Angeles has successfully incorporated that kind of mix, notably in Century City and along Wilshire Boulevard in Westwood. Design and placement guidelines can ensure that any new building will enhance the neighborhood rather than loom over it.
In Westwood, for example, zoning requires multifamily housing built across the street from single-family homes to set each floor back at least 10 feet from the floor below, and to landscape the setback. This creates a hanging-gardens effect that softens the transition from lower to higher density. And single-family residences that are back-to-back with towers on Wilshire haven't lost their appeal — they are worth millions.
So how might graduated density zoning work along the Expo line? At the Westwood/Rancho Park station, the prime areas for land assembly are along Westwood Boulevard, a major north-south thoroughfare now zoned for single-family homes.
If graduated density zoning stimulates land assembly in the right places in Los Angeles, it will create more housing and increase transit ridership. If it does not stimulate land assembly, it will do no harm. A minor zoning change could produce major public benefits.
Donald Shoup is a professor of urban planning at UCLA's Luskin School of Public Affairs. This is adapted from a longer article in the Journal of Planning Education and Research.
Follow the Opinion section on Twitter @latimesopinionand Facebook
Our six-week newsletter will help you make the right decision for you and your property.
You may occasionally receive promotional content from the Los Angeles Times.